Bored of your typical donuts? Try this one-of-a-kind donut place with college hours.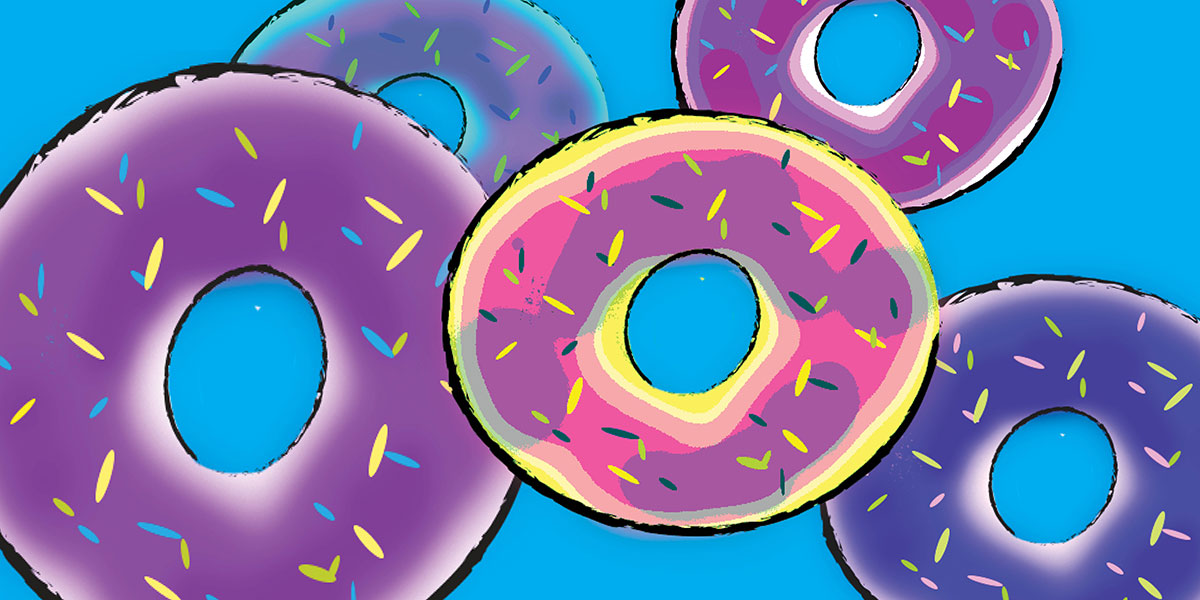 Graphic by: Jerason Gines
__________________________________________________
If you're looking for something unusual to do on the weekend, visiting Strange Donuts is a must.
Strange Donuts is a sweet experience filled with strange flavors that you will never forget.
With the Fat Elvis, Chicken and Waffle donut, Maple Bacon, Gooey Butter Cake, Campfire donut, and several other new flavors coming out weekly, the possibilities of trying a new creation are endless.
Strange Donuts keeps normal breakfast hours from 6 a.m. to 2 p.m. Monday through Sunday, however, Thursday through Saturday this funky joint opens at 9 p.m. and stays open until the donuts are all sold out.
This specialty donut shop has two locations in the St. Louis area now, one at 107 ½ E. Argonne in Kirkwood, and the original at 2709 Sutton Blvd. in Maplewood.
The line stretching outside of Strange Donuts is worth the wait for these fresh-baked unique creations.
People wait with anticipation until it is their turn to visit the counter and see all the new donuts prepared for the weekend.
It's always interesting to watch people coming out of the building with so much excitement about their box of unusual mixtures of donuts.
Once you step into this tiny but very busy shop, the room instantly hits you with a sweet, delicious aroma.
It is almost an overwhelming experience when it becomes your turn to pick out your donuts.
For the weekends they come up with a completely new creation that is more creative than any of their other donuts.
For example, Strange Donuts' creation one weekend was a Fried Fuji Caramel Apple donut that's served hot.
Each donut is as unique as they come, and the staff does an excellent job answering the questions about what's in their donuts and why they are so special.
While purchasing the donuts, you can also buy milk, coffee or orange juice to go with them.
However, there is no sitting room in the shop, the donuts are purchased in to-go form only.
I suggest sitting down to experience one of these donuts; they are too good to just eat quickly standing up.
So far my recommendation for a donut to try is the Gooey Butter Cake donut, which is a buttery, creamy sweet donut that resembles the cake it is named for and melts in your mouth.
The next donut I really enjoyed was the Fat Elvis donut, named after Elvis's favorite snack of a peanut butter and banana sandwich.
This donut is a creamy banana-filled donut with peanut butter icing and half dipped in chocolate.
This shop is an excellent experience for any and all food junkies or just hungry college students.