As Election Day 2020 begins moving from standing in lines and voting to watching phones and TV screens for indications of who might be America's president, college students could possibly make all the difference in America for the next four years. Our MBU Timeline student journalists took photos today and penned their observations on this historic day.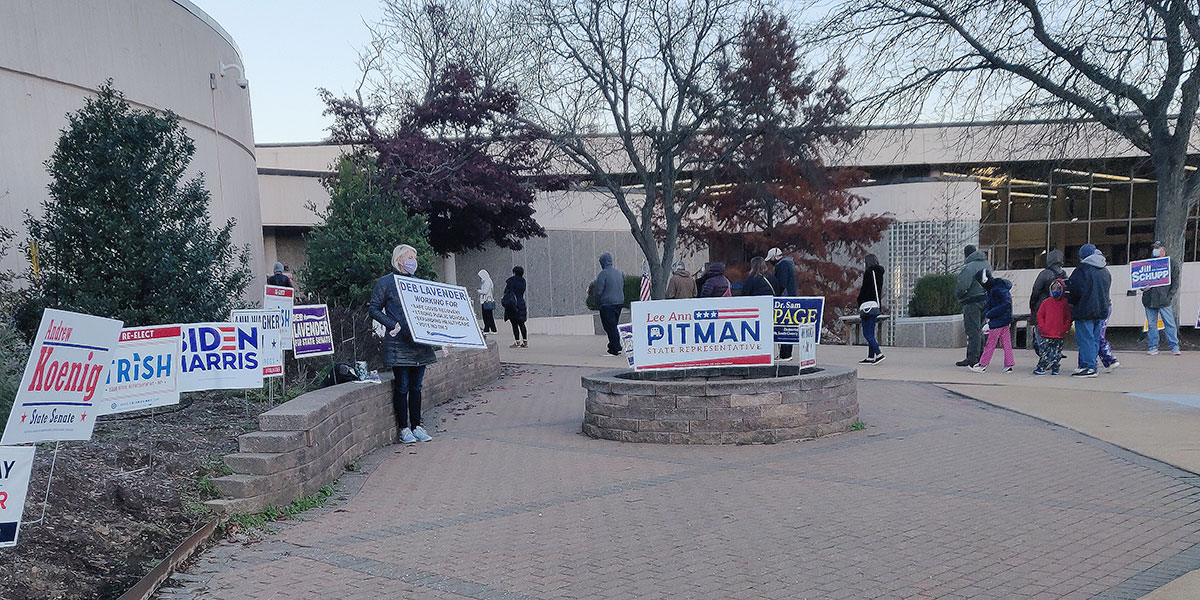 The sun is barely peaking over the roof at Parkway South High School as voters line up first thing in the morning to cast their ballots in today's election. At around 7 a.m., when MBU Timeline staffer Jack Gienke took this photo, there were a few hundred voters already in line. Voter turnout could reach a record high today.     Photo by Jack Gienke
__________________________________________________
Wait, There's Other Stuff to Vote For? Remember the Rest of the Ballot is Also Crucial on this Election Day 
By JACK GIENKE
Staff Writer
As the voters turn up to the polls today, it is likely that many will be focused on one race — the presidential race.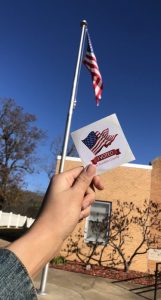 While the presidential race is by far the most advertised, debated and interesting election of the day, that does not mean it is the only important one. 
My own ballot featured a gubernatorial election, federal representative, state senator and representative, county executive, as well as a cavalcade of judges led by a state Supreme Court justice. 
These elected state officials, in addition to the few state constitutional amendments up for vote, will, in all probability, have just as much weight in my life as the federally elected officials. 
I am in no way trying to take away from the significance of the presidential election, only highlight the importance of the other elections that are happening.  
Because, while the presidential race rightfully appears at the top of the ballot, that doesn't mean that the one at the bottom should be forgotten.
_________________________________________________________________
4 Hours vs. 4 More Years: Waiting in Long Lines Proves to be Small Sacrifice to Make With Stakes this High
By HANNAH LEAHY
Staff Writer/Editor
One of the first things I saw on my social media this morning amid the various Election Day posts and stories was a picture of the U.S. Women's National Soccer Team player Alex Morgan posing with her family and calling on all of her followers to vote. 
This caption felt genuine, truly from the heart, and contained a line that stuck with me instantly: "A 4-hour wait in line is much shorter than another 4 years of the wrong person in office." 
As someone who worked a 9 a.m. to 1 p.m. shift today and headed straight to Missouri Baptist University for a 1:30-2:55 class, I needed to see this reminder this morning. 
Was I planning on voting regardless? Absolutely. However, I think Morgan put things into a fantastic perspective for those who might be dreading standing in a line at the polls, maybe even letting that single aspect alone be off-putting or deter them from voting. 
There are many more important issues at stake than having to take a chunk out of your day to stand in line and vote. 
So, much like those before us made huge sacrifices so we even got the option to vote, let's make this tiny sacrifice today, for them and for ourselves.
_________________________________________________________________
Election of a Lifetime: Voting in a Pandemic is Tough Enough, but this Election is Crucial for Minorities
By KENZIE SHEEHY
Staff Writer
A global pandemic and an uproar of civil unrest put a heavy weight on the shoulders of the 2020 election.
It's setting in that no matter the outcome, the United States will continue to be split down the middle and the nation could see an increase in violence and hatred. 
Would the stakes feel as high if COVID-19 had not come during an election year? Unfortunately, for minority groups, every election is an election for your life, even when there isn't a pandemic lingering in the air around them. 
In 2016, former Senator Hillary Clinton was leading in the polls against President Donald Trump until the day of the election when the casting of ballots increased and the polls came to a close.
While Joe Biden has stayed steadily in the lead, Trump's persistent persuasion that mail-in ballots can't be trusted is predicted to increase the number of Republican and Trump voters, and Biden's lead will begin to decrease.
So, as the height of Biden's bar on a graph starts to shorten, no matter what side you're on, it's important to remember that we are all human.
We have to find it in our hearts to be understanding, gentle and welcoming to anyone who may feel afraid or need help during this time.
It can be hard to take a step back, to shield your eyes from the media, or to cover your ears from the passionate yelling.
At the end of the day, possibly even the week (or month), the ballots will be counted, the Electoral College will speak, and the United States will continue either under the leadership of a businessman-gone-reality-TV-star-gone-president, or under the leadership of the former vice president.
_________________________________________________________________
If We Didn't Know Better We Would Think This Election Was the End All, But We Know Better, Thank God
By PATRICK GRIFFEY
Staff Writer
After so much preparation and sharing of opinions, today is the day when all the votes are in.
Is this the tipping point, altering the direction of the country?
The election has a lot of weight and to say that it doesn't matter would be totally out of line, but at the end of the day, the world is still spinning. 
While there is still so much we don't know and can worry about in the future, we can also rest in the fact that God is still in control.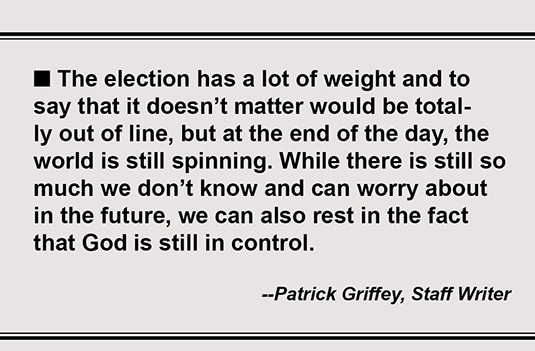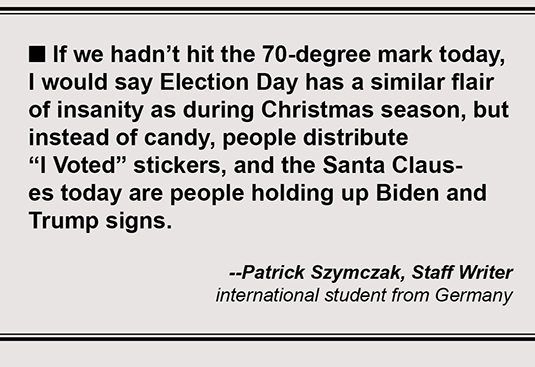 Psalm 46:10 says, "Be still, and know that I am God; I will be exalted among the nations, I will be exalted in the earth." 
We have security when we know that He is on the throne, no matter what the results are.
_________________________________________________________________
Foreign Perspective: As a German Going to College in America I Have a New Appreciation for this Madness
By PATRICK SZYMCZAK
Staff Writer
"It gets crazy," I was told by some of my American friends at school, and they were right. 
For an international student from Germany, I have observed that America on Election Day is quite unique. A day not very different from any other day yet one that feels like a holiday. 
If we hadn't hit the 70-degree mark today, I would say it has a similar flair of insanity as during Christmas season, but instead of candy, people distribute "I Voted" stickers, and the Santa Clauses today are people holding up Biden and Trump signs. 
Undoubtedly, this day is important to Americans, but I believe the political tension that accumulated over the past years only adds to the madness of this day.
This is an important and positive exercise, though, that Americans undergo today. 
Over past years one can argue that elections have become less and less meaningful as many suppose their voice is not heard, even when voting. 
Seldom before have two candidates been so radically different in their approach to politics and the presidency.
This country's citizens seem to realize their vote actually matters and can level the path not just for future generations but for the next four years, a very crucial time after a pandemic like this.
Politics can be a sensitive and provoking topic. 
However, this day makes Americans forget all the battles that went on between the candidates and parties in the previous weeks and they come together to vote collectively as Americans, rather than as a Democrat or Republican. 
This is what democracy is all about, and Election Day reminds us once again how beautiful it can be.
_________________________________________________________________
First Time for Everything: My First Presidential Election a Day of Civic Engagement and Outing with Dad
By MADISYN HOUSE
Staff Writer/Social Media Editor
Today was my first time voting in a presidential election. 
I have voted once before in a local election, however it was a lot less controversial.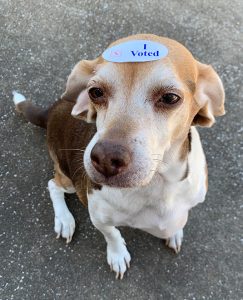 Before voting day I had done some research and watched the debates, but as my dad and I pulled into the parking lot of our polling place in Crystal City, I was struck by nerves and felt like all of my knowledge flew out of my head. 
As I walked into the building, I was astounded by the lack of people. There was practically no line, and everyone there was quiet and peaceful. 
The workers were kind as I signed in, and I felt my anxiety lighten. 
I felt ready as I carried my ballot over to the voting stations. 
After I filled out my ballot, I was instructed by a poll worker on how to submit it, and then I grabbed the iconic "I Voted" sticker and left with my dad. 
It felt good to have a small part in such a big election.
_________________________________________________________________
Is This a Pandemic or Not? Lax Safety Measures at the Polls Leave me Alarmed, but Not Deterred
By MOLLY MUNOZ
Staff Writer
The past few weeks I have been thinking a lot about Election Day and what it would look like from a voter standpoint.
I imagined new protocols and precautions would be followed considering we are in the midst of a global pandemic.
As I voted at 7 a.m. today in Arnold, Missouri, thankfully every voter I saw was wearing a mask, as expected, but social distancing was not practiced at all.
People were standing so close to each other that they could easily touch the back of the person in front of them. This is not social distancing.
As I entered the gymnasium at the school where voting took place, the first thing that caught my eye was one of the people checking voters in was not wearing a mask or a face shield.
This concerned me both for her well-being and each individual who would be checked in by her.
In the 2016 election, I was checked in by showing my driver's license and my voter identification card.
This year I noticed each check-in line had iPads where each voter would scan either their driver's license or voter identification card before using either a stylus pen or a finger to sign your name.
I did not see any sanitization of the iPads between check-ins. After signing my name, I was told to find an open desk to fill out my ballot.
The desks and chairs were not sanitized between voters either. With cases continuing to spike in Missouri and Illinois, the lack of sanitization concerned me and I can imagine cases could continue to rise due to the voting conditions.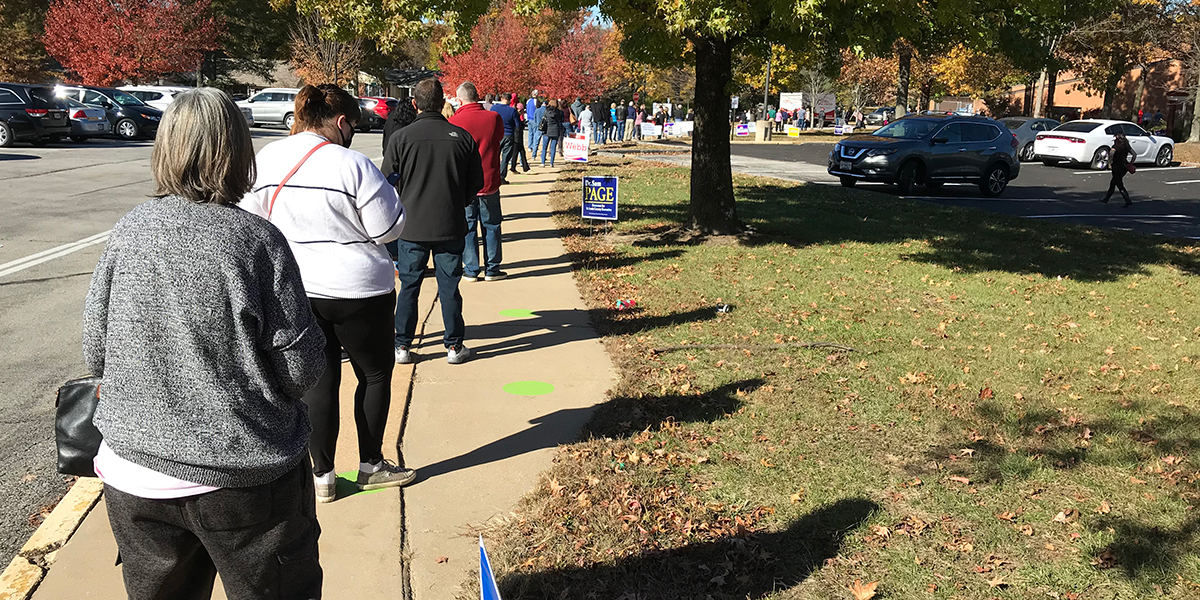 Although lines at polling locations were perhaps longer and moved more slowly than they did four years ago, most voters did not seem to mind as they found themselves enjoying the perfect weather and some casual conversation as they patiently waited their turns to make a difference by exercising their right to vote.     Photo by C. Allin Means