God reveals His wisdom among those who come to Him.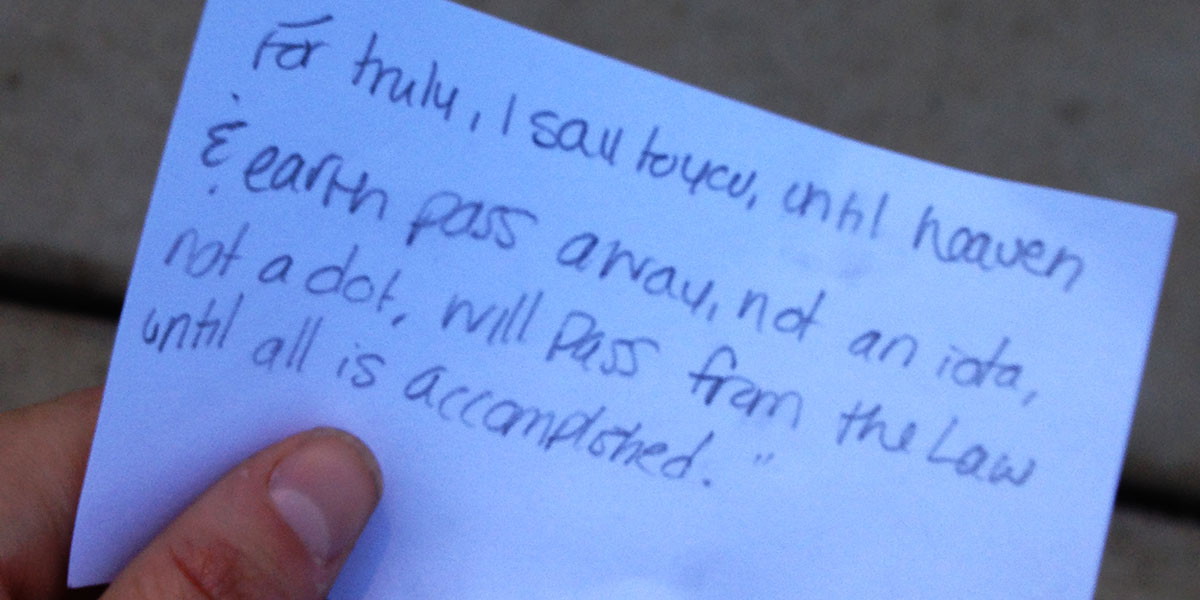 Photo by: Cassandra Nesbit
__________________________________________________
"Do you talk to one another," I said to Will Smith, my supervisor.
"Yeah," said Will. "We talk every now and again."
"No," I said. "Does he talk to you about us?"
Of course he doesn't, he wouldn't dare, I thought.
Who I'm referring to will be named Ben Baker, Will's roommate.
That's not his real name, but it will be for the sake of this story.
Although it seems as though Ben keeps to himself, the best way to describe him would be the exact opposite: outspoken, without any filter, 23-year-old chatterbox with a very heavy disdain toward Matthew Walberg.
There was no getting him to come to the newest "Transformer" movie, that's for certain.
But there was just something about his abrupt and honest opinions toward others.
Ben and I started talking to one another as if a relationship had potential.
I'm not quite sure what it was: maybe the fact that we were complete opposites.
Despite the opposites, there is one thing that we must have in common: a relationship toward Jesus Christ, our savior.
"My friend … always gives me this advice," I said to Ben over messaging. "She told me to be with someone crazier about The Lord than me."
I went on to explain how I should not be with someone who just tolerates or respects my relationship with Christ, but one who believes as well.
Especially during prayer, one must trust Jesus is listening and answering.
"But when you ask, you must believe and not doubt, because the one who doubts is like a wave of the sea, blown and tossed by the wind," said James 1:6, according to the New International Version.
"I think about it every now and again," I said, referring to prayer.
"Well, what do you think about it?" asked Ben.
After I said I agreed with what my friend had to say, Ben countered with where he stood.
"Well, if you are wanting a guy to pray with you, I'm sorry," said Ben. "That can't be me."
Upset, I sent him the sad emoji face and then two more after he confirmed his feelings against prayer.
"It's just not me," said Ben.
At least he isn't pretending.
But for me, without prayer nothing else would matter.
In my eyes, there would be no purpose or productive growth without consistent prayer.
I knew what I needed to do for both of our benefits.
"We must be careful because this is my heart and that is yours," I said. "And to tear something like that would be selfish on both ends."
Ben added: "And that's one thing I don't want to break."
Sleeping allowed some time to reflect since the conversation did end around midnight.
Morning came, and I just wanted to pick up where we left off, but I didn't know how.
After the entire day of random texting, I figured this relationship would go as this conversation went: no growth and no purpose.
"Honestly though, this won't work out," I messaged. "I don't care if we're totally different, but we need to have the same continuous purpose."
That purpose is a balanced relationship with Christ as my significant other.
During our messaging to one another, I spent so much time referring to God's love for me and how I don't deserve any such thing, especially His sacrifice.
I told Ben: "For me, a person who meets the requirements to be the most unworthy person ever, instead He loves me and I did nothing for that sort of approval."
Ben replied: "You are right."
What should have been upsetting actually brought a sense of relief.
"By the way," said Ben. "Will and I talk plenty."
Smile hit my face, and I couldn't thank Will enough.
Later on, after talking to Will at work, he reassured me how Ben did talk to him about us, after all.
The  outspoken, without any filter, 23-year-old chatterbox with a very heavy disdain toward Matthew Walberg told Will he may understand where I am coming from, that is, to have an equal relationship with Christ with my significant other.
Because of prayer's importance to me …
Because Ben was called to …
Whatever the reason may be, it was a change of heart for Ben, and I am thankful.
This isn't anything I did. This isn't anything someone could take credit for. This is our Lord at work.
I can not tell you how much I appreciate Ben's willingness to see where I am coming from in my relationship with Christ.
Ben was at least willing to try and understand how much I love the Lord and rely on Him. Now it's up to God to do the rest of the work.