When you think of Christmas, what do you think of? Trees, lights, dinners, presents, mistletoe, hot chocolate, egg nog, holiday music? How about parking cars at a ski resort. Well, that was my day back in 2012, and you know what? It worked out OK.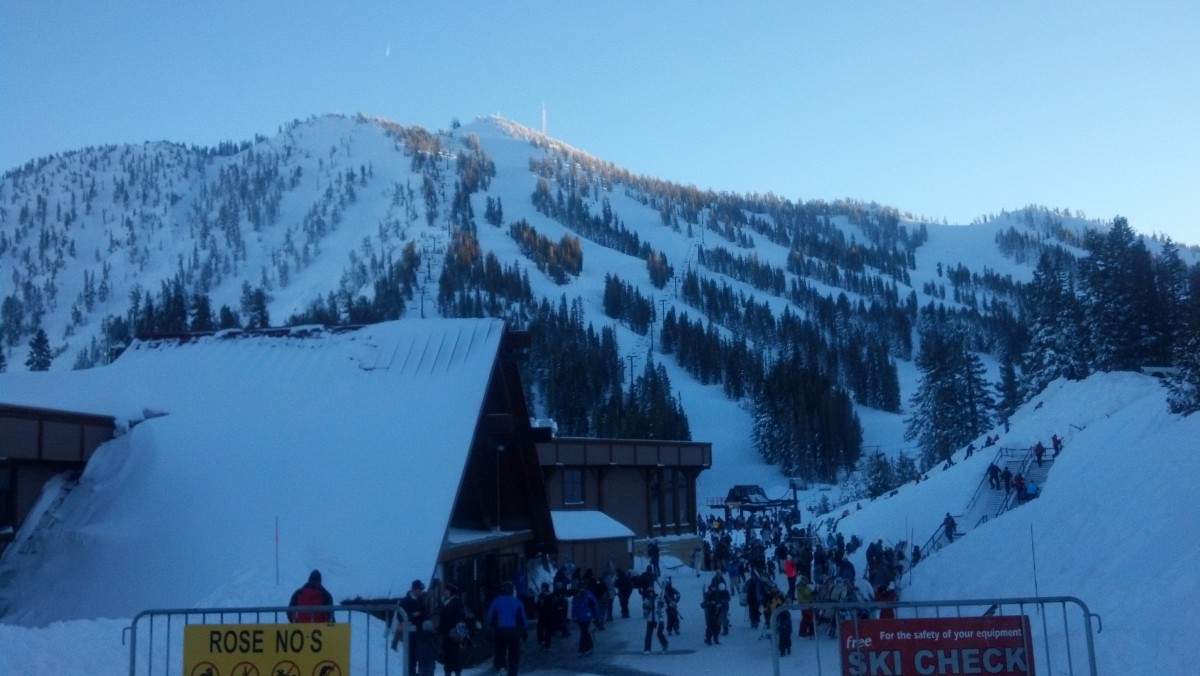 Photo By: Colby Duncan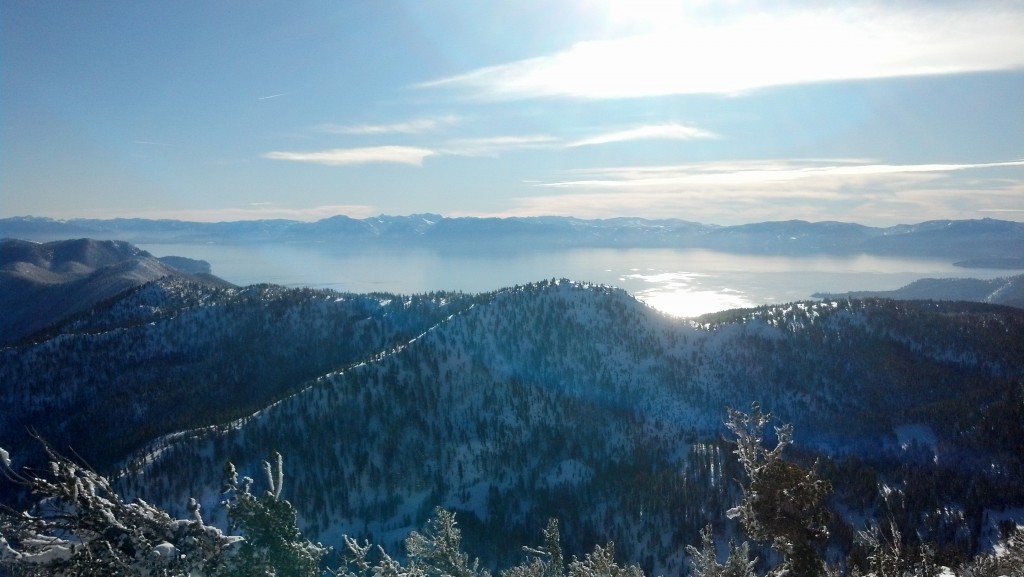 Photo By: Colby Duncan
__________________________________________________
Christmas Eve 2012
It was Christmas Eve of 2012 and I was just getting off the mountain where I worked at Mt. Rose Ski Resort, about 15 minutes from my house back home in Reno, Nev.
At 9,700 feet high Mt. Rose is the tallest mountain on the Mt. Rose Highway pass between Reno and Lake Tahoe.
Lake Tahoe is truly a beautiful place with crisp air, tall mountains and the clearest water you can find.
An immaculate place that I had the privilege to grow up in, and it was all in my own backyard.
It was Christmas Eve and I was able to get off work a little earlier to go spend the evening with my family.
The decision to get off early that day meant that I was to be at the mountain early the next morning.
Our family had dinner and i spoke with my mom about my work schedule for Christmas day.
She was upset to say the least.
"Are you serious, you have to work all of Christmas Day? No way, you can't!" she said.
This would have been my third year working at Mt. Rose.
My mom understood that Christmas Day was one of the busiest days for the resort.
During Winter Break and especially Christmas Day Mt. Rose is hit with an invasion of tourists from the Bay Area and Southern California.
My mom took a couple sighs.
My mother was just upset because as our family has grown my brother now has a 4-year-old daughter named Kayleigh and my sister has an 8-month-old son named Duncan and it would be his first Christmas.
She wanted us all together for Christmas.
Then she looked at me and said, "Well, that's fine, we will celebrate Christmas the next day."
I was objective at first as I didn't want to ruin it for the family, but my mother like all mothers reassured me that it would be OK.
Since my brother and sister just moved to new homes they said it would be fine because they wanted their children to open their presents at their new homes.
Then the next day we could have a little Christmas at grandma's house.
Our family had a great dinner and then I went to bed early to prepare for the day ahead of me; 4:15 a.m. the alarm starts to scream at me to get up.
I get my things ready for the day and I'm on my way.
By this time in the winter Mt. Rose has about an 8-10-foot base of snow and the storms come regularly.
This winter in particular was getting a lot of snow.

Panorama photo looking over the south side of Mt. Rose.
Photo by: Colby Duncan
Snow is piling up
This winter break there were a series of four storms that altogether dropped 7-10 feet of snow depending on elevation in the Lake Tahoe region.
It is easy to drive up a snowy road at 4:30 in the morning, no people, and no worries.
I roll into the parking lot at 5 a.m. hearing the sounds of bellowing diesel loaders working as hard as possible to push the snow out of the parking lot for the busy day ahead.
Mt. Rose is open from 8:30 a.m. to 4:30 p.m.
A loader is a massive piece of equipment that looks almost like a tractor with a huge shovel on the front with massive chains connected to their 8-foot tires.
What I do at Mt. Rose is parking and snow removal.
The snow removal part of the job is, if needed, we remove all the snow or as much snow as possible from the parking and lodging to be adequately accessible to as many guests as possible.
The parking part of the job is parking as many people as possible within each parking lot so the resort can have as many guests as possible for that day.
Being the parking instructor at a ski resort is very important because we have to park people adequately.
Also we are the first people the customer sees as they arrive and we are the last people they see as they leave.
It is imperative that we know the ins and outs of the whole resort so the customer can stay happy and informed.
Mt. Rose only has one entrance and one exit and when parking is not set up properly then it can get chaotic.
There are eight parking lots that hold an estimated 5,000 people.
It's a crazy feeling being on top of a mountain that early, hearing only the sound of blowing snow and enjoying a view over all of Reno and lots of Nevada.
This view is a type of art that gives off a mixture of colors throughout the ski.
The dry, cold temperatures, with drastic elevation drop and peaking sunrays as the sun starts to climb over the mountain create purples, reds, greens and yellows in the ski.
It's a beauty that is almost unimaginable and indescribable.
Break out those snow shovels
My crew and I shoveled snow off the lodge deck and stairs for a until 9 a.m.
At that time it was our first break. After snow removal our crew attends to the morning rush of traffic.
Our crew could already tell the day was going to be crazy.
By 9:30 a.m. we already filled the first parking lot and were already halfway done with filling the second parking lot.
It is so hectic trying to park people in the snow who have never been in the snow at all, let alone ever driven in the snow.
Every driver is like a toddler trying to walk, they can't ever do it the first time. You would think it would be easy to park in an orderly fashion, but believe me, for these drivers it is so difficult.
By 11 a.m. the fifth parking lot was full and people were still coming.
The Christmas rush was not stopping. The line of cars into the entrance was never ending, it was unbelievable.
Our crew was parking cars as fast as humanly possible while at the same time trying to make as much space as possible in each parking lot for the maximum amount of people.
By 1 p.m. the eighth parking lot was almost full. There was about to be no more parking at Mt. Rose.
I didn't know what we were going to do.
After growing up at this ski resort for 10 years I have never seen all of the parking lots full, let alone ever seen this many people at a ski resort.
By 1:30 p.m. the parking lot was full. There were no more parking spots at Mt. Rose.
"We have to block off the entrance boys, we have no more parking," my boss said over the radio.
There were some cars that made it into the entrance before we could block it off but all they could do was drive around the parking lots because there was no more space to park.
By 2:30 p.m. we were able to open up the entrance as the Christmas Day stress upon the parking lots was released as some customers were leaving.
Allowing our crew to finally have a lunch break.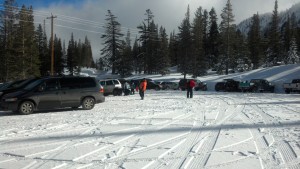 Photo by: Colby Duncan
Most cars ever packed into this lot
"We had 5,800 lift tickets bought today boys, that is the most lift tickets ever sold in one day at Mt. Rose, good job. Way to efficiently park our parking lot. The resort thanks you," said our boss.
Our crew parked the vehicles in the most efficient way ever at Mt. Rose, resulting in the most cars ever compacted into the resort at one time.
This was rewarding and gave me a sense of accomplishment at my work force, it was nice.
But the work was not over. After lunch around 3:30 p.m. we all had to go back out to the parking lots and make sure all the vehicles exited properly and did not start any blockages to stop the flow of traffic.
Another long process, not as hard as the morning, but just as tiring.
Directing all traffic to one exit can be difficult and very time consuming considering there were around 5,000 customers trying to leave.
As 6:30 p.m. rolled around I finally got a shout out from the radio. "All right Colby, great job today, you can go home," said my boss.
Finally, my Christmas Day was over. But really, when I thought about it, it didn't feel that long.
When you're working that fast its as if time kind of doesn't exist because of how busy your mind is. Time moved so fast that before I knew it, work was over.
I clocked out and walked back to my car in the employee parking lot.
Employee parking is the farthest parking lot from the resort and considering that there was only a little more than half of the customers who had left I had to wait in a long line to exit the resort.
I gave all my fellow parkers a water and a high five as they were still working, still escorting out vehicles.
I made it out of the exit at 8 p.m. and had a nice relaxing drive back home. When I got home my family had held dinner for me.
There's nothing better than coming home to your family after a long day.
Our family had a nice little Christmas in the morning after actual Christmas and it made my mom very happy to see her two grandchildren open their presents.
Photos by: Colby Duncan
____________________________________________________________________________________________________