For many students, adjusting to life online has been an uphill battle, and could be again this fall. In effort to continue delivering quality education while pivoting to online classes and virtual sessions through apps like Zoom, MBU took serious actions to make the transition as seamless as possible. Meanwhile, a group of MBU students presented administrators with a petition to adjust grading policies to further assist the student community.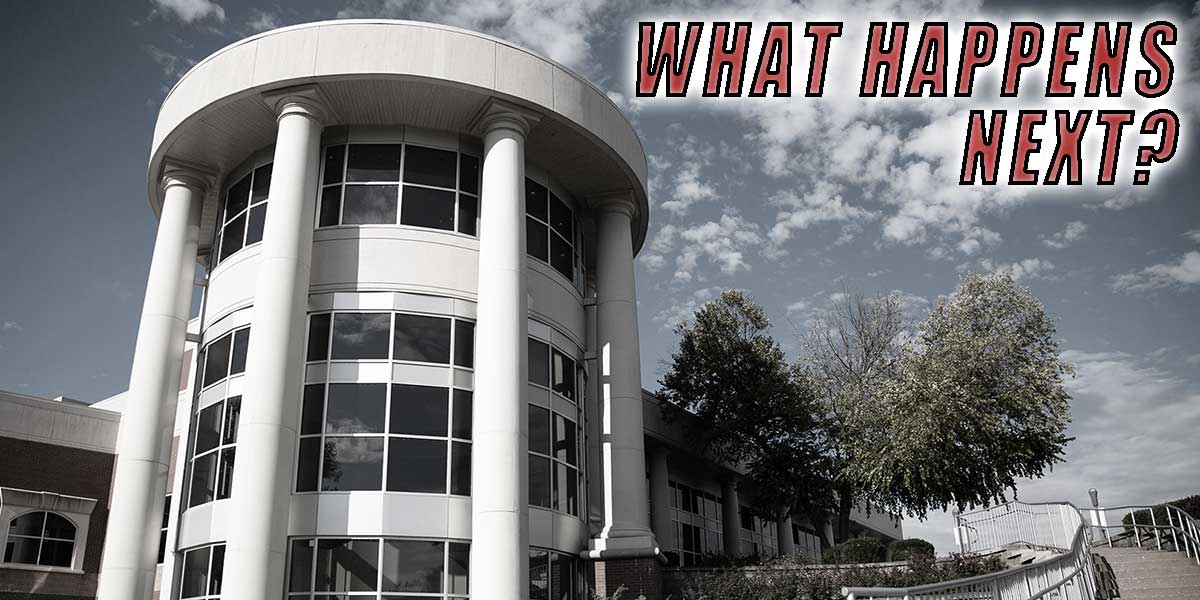 This story is part of an ongoing series of stories and analyses produced by MBU Timeline staff members, focusing on several aspects of what the COVID-19 pandemic will have changed long after it has passed. Our writers try to answer a question you may have asked yourself: What happens next?     Photo courtesy of MBU University Communications — Graphic by Dylan White
__________________________________________________
Every spring semester ends with assignments, projects and final exams completed, ringing in the feeling of accomplishment students strive for in four years being a college student. 
But this spring's obstacles affecting students' routines may translate to their ability to excel in the online classroom, prompting one Missouri Baptist University student leader to draft a petition seeking grace from administrators and faculty members on grading expectations.
Orville Parker III, president of the Association of Black Collegians, wrote a petition to Missouri Baptist University administrators expressing the benefits of adjusting grading policies for the spring 2020 semester.  
The petition's tone is written from a student's perspective, sharing his position in being affected by the transition online.
Parker suggested in the Equitable Grade Accommodations for Missouri Baptist Students petition that an adjustment in the grading policy would be in the university's best interest during the pandemic.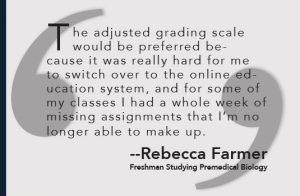 In his petition, Parker recommended that grades be scaled 100-85% as an A, 84-75% a B, 74-65% a C, 64-55% a D, and 54% or lower as an F. 
Parker stated in the petition: "This change will accommodate students who have struggled with the transition to an entirely online academic format, including but not limited to a lack of technological resources, lack of access to necessary items in the dormitories such as personally taken notes or textbooks, lack of ability to learn effectively through an online format and an essential change in personal schedule requirements and responsibilities which were brought on by the COVID-19."
The petition started with a 500 virtual signature goal and in four days the goal was reached. By the time the petition was submitted to the MBU administration, it had gained more than 500 virtual signatures.
Buzz about potential grade adjustments quickly grew in the MBU student community. 
Maggie McDaniel, a senior majoring in history, said, "When I was first sent the link I immediately skimmed the article to see what it was about. After that I knew I wanted to sign it. Great points were made, and I felt like a large amount of students were on the same page and able to relate to it." 
Rebecca Farmer, a freshman studying premedical biology, added: "The adjusted grading scale would be preferred because it was really hard for me to switch over to the online education system, and for some of my classes I had a whole week of missing assignments that I'm no longer able to make up. I have been doing all the assignments now and was previously doing well in classes, so I have an upper 80%. It would mean a lot to be able to still earn A's." 
Sameera Hammad, a sophomore in business management, said: "I 100% support the idea. It would help out so many students like me who have been struggling since switching to completely online." 
These students are just a few examples of those who signed the Equitable Grade Accommodations for Missouri Baptist Students petition, which you can read in its entirety by clicking on this link.
For its part, the university sent a letter to MBU students outlining accommodations brought about by COVID-19.
For example, MBU allowed students to drop courses without penalty or damage to their GPAs all the way until April 24, and also encouraged faculty members to issue grades of IP where necessary, a designation that means "In Progress" and allows students to finish assignments after the closing dates for classes, without penalty or damage to GPAs.
Also, the university's letter to students states there will be no reduction or loss of a student's MBU scholarship for fall 2020 based on any potential decrease in spring 2020 GPA.
In addition, according to the letter, no students who are at risk of academic suspension for the 2020-21 school year will be placed on academic suspension due to GPA issues from spring 2020. "Students who would have been placed on academic suspension will be given an additional term of probation," the letter to students said.
At the individual classroom level, professors often eliminated their usual attendance policies that might otherwise damage students' grades, and many offered extra credit opportunities for students to improve their final grades.
Working with already accommodating faculty, Parker ends the statement lightheartedly and appreciative of the work already being put forth to give students a fair shot at success during an unusual semester. 
"By taking into consideration the suggestions brought forth through this petition on behalf of the student body, we see your sensitivity to the well-being of the students. We know that the University desires to see each student strive in life, and we are asking that the University help bring forth accommodations to help with such a desire."
This summer the university has enlisted a COVID-19 Action Team whose responsibilities include determining how to proceed with delivering fall classes in a manner that is safe for students, faculty and staff members, while ensuring a quality educational experience for incoming and returning students.