Jessica Balassi, who graduates this week after winning the 2014 Campus Service Award, the top award given to a student each year, shares her experience as a student and offers a tidbit of advice to both current and future Spartans.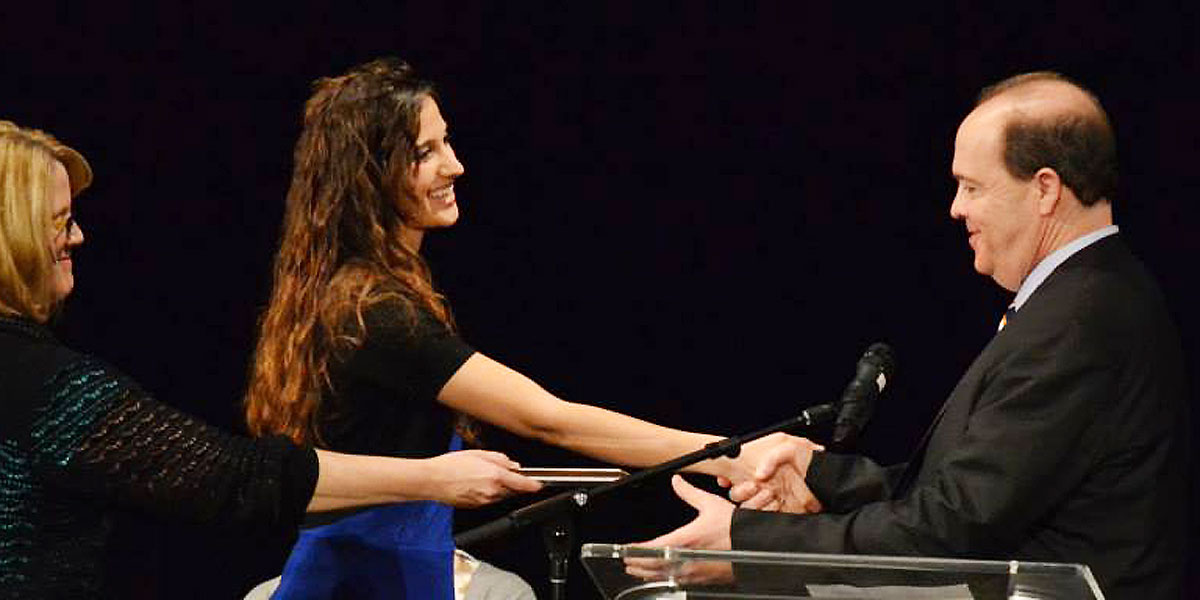 Photo by: Bryanna Hampton, MBU alumna
 __________________________________________________
Jessica Balassi, graduating senior music and musical theater major, was the recipient of MBU's 2014 Campus Service Award, Who's Who Among Students and Outstanding Scholar Award at the 29th Annual Outstanding Students of Achievement Ceremony earlier this month.
Balassi's journey at MBU began when she was a junior in high school.
Balassi, from South County, Mo., was homeschooled through high school, allowing her to take classes at MBU as a dual credit student.
While dual enrolling, Balassi joined the MBU choir on a trip to England where she built several friendships with MBU students.
Just a couple years later, upon graduating high school, Balassi was accepted to attend MBU as a full-time student.
Because of the England trip and getting to know so many people at MBU, her transition was much easier.
"I was needing to get a degree and I really wanted it to be in music because I was already doing music with my church, Southgate Church, and the Gateway House of Prayer for the past eight years," Balassi said. "I wanted to get a degree in something that would make me more prepared in that field."
Balassi auditioned at other universities but found MBU's program to be the best fit for her.
Through her first two years, she declared a piano major, but after passing her sophomore proficiency exam, she switched to a BM in musical theater.
"I started doing the shows here my freshman year and that's what made me really want to switch to a theater major," Balassi said. "I really enjoy the piano but I'm not as good at it and it demanded much more practice time. It doesn't come quite as easy to me."
Balassi has been in a total of 14 shows at MBU, including: a dancing gangster in "The Drowsy Chaperone," Hippolyta in "A Midsummer Night's Dream," Shelby in "The Spitfire Grill," and Anita in "West Side Story."
Her favorite show was the most recent, "Seussical the Musical."
"My most treasured moment at MBU was at the last performance of 'Seussical the Musical' when the whole cast gathered to pray for the seniors," Balassia said. "I have never seen that happen before. We were given affirmation and encouragement. With the immense amount of love and support, there were lots of tears."
With final exams wrapped up and commencement just around the corner Tuesday, April 29, Balassi has some exciting plans upon graduating.
She will be traveling with MBU's choir to the Czech Republic, leaving the day after graduation.
"I'm really excited because it will be kind of like a missions trip," Balassi said. "I will continue to do theater around the St. Louis area and I also plan to teach piano to beginner level and voice to all ages. I will also continue to do music ministry at my church and at Gateway House of Prayer because I find my heart most alive when I'm singing and worshiping the Lord."
Developing relationships, supporting your friends and balancing your time are three key points Balassi makes about her experience as a college student.
"Be careful how you schedule your time and just realize that you are going to do your best but your best isn't always going to get you an A, and that's OK," Balassi said.