Hundreds of marchers turned out recently in support of Mia Brueggeman, daughter of one of the team's volunteer coaches, and raised donations during the Adult Congenital Heart Walk.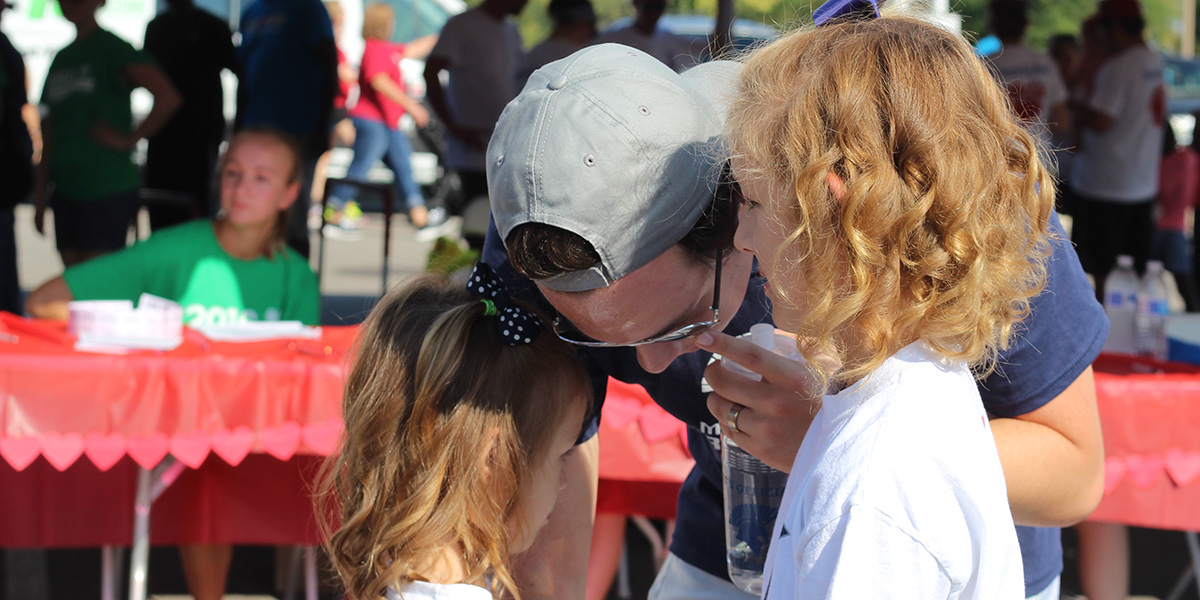 Photo by Lynn Tyler
Amilia Johnson (left) and her sister, Claire, hang out with Dylan Arnold before the walk begins.
__________________________________________________
MBU's Spirit Program joined together recently to support the daughter of volunteer dance coach, Joy Brueggeman, at the Adult Congenital Heart Walk.
Brueggeman is an administrative assistant, graduate advisor and instructor for health and sports sciences at Missouri Baptist University.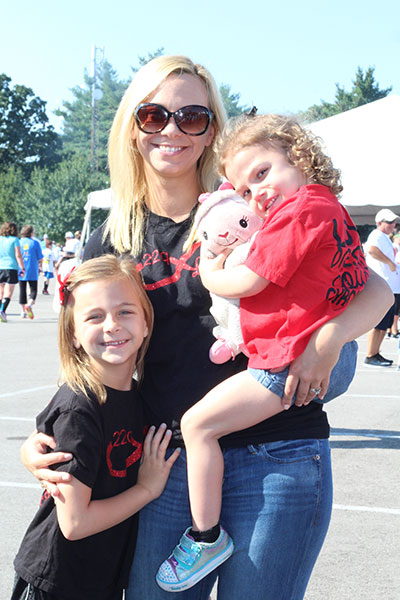 Brueggeman's daughter, Mia, 3,  was born with Tetralogy of Fallot, a genetic disorder that involves four heart abnormalities working together.
Mia Brueggeman also experiences chromosomal abnormality, called 22q11.2 deletion syndrome.
The Adult Congenital Heart Association holds an annual walk in Forest Park, where family and friends form "teams" for children and adults who have experienced heart defects.
Jessica Johnson, head cheerleading coach and spirit program coordinator, encouraged her athletes to attend the walk in support.
"Being a cheerleader or dancer  is so much more than just games and competitions," said Johnson. "Showing our spirit through acts of love and support is truly what it is all about."
Joy Brueggeman said she was touched by the display of affection from the MBU athletes.
"I really appreciate the support from the spirit program. The fact that the cheerleaders and dancers are willing to spend a few hours of their weekend, especially in the tremendous heat, coming to support Mia and children with congenital heart defects warms our hearts," said Brueggeman. "It was a great experience and it's so great that the spirit program also used social media to promote congenital heart defect awareness."
Congenital heart disorder changes the normal flow of blood through the heart.
"This was my second year participating in the walk as one of Mia's Marchers and it was just really inspiring to see how much the CHD organization has grown, the turnout was incredible," said MBU cheerleader Sarah Koenen, a junior human services major.
The Congenital Heart Walk foundation has affected so many lives. In fact, one in 100 children are born with a heart defect.
"I loved seeing the different shirts made for all of the different groups because they were all so unique but were all for the same cause," said Sarah Fujawa, sophomore education administration major and first year MBU cheerleader.
It was an eye opening experience seeing how many individuals are affected by this disease.
"This was my first year participating in the walk and it was was truly inspiring to see everyone showing so much support and love towards these kids. You could feel it in the environment," said Jenna Backs, junior early childhood education major. "I know the families of each and every kid truly appreciates all who showed up to walk. It seemed like a great turnout."