Two MBU staff members head up the newest organization on campus for students, MBU Outdoors.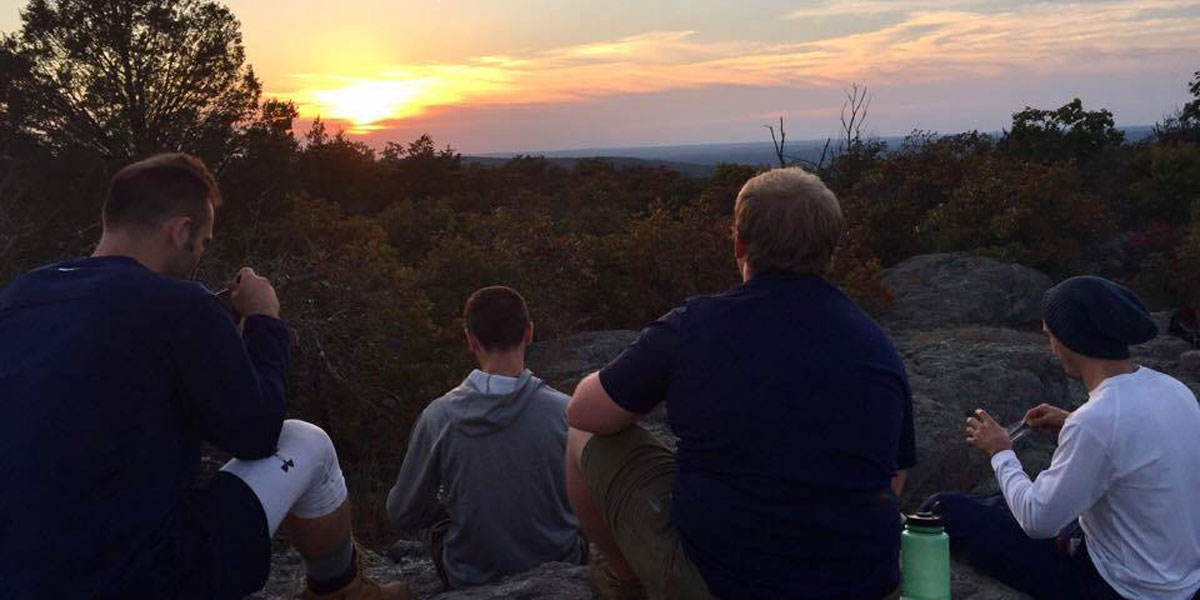 Photo provided by Brian Knapp
__________________________________________________
Surrounded by the Ozarks it only seems fitting that a new organization should be dedicated to exploring all that nature has to offer around MBU.
New to MBU in fall 2016, MBU Outdoors offers students the opportunity to go outside and explore new areas they've never been.
Brian Knapp, director of alumni relations, and Stephen Crain, resident director of Pillsbury Huff Hall, founded the club because they "love being outside," said Crain, an MBU alum. "But we also wanted to give a way for non-athletes to be active."
Knapp also had other reasons for wanting to start MBU Outdoors.
"The purpose is to provide opportunities for students who want to be active but aren't necessarily competitive or people that are naturally bent towards spending time outside or who already enjoy camping and backpacking," said Knapp.
Crain and Knapp hope the organization will have a positive effect on the campus.
"Just the fact getting people to be outside more, I think that will get people more activities like games and sports. As far as building community, it's just a really good opportunity for getting students together," said Crain, resident director of Pillsbury-Huff dormitory.  
Knapp said he hopes this organization will be able to bring students together.
"Just giving them the opportunity or space to do that. Often times students need that additional encouragement by a staff member coming along just providing the opportunity for students to get outside, fellowship with one another, enjoy God's creation and get outside," said Knapp.
Knapp said he believes the organization can improve the university as a whole.
"It just gives one more positive outlook for our students and even faculty and staff to be a part of. It helps add to the community of our campus by connecting people on a common passion and I think that it's never a bad thing to have more organizations on campus to make it a richer experience which I think inevitably will benefit retention," said Knapp.
"It will benefit student happiness on campus if they're being active being outside. Just the overall engagement level on campus I think it will improve," he continued.
MBU Outdoors has already been on two different hikes this semester.
"We went on a couple hikes, one in the Creve Coeur/Chesterfield area and another one in the St. Charles area that was about five-mile hike," said Crain.
The organization has also held two different events on campus this semester, an info night where s'mores and dinner were available for students to eat for free and then Flannel Friday Pancake Breakfast, where students were given free pancakes and wore their favorite flannel.
The organization plans to take another trip soon.
"We're taking a camping trip next week down south a couple hours. I would say we're going to try to do that a couple times a year, an overnight trip here and there," said Crain.
The organization hopes to find a different variety of hikes for members as the organization moves forward.
"We try not to do anything too extreme because the main goal is to get people involved so if it's too hard not very many people are going to commit to that," Crain said. "So we try to find places that are not too difficult."
MBU Outdoors founders hope to one day be able to take extended out-of-state trips in the future.
"We would love to take a trip out-of-state to Colorado, the Rocky Mountains maybe," said Crain.
Membership for MBU Outdoors is free and trips are open to all MBU students, faculty and staff.
Students interested in joining can contact Knapp or Crain.