A green screen being installed in the Missouri Baptist University Communications Studio brings a new look to video projects on campus.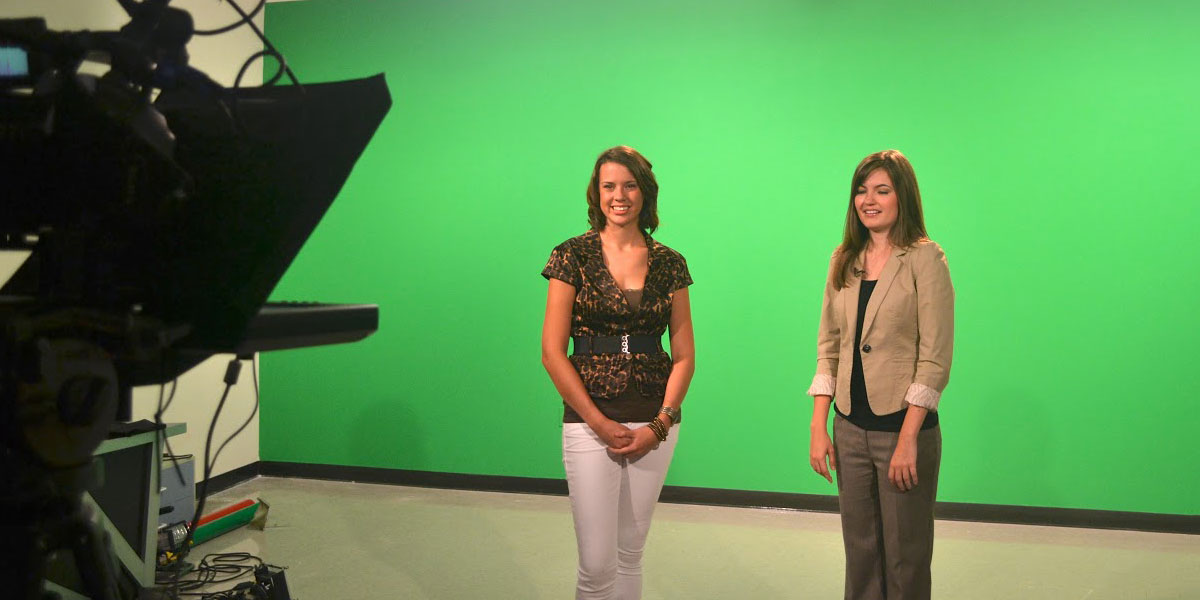 ___________________________________________________
"Green screen" technology has made its way to the MBU Communications studio, bringing more advanced and versatile settings to be used in video projects.
The green screen premiered on the Sept. 5 edition of MBU Timeline Broadcast, a student-produced campus news segment.
"Previously, the anchors were recorded in front of the set that was created in the studio, made of wood and paint," said Paula Bennett, assistant professor of communications. "By placing our anchors in front of the green screen, we can digitally make them appear to be standing in front of any location or set that we choose."
To create such effects, the old studio set was removed and the background wall was created using special green paint.
This green wall is just the beginning to creating virtual sets in post-production. The keying feature in video editing software such as Final Cut Pro and Adobe Premiere, is used to erase the green background.
"When a subject is recorded standing in front of a green wall, the computer can select all of the green and remove it so only the subject is seen," said Ricky Janzen, studio technical manager. "After that we just place the set behind them and they are digitally transported to wherever we want."
The green screen gives students the ability to be more creativity with sets used in videos.
"I was able to place a person on the side of a mountain as if he was rock climbing," said Ryan Arnold, broadcast media major. "It is able to create an effect that looks almost real."
Along with the ability to place subjects in different settings, green screen technology saves the communications studio money and space.
"A high-tech (set) is a more budget-friendly way… (and) it doesn't take up any floor space," Bennett said. "We are no longer limited to the one Timeline set — we are now Timeline Broadcast located wherever we choose."