Missouri Baptist University adjunct communications instructor and Troy business owner, April Bryant, will be testing her leadership skills as she is running for mayor of Troy in the Tuesday, April 6, election.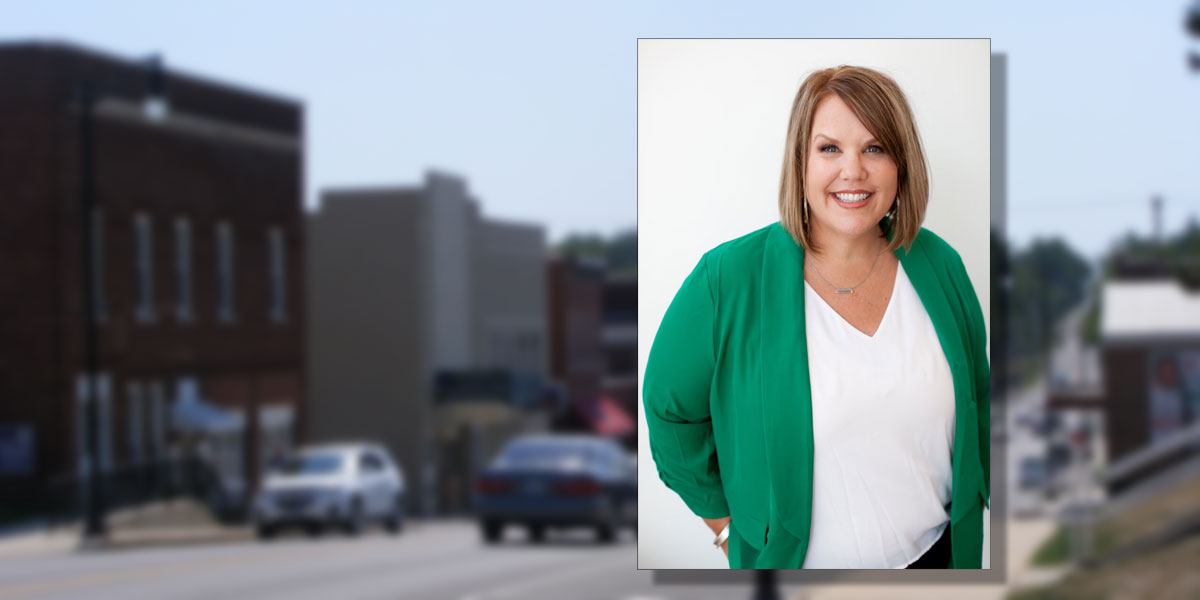 With the backdrop of the historic downtown area of Troy, Missouri, Troy business owner and MBU adjunct communications instructor April Bryant hopes to become the town's next mayor as the election looms in just a few days.       Photo courtesy of April Bryant
__________________________________________________
LATEST UPDATE:
As an update to this story, Ron Sconce won the Troy mayoral election Tuesday, April 6, with 670 votes, while April Bryant finished the race with 389 votes.
______________________________________________________________
April Bryant, a current MBU adjunct instructor and Troy business owner of Fast Bryant Consulting, has leadership skills that she believes can win her the job of mayor. 
Bryant did not always desire to be mayor, but said life has taken her down this path.
"I have always believed a person has the most impact at the local level. Although I never imagined I would be a candidate," Bryant said recently in an email. "My inspiration to run came from our former Mayor Mark Cross. He was a dear friend who stepped down 13 months ago for health concerns. (He passed away due to COVID in December). It was through a number of conversations and his mentorship that I came to realize I needed to run to prepare the city for the future. I am certain he planned that."
As a communications instructor, Bryant brings a strong direction into the classroom that her students can follow. Each day, students at MBU can expect a solid plan and clear message that can help each student grow, she said.
At Fast Bryant Consulting, a digital/multi-media strategy consulting firm she co-owns with partner Lauren Fast, their motto is: We speak digital, so you don't have to.
According to the company's Facebook page, the team partners together to "lead organizations, teams and individuals to a stronger online and offline presence." Together they have presented at regional, state and national conferences on social media, video and best practices, according to their site.
Bryant is running against two candidates, David Norman and Ron Sconce, to fill a one-year unexpired term in Troy, which is a town platted back in 1819, located northwest of St. Louis, just north of Wentzville.
Bryant said she believes her leadership skills can easily translate to the position she is running for.
"If elected, the citizens of Troy can expect an honest effort in creating a shared vision that represents ALL residents. With a shared vision, we have a clear destination and more cohesion. Then, we can create a roadmap to get there together," Bryant said in an email.
According to Bryant, Troy lacks vision for the future. 
"The biggest obstacle facing our city is the lack of preparation for the future. There is currently no comprehensive plan in use today. This means decisions are made without an overall objective in mind. As a result, our city quickly becomes disjointed," said Bryant.
Troy is a growing city, to which Bryant is no stranger as she has been a long-time resident. The 2010 Census placed the city at 10,540 residents. Today, more than 12,000 call Troy home. 
"Troy is a small city with BIG potential. I want to help our city reach its potential," Bryant said in an email.
If Troy needs someone to lay out a shared vision as mayor, Bryant believes she can be the perfect candidate. Dr. Amanda Staggenborg, assistant professor of public relations and communications, works closely with Bryant and had the following to say about her in an email.
"April's experience in public relations and communications is valuable both in and out of the classroom. She is patient, compassionate, deadline-driven and builds positive relationships with students, faculty and staff," said Staggenborg. "She will be a wonderful mayor for the Troy community."
She added: "It is a true pleasure working with April Bryant. She is organized and engaging while building creativity into each of her lectures and assignments. Missouri Baptist is lucky to have her."
Bryant said on her website the first thing she plans to do if elected mayor will be bringing people together to build a collective vision for the city's future.
"As mayor, my first step will be continuing focus groups with citizens as well as city employees to identify our strengths and areas for improvements. This will take time to get an adequate universal sample size that can accurately reflect our community's wants and needs," Bryant notes on her website. "I have used this process a number of times and with willing and active participation from the community we can complete this portion in approximately three months."
For more information on Bryant's campaign you can visit her "April Bryant For Mayor" website by clicking on this link. For more information about the city of Troy, its election and the other races being contested, clink on this link.