Ring by spring, the swing and the MRS degree all apply to couples at Missouri Baptist University. This week as we approach Valentine's Day MBU Timeline will be featuring daily stories of students who met at MBU and ultimately found their way down the wedding aisle.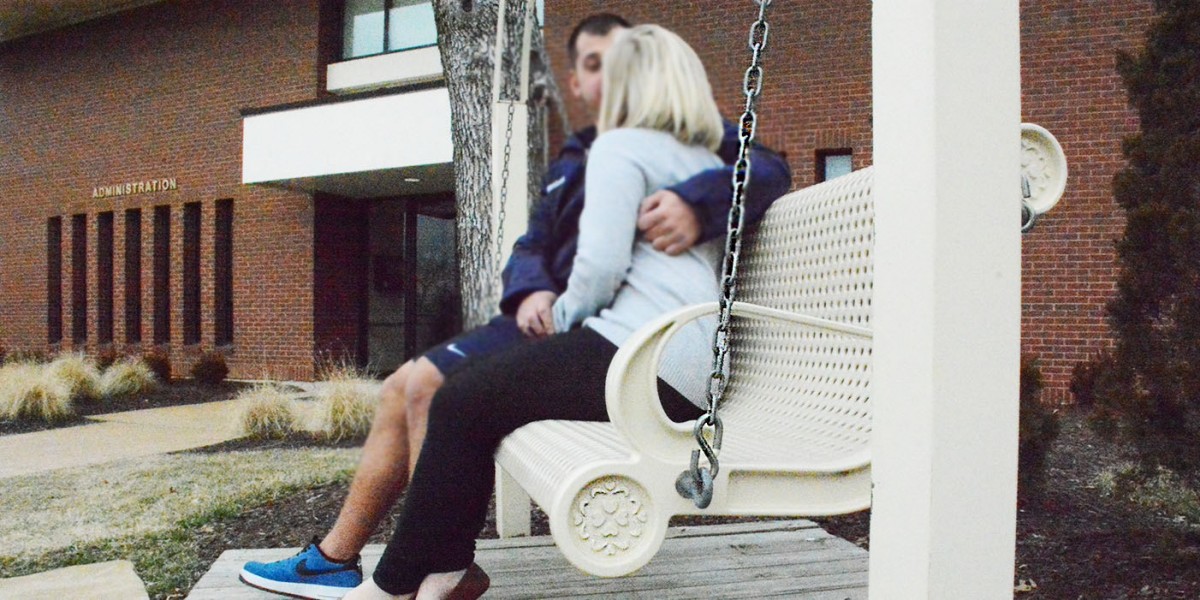 Photo by: Rebekah Rutledge
__________________________________________________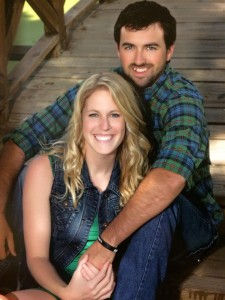 I couldn't tell you exactly how the conversation went between Mom and I, other than this: "Cassie," said Mom. "Everyone seems to get married at MoBap."
The odd thing is: She's right.
What is this?
Like the old days when women went to college merely for their MRS degree, a marriage degree.
How come the saying, ring by spring, truly means ring by spring?
We even embrace the silly superstition where couples who sit together on a particular swing are bound to get married. At MBU it's the swing on the lawn between the library and administration building.
The scariest part of all is watching people you knew from freshman year get hitched.
Like Haley Elders, MBU 2014 graduate in elementary education, and Reid Cure, MBU senior sports management major and journalism minor who also happens to be editor of MBU Timeline.
I met Elders my first day during Welcome Week.
She was outgoing: the tallest, blondest and most likeable person I knew my first few hours at this university.
I think of that time and back to now.
How is she getting married?
How can anyone get married?
But it didn't just happen out-of-the blue.
It wasn't just BAM: married.
No, there was an ongoing friendship and transition along the way.
I remember the two were playing "Disney Scene It" at North Hall, the girl's dorm, in the common area.
Who plays a board game during a date?
Best friends, that's who.
Here's their story.
Ladies go first.
Haley Elders
Here's her "Married at MoBap" story, in her own words:
The first day I saw Reid was at the Hall of Fame sports banquet freshman year. We were both working it, and I asked some of the basketball girls if they knew who he was. They didn't.
The next day the basketball team had our first game.
Reid went, and afterward he went to Cole and Connor Stevenson's, our school friends, family's house for the first time (I had been going to their house since the first week of school).
He said a joke to me about women's basketball, and the rest is history.
Our first date was at the Zoo.
After that we spent time together in the library, girls and boys dorm playing ping pong, and our favorite thing to do was take walks and just talk.
Usually after we walked the loop or the trails, we'd sit and talk on the swings or the steps outside of public safety.
Reid and I started dating Nov. 27, 2011.
He asked me to be his girlfriend the day we came back from Thanksgiving outside of the boys' dorm.
Since then, we still love to take walks, hikes and bike rides, play catch or basketball together, fish, and play cards or games.
We like to do things together that give us a chance to talk and laugh.
MoBap has played a major part in Reid and my relationship.
We've grown closer to Christ and each other through Bible studies.
This is our first semester apart since I graduated at Christmas, and Reid has already said that school doesn't feel the same.
The whole time we are dating, people would joke with me about sitting on the swing and ring by spring, or MRS Degree, and I always laughed about it.
But the truth is … it's true.
When you have Christian girls and boys on a campus who both love Christ searching for God's will, there is a possibility that you will meet your match.
I know I did, and it's a God thing.
God brought me to MoBap to play basketball and He brought Reid to play baseball, and somewhere along our paths we met each other.
And I'm so glad I did, because I met the smartest, most caring, hard-working, God-fearing man who makes my strengths even greater and my weaknesses less. I met my best friend and my partner for life.
Reid asked me to marry him July 2nd on a hike at Fern Cliffe State Park.
Our wedding date is June 6th at First Baptist Church, Herrin.
I cannot wait to start my life with him!
Reid Cure
Now his "Married at MoBap" story:
On Oct. 4th, I believe, I was invited to Cole Stevenson's birthday party at his house.
Cole was my roommate and I was in need of friends, so I went.
While I was there, Cole's friend Haley Elders, who we had watched compete in a basketball game earlier that day, was there in full basketball sweats as if she had left from the locker room to come over.
I noticed her the moment she came into the room and sat down on the couch. She wouldn't look up from David Lee's, a mutual friend of ours, iPhone because she was so addicted to "Flick Home Run," and I was having a hard time finding a way to break into conversation with her.
Now, I'm not meaning to brag, but most of the time I don't really have a problem approaching people I don't know, but there was something about Haley.
Finally I broke conversation with some other people at the party and, for reasons I can't fathom, decided to throw a pillow at her and blame it on someone else.
She looked up, looked at me and the person I was pointing to, and looked back down at the phone.
I counted it as a victory because now she knew I was there.
After that, I only could think of one thing to do: tell her a joke.
Now, at the time, freshman Reid could only come up with one very very poor joke.
I'm not proud of it so I won't repeat it.
I left that conversation and didn't remember the rest of the party.
Thought I had struck out.
Until my phone lit up on the way back to the dorm rooms.
"Haley Elders has requested to be your friend."
From there, we chatted, exchanged numbers, went to the zoo a week or two later, and the rest was history.
Haley and I are the perfect example of opposites attracting, I would say. She is outgoing, funny, loud (in a good way), impulsive, and very very caring of others.
I am a little more reserved, sarcastic, quiet, a thinker, and prefer to be alone than with a group of people.
We share a sense of humor that probably would scare a lot of people, but we love it that way. God really has blessed me with the love of my life.
Haley makes me a better person day in and day out.
Her strengths grow me in my weaknesses and vice versa. She has become, no doubt, my best friend.
I know that she is the perfect woman God has created for me because I don't just long to be with her due to her stunning attractiveness, but because I honestly have an incredible time whenever I'm with her (and remember, we've been dating for over three years now).
This woman has completed me in areas I didn't know were missing.
I can't fathom a day in my life where I don't have Haley to call mine.
She is currently living at home for the semester while I finish school, and as I drive down Manchester I am just filled with memories of us going to nearly every store or restaurant I pass. It hits me with an emotion I've never felt before.
I don't really know what God has in store for us, but I do know that no matter what happens, an awful day spent with Haley beats a great day alone.
God's grace has really been blessed upon us and I can't stress how thankful we are for being a part of each other's lives.
June 6th (our wedding date) will forever be the best day of my life.
__________________________________________________
As you can tell, marriage was more than an MRS degree.
Elders and Cure were and continue to be best friends in their relationship with one another.
Throughout the week we will roll out stories of a few more couples who were married, or will be married, at MBU.