Ring by spring, the swing and the MRS degree all apply to couples at Missouri Baptist University. This week as we approach Valentine's Day MBU Timeline will be featuring daily stories of students who met at MBU and ultimately found their way down the wedding aisle.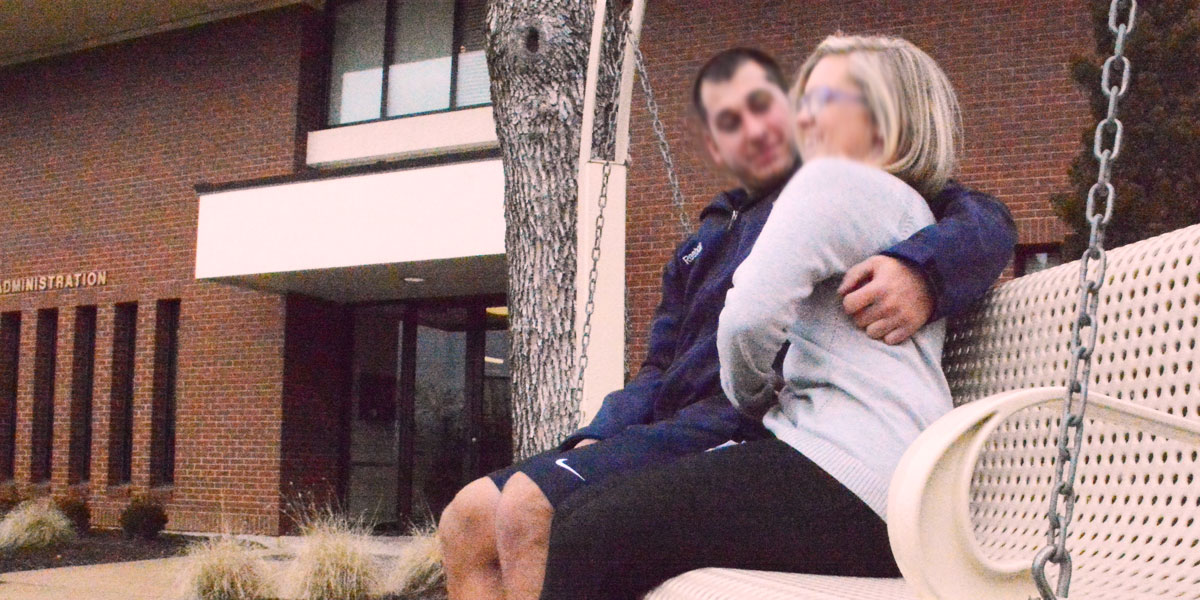 Photo by: Rebekah Rutledge
_________________________________________________________________________________________________

We've heard the phrase, Married at MoBap, over-and-over again. But the stories themselves never get old.
There is a fresh feeling that comes with reading a couple's love story. Continuing with our Valentine weeklong theme of students who have met at Missouri Baptist University, here is today's story about Bryanna Hampton and Joe Hartmann.
Bryanna Hampton, 2012 MBU graduate
Here's her "Married at MoBap" story, in her own words:
Basically we learned we worked well together.
I met Joe when he came in to interview for a Student Activities scholarship the summer prior to his freshman year at MBU.
I was Student Activities president and I sat in on many of the interviews to get to know the newcomers.
Joe quickly proved himself to be a great help and became part of the leadership team.
We were planning events together and were friends by the end of the year.
With the year's largest projects set to be planned over the summer, we continued to tag team and develop a great partnership.
Our minds sort of meshed when we brainstormed and we realized we "clicked."
Eventually, I bugged Joe to get involved with the sports segment of the Timeline Broadcast, and some webmaster work with Timeline Online (now called MBU Timeline).
He had skills I didn't and I learned a lot from him. We worked our tails off.
At the time, I was in a longtime relationship.
It was fine, but just that: Fine.
We didn't challenge or grow in the way we needed to and it was bringing us down.
We weren't meant to be and that took some time to figure out.
At about the same time, I noticed Joe being a bit quieter around me.
Then, I didn't get why – I thought he was mad at me or tired of working on projects together – but that time helped me see the relationship I was in needed to end and, thankfully (and unexpectedly), THE relationship was right around the corner.
Turns out Joe liked me.
Like, like liked me.
And that was great because he was encouraging and smart and mostly unexpected.
I've learned that, a lot of times, when unexpected things end up working out, it's a major indicator from God to keep pursuing it.
So our friendship eventually became more.
For me, it wasn't about getting a "ring by spring," or finding the Perfect Husband at a Christian College, but about trying to figure out what God wanted me to do with my life. (There's college for you.)
I'm just glad Joe is a huge part of that and will continue to push me to keep seeking that out.
Three years later, we keep pushing each other and, as we plan our wedding, we keep learning.
God has a lot of adventures in store for us.
We're a pretty great team.
Joe Hartmann, 2014 MBU graduate
Now his "Married at MoBap" story:
Bry and I first met at my interview for Student Activities.
Bry was the president of the organization and was sitting in on my interview.
As I started my first year of college, I wanted to make sure I was plugged in as much as possible to be able to experience all that Missouri Baptist University had to offer.
Bry and I became close friends as we continued to work together on many events put on by Student Activities.
One day Bry approached me and asked if I wanted to join Timeline and help the sports section of the broadcast.
Eventually we became completely involved in all things Communications Department: webmaster, managing editor, broadcast editor and producers to name a few.
We worked hard every day to keep everything going and to hopefully leave something future students would love.
We eventually realized over time that we had a lot of interests in common.
Our friendship was the best launching point to start our dating relationship.
We both had our own circumstances to work through to be ready for our relationship to start.
Bry had just ended a relationship and I was still working on myself from a previous relationship that was rough, and waiting for God's plan to provide the person he had set for me.
As we worked together to solidify our friendship, we began to hint at each other that we were ready.
I started to meet her family a few times and became comfortable enough to one day ask if I could ask their daughter out on a date.
One fateful night on the beach in Gulf Shores, Ala., I asked Bry if she would be my girlfriend and she said yes.
We had a lot of adventures ahead of us.
We both graduated from the Communications Department (two years apart) and are an even better team now than we were at school.
We felt it was important for us both to graduate and find out more about ourselves as individuals before deciding to get married.
We knew it for a long time, but it was hard to wait for jobs and situations to fall into the right place.
Always, all in God's timing.
On Nov. 15, 2014, God provided the perfect timing.
I had gotten the OK from Bry's dad, and then I started to concoct the plan to ask the Big Question.
I had to keep it very spontaneous as Bry was able to see through me and knew what I would be up to.
I got the ring and had the perfect opportunity: Thanksgiving dinner with my family, and Bry's family was invited.
With family all gathered and just before eating dinner everyone said something they were thankful for.
When it was my turn, I got down on my knee and Bry was left speechless.
Now we are planning our wedding day. We're blessed to call MBU our alma mater.
It was the start of many things for both of us. But neither of us could have guessed that what started out as a simple first interview would lead into such a perfect relationship.
__________________________________________________
As we head toward the Valentine's Day weekend, MBU Timeline will continue featuring stories about couples who were married, or will be married, at MBU.