Missouri Baptist University has had the unique opportunity to watch the campus grow from humble beginnings in a church basement to a thriving university, home to over 5,000 students.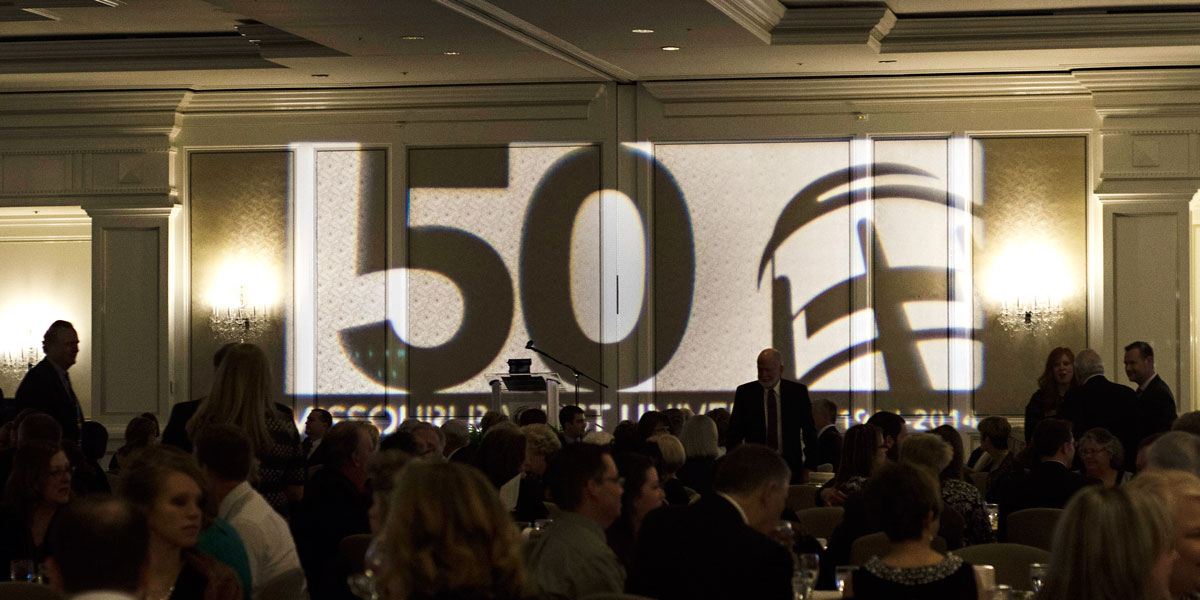 Photo by: Jenny Gravatt
__________________________________________________
Greeted by the solid brick sign off the outer road, what lies behind the trees has been blooming for 50 years.
"Missouri Baptist University has not only persevered but flourished over the past 50 years because of qualities that have remained constant over its entire history: that we should be academically second to none, have a strong Christian faculty, open admissions, and be free and responsible in seeking the truth," Dr. Alton Lacey, president and professor of psychology, said in an email.
In 1964, Missouri Baptist College was created as an extension of Hannibal-LaGrange College.
Beginning with only 189 students in 1973, MBU began its legacy as an independent college.
Through the years, undergraduate degrees expanded and graduate and doctoral programs were added.
Sports became a main focus and have since proven to be some of the best in NAIA.
Teams are achieving more goals and new teams continue to be added.
"So many advances have been made in the last two decades, from growing enrollments, the addition of multiple master's and doctoral programs, the addition of numerous regional learning centers in Missouri and Illinois, distance learning degrees, numerous new athletic teams, including football, new building for classes, resident life and athletics, the caliber of the faculty," Dr. Andy Chambers, senior vice president for student development and professor of Bible, said in an email.
"Taken together, Missouri Baptist University has emerged in recent years from being a small private college in St. Louis to a regional leader in Christian higher education," said Chambers.
Football just finished its first season at MBU and sand volleyball was just added.
"Athletics and football have greatly advanced the university. Tom Smith (athletic director) and his staff/coaches have played a great role in making that happen," Lara Hines, director of student activities, said in an email.
The campus continues to grow and new buildings will be added soon.
The most recent additions have been the Student Recreation Complex, Spartan Village and the Bookstore.
Construction is well under way for a football field, stadium and locker rooms.
The $8.2 million project includes an artificial turf field and 11,500-square-foot facility.
MBU is a community unlike any other.
"Looking at how far MBU has come in a short 50 years, it is clear that striving for excellence is taken seriously.  The people who have and continue to contribute to the university's financial and academic success make it one of a kind," Brenna Lacey, fitness coordinator, said in an email.
With more than 5,200 current students, MBU enrollment is at an all-time high.
MBU's facilities draw attention from some big names, including Christian rock band Switchfoot and baseball Hall of Famer Albert Pujols.
Grammy Award-winning band, Switchfoot, started their Fading West Tour in the Pillsbury Chapel and Dale Williams Fine Art Center at Missouri Baptist University last year.
Pujols has held the Albert's All-Stars Foundation fundraiser in the Carl and Deloris Petty Sports and Recreation Complex for the last four years.
What makes Missouri Baptist University what it is today?
"Faculty and staff genuinely care for the students and make an extra effort to get to know the students.  Building relationships with them is vital to help to make the student feel a sense of belonging," Janet Mayfield, administrative assistant to the provost and vice president of academic affairs, said in an email.
"I also know that faculty and staff have taken time to sit and pray with students which conveys a sincere care and concern for the student. This one-on-one relationship building makes MBU stand out from other institutions," said Mayfield.
Lacey, who has been president at MBU for 20 years, agreed: "Armed with a distinct mission and these core values a steady stream of believers refused to give up on this place.  That has allowed it to become the university it is today."
Student life is full of activities ranging from Homecoming games, Spring Fling and a Finals Feast.
Your four years at MBU are so much more than just a diploma and getting connected makes all the difference.
Getting involved on campus in clubs, intramurals, organizations and jobs will help you reach your full potential at MBU.
These experiences open doors for opportunities you won't receive anywhere else due to local connections.
MBU celebrated the golden anniversary with a 50th Anniversary Gala, an invitation-only event at the Ritz-Carlton ballroom.
Some events have become traditions.
"Seeing events evolve into campus traditions has been a unique experience since I've been around campus for 20 years," said Lacey, the daughter of the campus president. "From the Homecoming chili supper and the Perk event to Finals Feast and Hanging of the Green, each tradition has taken on its own identity and is looked forward to each year."
With the end of the semester wrapping up, Finals Feast is tonight at 9 p.m. in the cafeteria.