Every day the local Red Cross is serving both the city of St. Louis and cities all across the nation.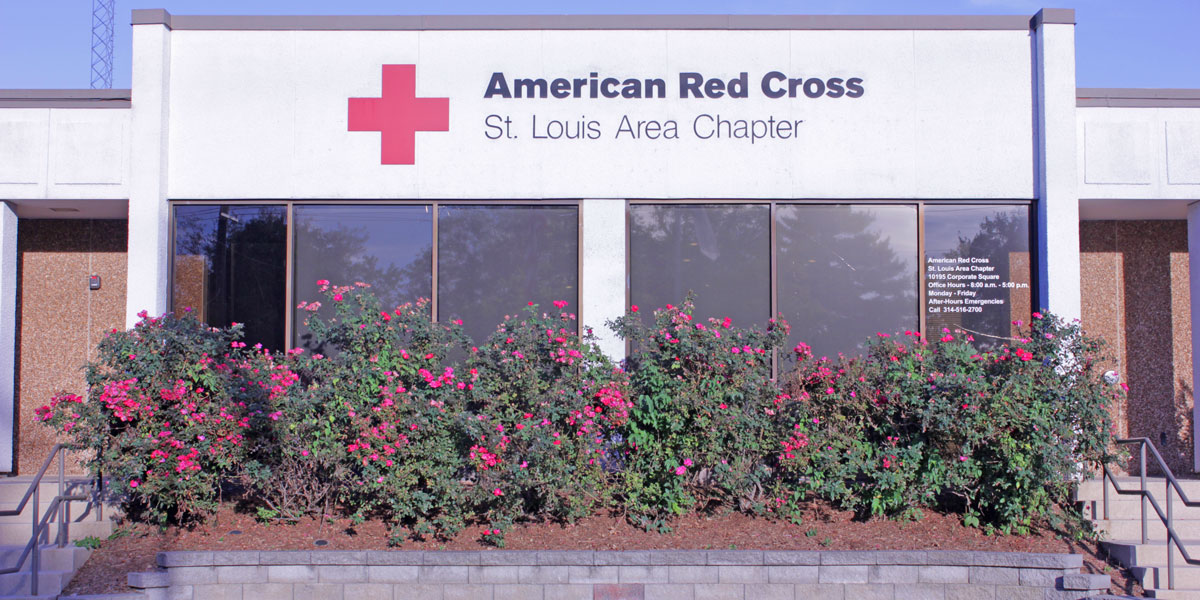 Photo by Abby Wickham
The American Red Cross St. Louis Chapter celebrated 100 years of serving the community.
__________________________________________________
In recent weeks, it has been impossible to turn on the news or get online without hearing about the devastation of Hurricane Harvey, Hurricane Irma or Hurricane Maria.
And nearly every time you see a story about these terrible events, you will find a Red Cross logo on the scene.
Almost everyone knows the Red Cross name, but what exactly do they do?
The American Red Cross focuses on these main areas: blood services, service to armed forces, health and safety training, international services and disaster relief.
Their mission statement is: "The American Red Cross prevents and alleviates human suffering in the face of emergencies by mobilizing the power of volunteers and the generosity of donors."​
For 100 years, the American Red Cross in Greater St. Louis has been living out this mission.
Hannah Bruce started as an intern for the American Red Cross St. Louis Chapter five years ago and now works full time as a disaster program specialist.
"I support the disaster action team for St. Louis city and county and client case work for our 62-county region," said Bruce.
Bruce, the disaster relief team and volunteers respond to local disasters on a daily basis.
"On average, we respond to three home fires a day in the Greater St. Louis area," said Bruce.
Once the Red Cross receives word there is a local home fire, they immediately begin to walk hand in hand with those who have lost so much.
"I send kind of our version of first responders out to the fires to meet with clients and assess their needs and then for case work we follow up with the clients over the course of about 30 days to help provide referrals for additional assistance, guide them through the recovery process, answer questions, get them connected to any health needs they may have and those kind of things," said Bruce.
Often times, when people hear the name Red Cross they think of the larger scale disasters when there is major loss and destruction.
But when it comes to measuring tragedy, the impact is all the same.
"So if you have a home fire and you lose everything you are in the same position as someone who's had a hurricane and has lost everything. You're both starting from square one. You've lost your place to stay, your belongings, potentially even pets and loved ones. So it's just as devastating to go through something like that," said Bruce.
While there are local disasters happening every day, there are also times the American Red Cross has to come together as one to face the catastrophic disasters such as the nation's recent hurricanes.
Red Cross disaster specialist Jennie Sahagun recently returned from working in Texas with Hurricane Harvey victims.
"I was the supply manager for District 1, which included areas such as Houston and Galveston. My role as a supply manager is to process requests from every function to ensure our clients are being served as quickly and efficiently as possible," said Sahagun.
Sahagun has worked for the Red Cross for the past year and a half and Hurricane Harvey was the largest disaster she had been a part of.
One of the biggest challenges of working on such a large disaster was managing the mass amounts of communication necessary.
"There was also a massive amount of inaccurate, untrue and completely false media and social media coverage of the Red Cross in Texas, ranging from the American Red Cross 'stealing supplies' to 'feeding a slice of ham as a dinner.' Not only are these stories harmful, they foster an environment of untrust based on lies," said Sahagun.
In order to combat these stories, volunteers had to give their time in order to track them down.
"Our public affairs volunteers spent countless hours chasing down inaccurate and made-up stories when they should have been working to get the word out about other work that was being done," said Sahagun.
While these fake stories were discouraging, it could not compare to the great amount of generosity that she witnessed through the hundreds of Red Cross volunteers.
Sahagun saw countless volunteers pull together for a community in need. She shared of a particularly touching moment seeing nearly 50 volunteers work together to create clean-up kits for hurricane victims.
The kits include essential items such as work gloves, flashlights, mops and more.
"This was truly a great representation of the spirit of the Red Cross. We work hard until the job is done, even if we're tired or our shift is technically over, we keep working to make sure our clients are served," said Sahagun.
Sahagun spent a total of three weeks in Texas, serving the community and helping rebuild what had been destroyed.
While things may be quieting down in Texas and Florida, every day at the Red Cross is a day spent responding to disaster.
"We are there when someone loses their home in a fire. We offer comfort, care, compassion and guidance when natural disasters strike. We open shelters for those who don't have a roof over their head. We offer a hot meal to those who may not have had one in the wake of disaster. We prevent and alleviate human suffering in the face of emergencies," said Sahagun.
As the St. Louis Red Cross celebrates their centennial, they reflect back on their years of faithful service and look forward to the years ahead.
And while the celebration may come to an end, the mission of Red Cross St. Louis will continue on.