The transition from Thanksgiving to Christmas is a much-debated topic in the U.S. today.  In this article, Jill Burroughs discusses the lead up to Christmas with various MBU students. Her feature story is paired with Matt Williams' opinion piece discussing when Christmas music is appropriate on the radio.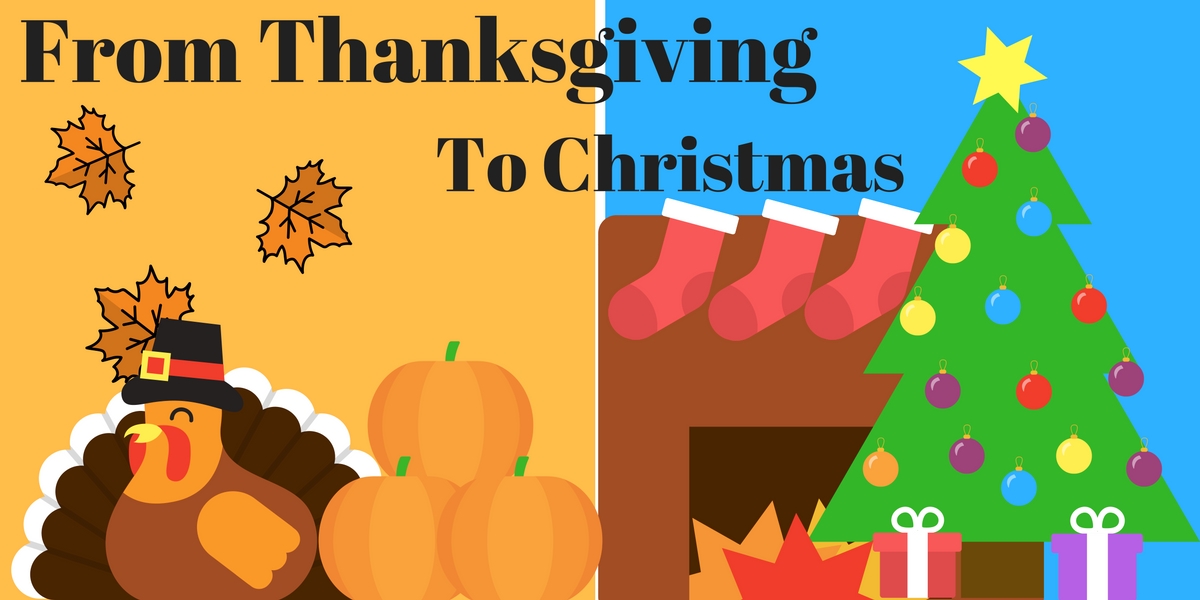 Graphic by Joshua Daugette
__________________________________________________
FEATURE: Twas the Month Before Christmas
By GILLIAN BURROUGHS
Twas the month before Christmas and all through the store, decorations hung with a turkey and pumpkin next door. The garland was hung on the windows with care, in hopes that St. Nicholas soon would be there.
The Christmas season is full of joy and merriment, but before is a holiday that is commonly overlooked by the jolly spirit, Thanksgiving.
Some people embrace the excitement of the approaching Christmas as early as the beginning of November. On the other hand, some prefer to give Thanksgiving its time before celebrating the red and green.
"I think that everyone feels Christmas joy differently and that they should celebrate Christmas at the appropriate time their heart sees fit," said Anna Hughes, junior marketing major of Benton, Illinois. "I think that for me the Christmas season is split halfway before Thanksgiving and halfway after. There are certain things I like to enjoy longer than others. … There are other things I want to make last for a shorter amount of time so I can really treasure it."
Christmas is certainly the year's most important holiday in America, but Andrew Grant, a senior sports management major from Dunblane, Scotland, has a slightly different view on the Christmas experience.
"I feel like being here in America it's different, like different cultures," Grant said. "Like I've never ever seen anyone back home decorate their front garden or front lawn in like graveyard or dead people for Halloween ever before, but you see that all the time here. … We won't put lights on the house or anything but like inside there will be a Christmas tree and like Christmas stuff."
There are many elements that go into the Christmas season such as mistletoes, jingle bells and Christmas trees, but not everyone focuses on those material things.
For Clayce Fletcher, junior human resources major of Benton, Illinois, when the weather changes, so does his holiday spirit.
"I think the Christmas season starts before Thanksgiving. I think when it gets cold enough where I have to get a jacket I start thinking about Christmas stuff," he said.
With a warmer November, having Christmas spirit was a difficult task for Hannah Wood, MBU graduate who is now assistant director of Student Activities.
"I'm not quite ready for that and I think this year it's harder for me to start earlier because it's like 60, 70, 80 degrees out right now," Wood said last month.

But temperatures have finally begun to fall and, ultimately, the debate of Christmas before or after Thanksgiving depends on an individual's preference.
"Some people choose not to decorate until like the day after Thanksgiving and that doesn't affect how I decorate or celebrate Christmas, so if that's how they've been doing it that's fine," said Jamin Walker, junior commercial voice major. "I start decorating pretty early. The atmosphere of the decorations and everything is part of the Thanksgiving season for me."
The Christmas season is a great time to spend with loved ones and friends but it is also a personal time of year. As Walker said, "It's kind of a how much of Christmas do you want in your life?"
OPINION: Deck The Halls, But Not Yet?
By MATT WILLIAMS
I am a Christmas nut roasting over an open fire.
Maybe it is a problem.
Maybe it is a gift.
Either way, I am typically getting in trouble by friends and family for carving my Halloween pumpkin to the tune of,  "It's Beginning to Look a Lot Like Christmas."
I simply can not hold off my enthusiasm for the Christmas season.
With Mannheim Steamroller, Relient K, Michael Buble', Kenny G, Alabama, Andy Williams, Mariah Carey and my recent favorite Brett Eldredge, my holiday season kicks off somewhere between the Fourth of July and Halloween.
OK, more reasonably the Fourth of July.
I am often slated as uncaring toward other holidays.
Ungrateful for Thanksgiving as the turkey bakes to Bing Crosby's "White Christmas."
The kill-joy of late-night Halloween trick-or-treaters.
Are these accusations true?
No, not at all.
But for me, as a Christian, Christmas is the pinnacle of holidays.
It represents the moment in time when God himself, incarnated as a baby, through a virgin birth, entered this world.
It was when wise men set out for an extended journey, to meet this kid and give him the most precious of treasures.
It marks the most charitable time of year, when people are more giving, kind, sweet and loving.
In a way, Christmas is simply when the world acts the most like Christ.
It is when we all go to church.
It is when "miracles" come true.
It is when all of us in some way or another believe in something bigger than ourselves.
For these reasons, I long for Christmas.
For me, Christmas is a small glimpse of Heaven, a cracked window of opportunity for the world to come together for a singular cause.
Whether it be about Santa Claus or Jesus, I love hearing tunes that are joyful and happy.
Now please, do not paint me as simply someone who wants everyone to be jolly-go-lucky all of the time by throwing care and caution into the wind.
Christmas music points us to that day, where the world looks a little like Jesus Christ
With all of this said, the question that should be asked is not when should Christmas music start playing, but rather, when should it end.
My answer is never.