An MBU science professor is taking the lead on an exciting initiative to document as many plant and animal species in urban areas worldwide in just four days, and whether or not you are a science buff, you can get involved.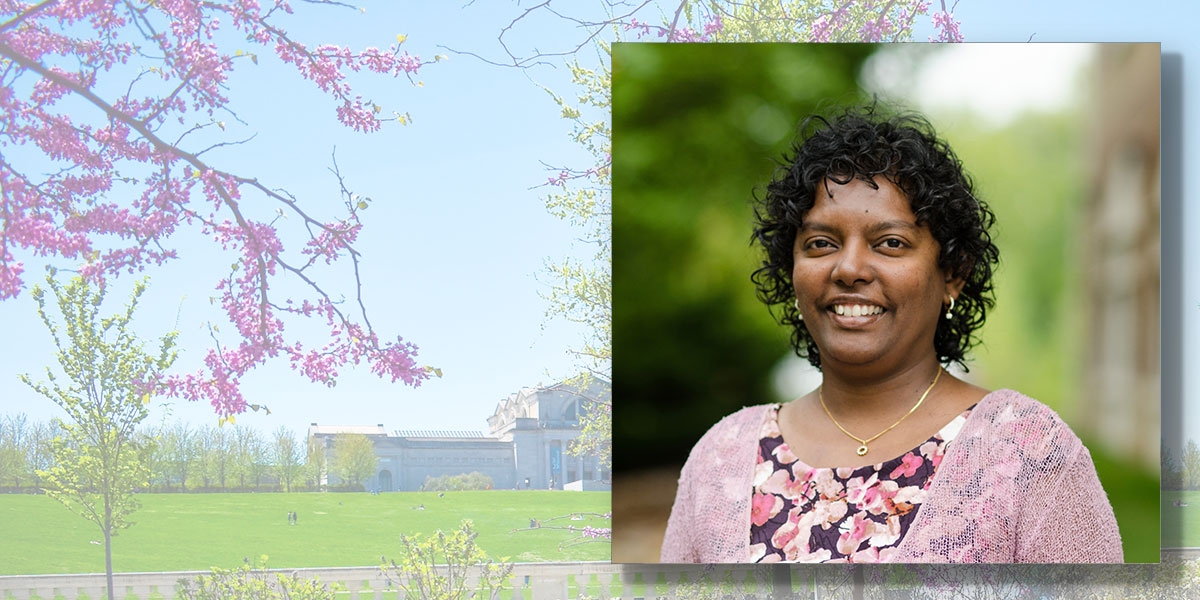 Dr. Shayani Pieris, assistant professor of plant sciences at Missouri Baptist University, is leading a university-wide initiative to capture plant and animal species on our cell phones, and it's part of a citywide, nationwide and worldwide initiative.
__________________________________________________
Usually looking at our cell phones means missing out on the nature around us, but starting Friday you can get out your cell phone and start capturing nature, and it's part of an historic international science project.
The City Nature Challenge 2019 is a competition from Friday, April 26, through Monday, April 29 of more than 160 cities worldwide to document the most plant and animal species in four days by uploading pictures, videos and sounds using a free app.
The goal of this city-wide citizen science project is to rank each city's biodiversity by measuring number of species and how abundant they are.
The City Nature Challenge was brought to MBU for the first time in 2018 by Dr. Shayani Pieris, assistant professor of plant sciences, not only to offer students extra credit in her classes, but to get them involved in a project as a school.
"This is something that will help the community," Pieris said. "It's low pressure and it involves something students like, the cell phone."
Measuring biodiversity can be a time-consuming and expensive task for companies and scientists, but naturalists have found this can be alleviated by inviting citizens to get involved and sparking an interest in biodiversity for their city.
The challenge is facilitated through a free app called iNaturalist, which can be downloaded from the iOS or Android app stores.
Individuals can participate by going outdoors into their neighborhoods, parks or Indian reservations and taking a picture of any life-form, including animals and plants, and uploading it to the app.
Naturalists will review each image uploaded and identify the living organism in each city. The observations found will be recorded as data to preserve and protect the local environment.
The City Nature Challenge was created in 2016 in California by the Natural History Museum of Los Angeles County and California Academy of Science as an eight-day competition between Los Angeles and San Francisco to involve citizens and visitors to experiment with their city's biodiversity.
The challenge became a national competition in 2017 and spread internationally in 2018.
The first year MBU got involved with the challenge as a school was 2018, where more than 17,000 people participated from around the world in 65 various cities.
St. Louis finished 12th on the list of cities in 2018 and first in the Midwest, with 642 people making 10,482 observations and identifying 1,100 species throughout the St. Louis Metro area.
Since the 2019 competition begins Friday, the last day of finals week for MBU students, Pieris plans to meet students outside of Room 201 in the Administration Building around 9:30 a.m., 11:30 a.m. and 3:30 p.m., to give students adequate time to finish final exams.
Together, the group will learn how to navigate the iNaturalist app before strolling the trail behind the Chapel Building for around 30-45 minutes.
The Missouri Botanical Gardens contacted Pieris in 2018 looking for people throughout St. Louis to contribute to the competition, which led her to bring it to MBU's campus.
Pieris will be offering extra credit points again this year to her students who choose to participate in the competition.
Pieris grew an interest in science and nature at a young age growing up in Sri Lanka.
"I liked the human body, but I knew blood freaked me out so I knew immediately that medicine was not the path I was going to take," Pieris said in an interview.
For her bachelor's degree, Pieris studied at the University of Colombo in Sri Lanka, where she earned her bachelor's in science in 1997.
The University of Colombo had three specializations for general science majors: botany, zoology and chemistry, which led Pieris to study botany because of her love for nature and spending time outdoors.
"One driving force for me to select botany to specialize in was because I knew that the botany group would go on field trips," Pieris said. "Our professors would take us to the rainforest."
After graduating with her bachelor's degree, Pieris was a full-time teaching assistant for one year in Sri Lanka before moving to St. Louis.
She loves teaching at MBU because at a small university she "has the opportunity to teach the whole breadth of science," Pieris said.
The plant sciences professor teaches classes of molecules and genetics, which includes working with DNA, while also teaching how to classify plants into different groups.
"What I love about teaching is it helps me to study science from the angle of the cell level and DNA level to the whole organism level," Pieris said.
Pieris came to the U.S. with her husband, Shantha, after they got married in 1999, to pursue a Ph.D. program at Iowa State University.
After graduating from Iowa State in 2007 with her Ph.D., Pieris was hired at Ohio State University to work in a laboratory until her boss moved the laboratory in 2008 to the Danforth Plant Science Center in St. Louis.
Pieris worked at the Danforth Center for three years before moving to Los Alamos, New Mexico, for a position in a laboratory connected to the Los Alamos National Labs, the birthplace of the world's first atomic bomb.
In Los Alamos, Pieris experimented with algae to produce lipids to be used for biofuel, specifically for jet fuel.
Pieris was taught to learn English as a second language at a young age in her home and in school starting at the age of 6, though the majority of her classes were taught in her native language, Tamil.
Learning English came easy to Pieris, especially since there are 256 letters in the language of Tamil.
"I think more in English now than I do in Tamil," Pieris said. "My daughter asked me what language I pray in and that would be English."
Though her husband is from Sri Lanka, he does not speak Tamil like Pieris, but he speaks Sinhalese instead because of the two ethnic groups in Sri Lanka.
Pieris can speak and understand Sinhalese because the area where she grew up was mostly populated by Sinhalese speakers, therefore most of the signs for public transportation in her hometown are written in Sinhalese.
Though Pieris and Shantha speak more than one language, they choose to speak to their four children, Anagi, 14, Amila, 12, Avunker, 10, and Aloker, 8, in English.
More importantly than speaking English as her primary language, Pieris enjoys teaching in a Baptist university to have the freedom to share her faith and integrate it with teaching and learning.
"My faith affects every part of my life. How it affects my teaching is I see that God created everything and He has given us the opportunity to study His word," Pieris said. "Teaching about His word to students is a way of really helping students see God's greatness."