With so many disc golf courses in the St. Louis area, what are the chances that Missouri Baptist University will get a disc golf course on campus?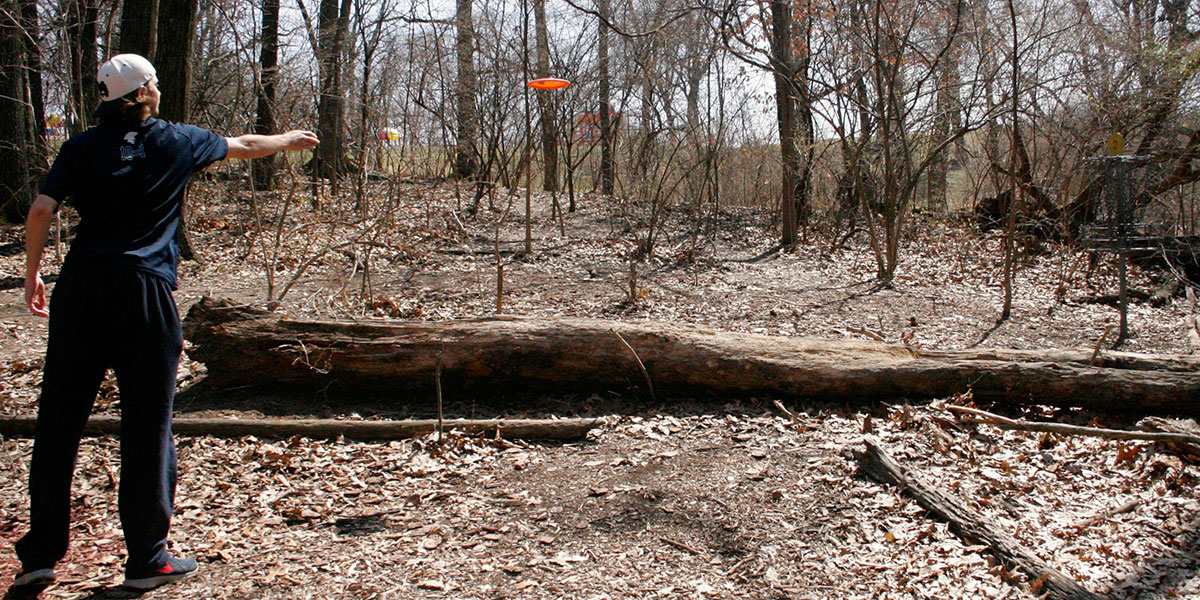 Photo by: Colby Duncan
__________________________________________________
Have you ever thought about adding a fun-filled activity to Missouri Baptist University's campus? Well, how about disc golf?
Disc golf, which also has been called Frisbee golf, is a flying disc game, as well as a precision and accuracy sport, in which individual players throw a flying disc at a target that is called a basket.
"The object of the game is to traverse a course from beginning to end in the fewest number of throws of the disc," according to the Professional Disc Golf Association.
In the St. Louis area there are 32 disc golf courses. Five of them are within 15 minutes of MBU.
One of the courses is located six miles away on the campus of Logan College.
"Disc golf courses work very well on college campuses. Many students here love to play disc golf. I play as many as five times a week," said John Deggo, a student at Logan College and member of the Logan College disc golf club.
Many colleges have open landscapes which accommodate disc golf courses.
"I did not know that disc golf courses work on college campuses," said Dr. Andy Chambers, senior vice president for student development and professor of Bible at MBU.
Disc golf, a simple sport that can be enjoyed by anyone, is played with a Frisbee-like component called a disc. There are also items called baskets, which act as the holes.
The object of disc golf is to throw the disc into the basket. The holes, ranging from 200 to 500 yards, consist of par 3's, par 4's and par 5's. Each hole is different, just like golf.
Erik Anderson, Logan College disc golf club member, said: "Disc golf has gotten a lot more people to come see our campus. We don't have any sports here at Logan, and disc golf is a good way to get the everyday person to come see our campus."
As MBU continues to grow, implementing a disc golf course could help get more students to come and see what is happening on campus.
Chambers said he likes the idea of a disc golf course attracting members of the public. MBU students Ryan Stapp, Micheal Yarborough and Dallas Hesler agreed.
"It would make walking around campus fun by adding an activity to the walk," Hesler said. "It would give me a reason to walk around campus."
Stapp added, "Disc golf would be a great way for me to meet students and get to know them."
Many MBU students don't walk around campus very often.
"I have never really walked around the campus, I only know where my classes are, and where I workout at," wrestler Rachel King said. "I don't even know where the girls dorms are at, and I only know where the baseball field is because I have to park there."
Furthermore, if MBU could work with property owners around the university, it might give students a chance to see the preservation area, the recreational baseball field and soccer field that are on the west side of the Mormon temple.
"I think part of cost consideration would involve whether the area would be exclusively dedicated for this purpose or whether it could be jointly used by others not playing the game," said Ken Revenaugh, senior vice president of business affairs.
"For instance, a traditional golf course is exclusively reserved for the purpose of playing golf," Revenaugh explained. "It is not a city park where golfers would be required to play around those having a picnic lunch on the fairway.
"But disc golf doesn't involve launching a projectile at a deadly velocity for distances in excess of 100 yards, so I don't know that the area would necessarily need to be exclusively reserved," Revenaugh said.
Chambers added that a disc golf course would have to conform to the university's long-range land-use plans.
"A disc golf course would have to fit within our current Strategic Plan of 65 acres and 20-year site plan," said Chambers, who played in an ultimate Frisbee league through high school and college. "Disc golf would be nice."
Discs cost around $10 each and players only need one disc to play a full course. Disc golf courses vary in price based on how they are built, but the prices below are estimates of a higher quality disc golf course, based on data from the Disc Golf Association on discgolf.com.
Summary Totals:
• Total basket costs: $6,471
• Concrete Tee Pads (estimated): $1,440
• Total Tee Sign costs: $1,512
• Total Message Board and Trash Can costs: $740
• Total Installation Labor Hours: $4,680
TOTAL ESTIMATED COSTS: $14,483
This is a maximum price and it can be reduced. For instance, the price would be cut in half if it were a 9-hole course. Also, smaller concrete pads reduce price, as well as not installing trash cans.
Chambers said the university's intramural sports offered a disc golfing league around 15 years ago, but they went off campus to play.
The league is extinct now since leaders of the league graduated. Chambers added MBU would most likely not be able to develop a course.
Revenaugh echoed the concerns: "Again, I would be concerned if the area were to be restricted solely for the purpose of playing the game. Other considerations might be where on campus the course might be established and the aesthetics involved," he said. "For instance, setting up a target/scoring basket along any of our roadways might pose a traffic hazard. Setting targets up through the center of the campus near the buildings might not be the most aesthetically pleasing of sites and could pose a hazard to pedestrians. But setting up a course in the woods west of the Chapel might avoid the traffic, pedestrian and aesthetics issues while providing some challenging obstacles for the players to overcome."
Disc golf courses cost as low as of $7,000 and after being developed they cost essentially nothing to maintain.
"I didn't know that and that would help to develop a course," said Chambers.
A course integrated around the MBU campus would be difficult because of its surroundings. "We are surrounded by the private property of our neighbors and we should respect their property rights," said Revenaugh.
Due to a general lack of interest and size of MBU's campus, a disc golf club would have to be started and become popular before a course would be considered in the 20-year site plan, administrators said.
"A club for Missouri Baptist would be best to get together and play disc at nearby courses," Chambers said.
For those interested in disc golf, here are some courses nearby: Paul A. Schroeder Park, Bluebird Park, Logan College, Watson Trail Park and Creve Coeur Park. These are all courses that are within 15 minutes of MBU. For more information on disc golf visit http://stlouisdiscgolfclub.com.