With many students involved in a variety of activities throughout the day, time is of high importance and eating on campus falls in between and after classes, work or practices.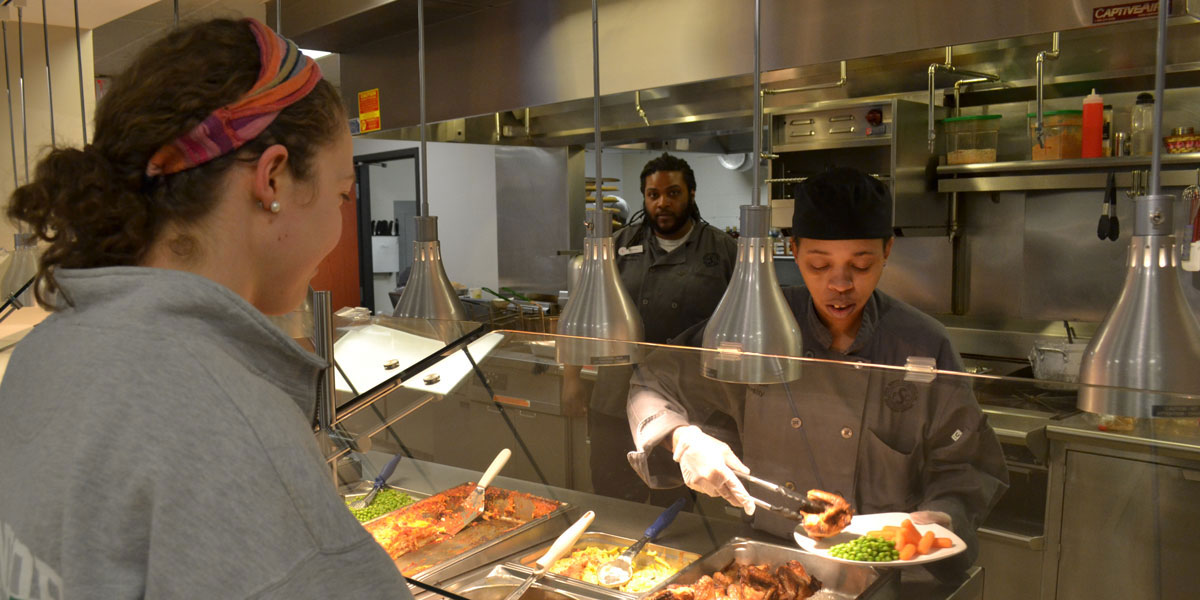 Photo by: Ryan Rerich
 __________________________________________________
Students with an MBU meal plan have various options for how many meals they want per week, month or semester, but the cafeteria has certain hours when students can consume their meals.
There are three specific individuals who set the cafeteria hours: Andy Chambers, senior vice president of student development, Ken Revenaugh, senior vice president for business affairs and the dining hall manager, Karen Leija.
"We try to provide maximum flex with students based on their own demands," Chambers said. "We experiment with hours to see if that is what students are looking for. If they come we look to make a change if needed."
The cafeteria raises the gaits at 7:15 a.m. to serve breakfast and closes them at 9:30 a.m. Monday-Friday. Then the staff will raise them again at 11 a.m. for lunch and close them at 2:30 p.m. for two more hours. Then, for the last time of the day, the gaits rise at 4:30 p.m. for dinner.
The regular cafeteria dine-in meals end at 6:30 p.m., while the grill is open until 7:45 p.m. for burgers and food of that sort, Monday-Thursday. Then at the closing of the grill, the gates sink into place for the final time of the day.
Saturday and Sunday, only brunch and dinner hours are offered to the students. Saturday the cafeteria opens at 11 a.m. and closes at 12:30 p.m. On Sunday, brunch is served from noon to 1:30 p.m.
Dinner hours on the weekend stay the same as the weekday hours, except for the fact that the entire cafeteria closes at 6:30 p.m., with no grill option available for the ravenous college student who wants to eat later at night.
Chambers does see the positives of keeping the cafeteria open for both the staff and the students.
"If students want to eat at 9 o'clock, it would not only be beneficial for the students because they could eat later, but also the cafeteria staff because they could get the longer hours to make extra money each week," Chambers said.
For some students, the hours set now are convenient, and for others not-so-much. Nick Price feels that the cafeteria hours are sufficient and meet his needs.
"I think the cafeteria hours are fine. I get out of practice at 2 every day, so I have about 30 minutes to go grab something real quick, which is better than it being closed," said Price, a junior Christian ministry studies major.
Victoria Byrd, a resident assistant of the North Hall dorms, is also accepting of the cafeteria hours.
"I feel as though the cafeteria hours are somewhat convenient. They start pretty early, but end pretty early as well," she said.
Being an RA, though, does put that person around others who offer their thoughts often about a variety of topics, one being the cafeteria hours. "Some residents would like for the cafeteria to stay open later at nights, like maybe 8:30 p.m. or so," said Byrd, a sophomore human services major.
There are clearly other residents at MBU who have differing opinions.
Taylor Klingelhoefer, sophomore sport management major, is often out late from basketball practice and games, and the cafeteria schedule is not suitable for her.
"As a student-athlete, the cafeteria hours are not convenient for me, especially around dinner. I do not get done with practice until 6 and sometimes they close early so I'm just kinda on my own for dinner," Klingelhoefer said. "And weeknight games too, we do not get done until late and the cafe is already closed."
Chambers offered solid reasoning on why it may be hard to push for later hours during the semester.
"When you're trying to work with the students and the hours, you have to understand both points, and try to keep the price of the food service contract from going up, unless there is truly a high demand for it," Chambers said.
Kevin Gude, a freshman biology major, does not particularly like the set cafeteria hours either.
"I just wish the hours were better. I wish we could have a better variety of food throughout the day, especially for dinner. It would be nice if the cafeteria stayed open during the day," Gude said.
Jared Paddick, a senior sport management major, is not relatively pleased with the hours either.
"When I get done with my golf practice or tournament, there are not options for me to eat at 8 or 9. There needs to be something around that time on-campus that I can eat with my meal plan that I pay for," Paddick said. "Also, the breakfast and lunch hours do not work well with my schedule. They should try to stay open throughout the day like some other college campuses."
Anya Parsons, a senior behavioral science major, offers a few interesting points dealing with the hours issue.
"The cafeteria could be open longer. And then on the weekends, the hours are really short and almost impossible to catch. I'm not saying there needs to be hot food the whole time, but the hours of to-go boxes should be longer or even cold food, fruit and cereal, so that people can have a chance to eat the meals they paid for," Parsons said.
For some students, the hours work for one or two meals, but not for the other meals they wish to consume in a day.
Andrew Vance, a sophomore exercise science major, and John Drilling, sophomore music ministry major, are two students who seem to take a medial stance on the issue.
"The cafeteria hours are great minus the weekends. I like the late night grill options to order a burger," said Vance. "But when it comes to the weekend, they should have real breakfast hours starting at 7 for people who have to be up early for work or other activities."
"I think [the cafeteria hours] are fine, but I think they should be open later at night and keep certain options open like making the burgers and stuff, but morning and lunch hours are good," Drilling said.
Sophomore Haley Varble, physical education major at MBU, is also frustrated with the dinner hours.
"They are great hours, I just wished that they were open later at night for people who have practice or have to work later and cannot make it at the times the cafeteria is open," she said.
Chambers does like the idea of keeping the cafeteria open longer, but the facts of the matter are clear.
"There are about 300 students on campus here. The market is not as big as I would like, so it makes it hard to justify keeping the cafeteria open longer," Chambers said.