New campus, new people, new classes, new smells — everything is new. How does it feel to be a freshman at Welcome Weekend?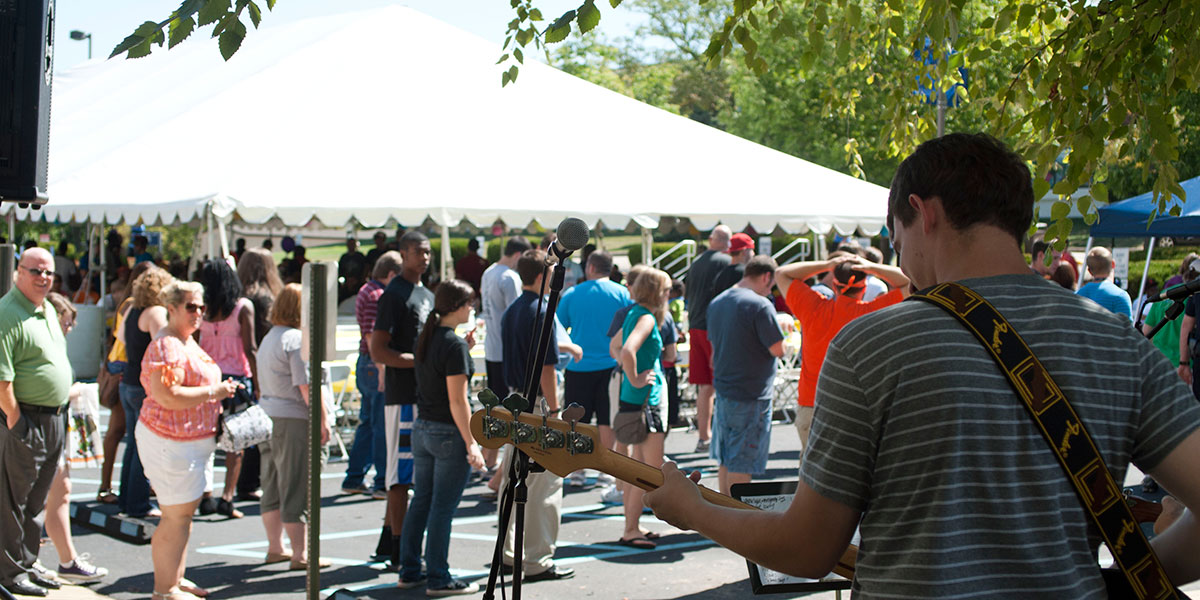 Photo by: University Communications
__________________________________________________
I will never forget those first few hours.
I arrived at MBU on a Friday in August 2011 for Commuter Check-In, which allows students to receive their name tags, T-shirts and team name.
Knowing a grand total of four people, two freshmen and two juniors, I felt totally vulnerable and afraid.
I was entering into the most daunting unknown I had ever experienced.
What is your major? What are your future plans? What do you want to do someday? Who are you? Describe yourself in a word. Who are
your friends going to be? Who do you want to marry someday?
These are just a sampling of the questions that faced me.
As I walked into the Great Hall, everything smelled new — the paint, the all-purpose cleaner and the smell of Abercrombie perfume.
I could already see cliques forming.
Over there, that's the men's basketball team.
They seem so chill, calm, cool and totally ready for whatever lies ahead.
To my right is the group from the same high school.
You can tell because they all have inside jokes, call each other by nicknames and are talking about summer vacations.
Everything changed when I met my team for group cheers.
Justin Madden, Curtis Payton and Jocelyn Branco — together these three were magic.
Justin was outgoing and funny, Curtis was calm and relatable and Jocelyn was understanding and organized.
So there we were.
The Tangerine Pterodactyls — a hodgepodge group of 10 nervous freshmen.
Our team was as diverse as our name.
We had theatre majors, athletes, undecideds and students equipped with a lifelong plan. All together on the same team in a very crucial moment.
Suddenly, it was our turn.
Our leaders had brainstormed an incredibly creative cheer complete with a pterodactyl screech at the end.
It was awesomely embarrassing but it was in this vulnerable way that we all came together.
Our leaders were having a blast, why shouldn't we?
The rest of the weekend was packed with fun.
Over the summer we had to pick which St. Louis landmark we wanted to visit during Welcome Weekend.
Out of the Arch, City Museum and St. Louis Zoo, I chose the zoo.
Saturday was Explore St. Louis.
We loaded the buses and off we went.
First stop was Dave and Buster's.
We had free run of the facility.
Arcade games, dance dance mania, air hockey — you name it, go play it.
It was a great way to start our day.
Everyone was able to chat and just let loose before the stress of classes and friend groups began to set in.
Next stop was our specific St. Louis landmark.
Upon arriving at the zoo, we set off to complete a highly competitive scavenger hunt.
We had to complete a long list of items while trying to beat the clock against other teams.
Our energy fed off each other.
Just a fun day at the zoo allowed our team to bond and work together.
We joked around and had a great time.
The day concluded with Death by Chocolate in the Great Hall.
While we were gone, the Great Hall had been transformed into a low-light, chill makeshift coffeehouse.
There was a buffet of chocolate desserts complete with a chocolate fountain and smooth jazz in the background.
This was one of my favorite parts of the weekend.
We were able to mingle with all of the teams and just unwind.
I met some of my greatest friends that weekend, people I still keep in touch with now even three years later.
After my experience with Welcome Weekend 2011, I went on to be a volunteer for Welcome Weekend each year after.
Every year has given me incredible memories but I will never forget that sunny day in August 2011 where I lept outside of my comfort zone and discovered a new home at MBU.