In light of recent allegations concerning University of Georgia running back Todd Gurley and Florida State University quarterback Jameis Winston, who sports memorabilia experts claim have signed hundreds of items for sale and for their personal profit, the question becomes more relevant than ever before. Given the time that college athletes put in to their sports — and the revenue they generate at large universities — should they be compensated, or would that damage the NCAA's fundamental purpose of amateur athletics? MBU Timeline bloggers weigh in on this current topic.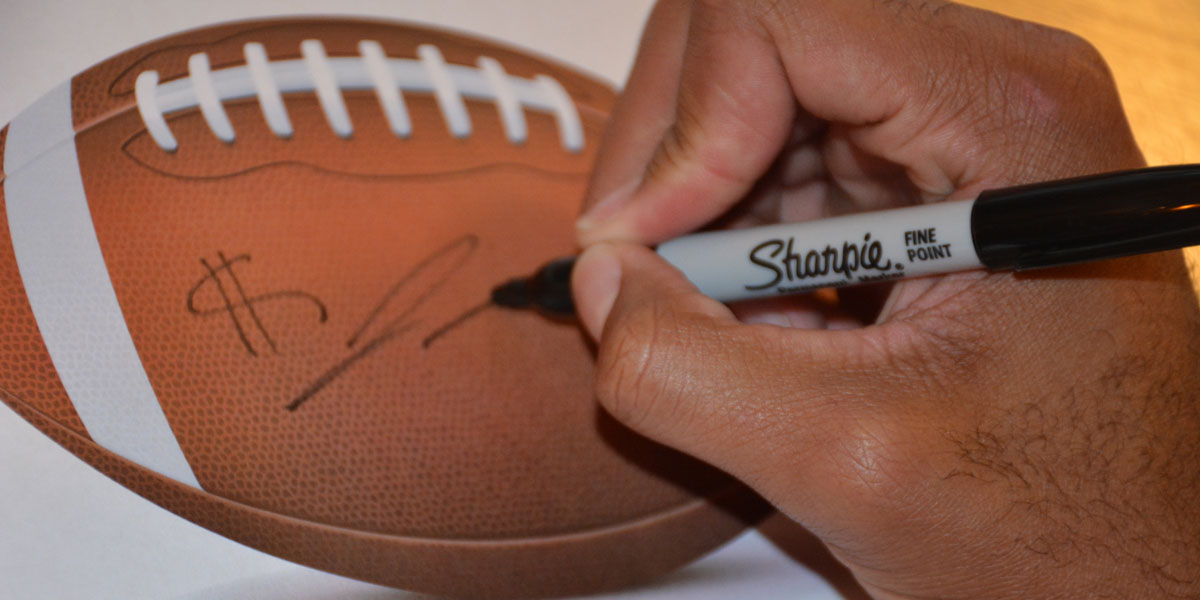 Photo by: Brittany Gammon
__________________________________________________
By COURTNEY FLANAGAN
Over the years there have been continuing, sporadic calls for college athletes to be paid in return for their contribution to their academic institutions.
"The NCAA experts say the day when student athletes are classified as workers and get paid may not be far off," says NBC News' writer, Mark Koba.
The primary issue regarding this controversy is that college athletes are already receiving scholarships.
Two names that continue to surface are Florida State University's quarterback, Jameis Winston, and University of Georgia's running back, Todd Gurley.
These two star athletes have been dominating the college football landscape with controversy surrounding an autograph scandal.
Both players are caught in hot water over allegations they received payment for signing memorabilia, in some cases hundreds of items, according to news reports.
Gurley, referred to by many as the best Georgia running back since Heisman Trophy winner Herschel Walker, was indefinitely suspended early October, as the NCAA investigated whether he accepted money for signing these autographs.
After reviewing the case, the NCAA announced Wednesday, Oct. 28, that Gurley will be eligible to play starting with Georgia's game on Nov. 15 against Auburn.
Gurley's suspension will be a total of four games because the NCAA said Gurley accepted more than $3,000 in cash over a two-year span.
Winston, currently under review by Florida State, is facing controversy regarding the autograph scandal, while simultaneously dealing with a sexual assault case and additional inappropriate actions in the university's student union.
Although many have sided with these athletes, one former Heisman Trophy winner feels differently.
Walker, former University of Georgia star, said, "If the NCAA comes in and finds something that they did was inappropriate, then the whole team, and everything they have done, is punishable."
Collectively, however, these players feel as if they deserve to be paid and will act accordingly, regardless of the NCAA bylaws and regulations.
David Hollander, professor of hospitality, tourism and sports management at New York University, told CNBC, "It's not whether we should pay college athletes but that if you are an employee and your job is to play sports, then you should get paid."
Although this statement may be seen as valid, a college athlete is not an employee.
A student athlete receiving a scholarship is getting paid through their education, which is in fact, monetarily valuable.
As a former student athlete, it is easy to say a modest stipend should be awarded to athletes, but this could be deemed greedy.
Student athletes, in some cases, are provided with free tuition, room, meal plans and some money for books and miscellaneous expenses, which other non-student athletes will never see.
At the bigger, more successful universities, athletes may even receive academic counseling, tutoring, life skill training, and even nutritional advice.
While it is important to note not all student athletes are on scholarship and not all are on full scholarships, the student athletes in the revenue sports are receiving compensation in the form of educational benefits and living expenses.
This is "pay."
It is crucial to remember why student athletes are given scholarships in the first place: to use their athletic ability to provide them monetary support to advance their education, increase their skill and ability with the help of free professional coaching, strength and fitness training, and gain valuable publicity.
"Rather than push college athletics further and further from academics, we need to bring it closer," said NCAA President Mike Emmert.
Aside from all the benefits stated above, student athletes are attending university for educational purposes; student comes before athlete.
__________________________________________________
By LYNN TYLER
Two college athletes from different schools have been accused of illegally dealing their autographs in order to make a personal profit. Many question if a college athlete should be paid a modest stipend after their applied scholarship.
 Many news stations have been covering this story such as ESPN, NBC Sports and USA Today.
Both Jameis Winston, quarterback for Florida State University, and Todd Gurley, running back at the University of Georgia, are suspected of selling their autographs for a personal profit.
 Winston's investigation into receiving compensation for autographs began on Oct. 14, according to Wikipedia.
 NBC Sports surmises that Winston has been suspected of selling approximately 950 autographs, while Gurley is suspected of selling 500 autographs.
ESPN states, "The university's athletic compliance department has begun to look into how so many Winston's autographs were authenticated by a single company."
Christopher L. Gasper, a writer for the The Boston Globe, said he believes that Winston and Gurley's suspensions are "absurd." He said, "This is the way college sports work. Everybody benefits from a high-profile athlete's ability, but the moment that athlete tries to benefit from their own talent beyond their scholarship he or she is buried under the weight of the NCAA rule book."
I believe that athletes should have the ability to sell their own autographs or identified products for their own personal use because they are what makes the product.
Without that athlete, some schools may not be as successful without their talent or commitment.
As an athlete, I know that money can be tight because you expend all of your energy and time into the sport, plus balancing school. It leaves little or no time to work and earn extra money.
Paying the students would allow them to focus on the sport and not worry about where their next meal comes from, or rent.
However, giving an athlete money gives them the freedom to spend it where they want, not always where they need.
I propose that universities should offer college athletes a small sum of monitored money each semester to assist with living costs. Nothing over the top, just to help with the everyday living expenses.
If the athletes were to receive this small sum, they could focus more on their school and athletics, rather than juggling these things in addition to a job.
__________________________________________________
By BRITTANY GAMMON
The NCAA has ruled that University of Georgia Heisman candidate Todd Gurley can return to the field Nov. 15, amid allegations that he has violated the NCAA Sports Contracts and Amateurism law.
The recent controversy in college athletics revolves around the question: Should college athletes be paid?
Two names that continue to surface are Gurley, running back at Georgia, and Jameis Winston, quarterback at Florida State University, also a Heisman frontrunner.
According to ESPN.com, "Sources have told ESPN that the NCAA investigation deals with whether Gurley was given money for autographs, memorabilia or the use of his likeness," but the topic expands way further than Gurley.
Winston deals with a similar situation.
According to reports, Winston  has sold items with his signature and pocketed the money, which goes against NCAA rules.
Even though Winston is under constant scrutiny, he continues to keep the focus on football.
"One thing we are consistently proving is that we are winners," said Winston, whose team remains undefeated. "And no matter what type of adversity we may face, we are family here at Florida State, and we play hard."
With all of the controversy in the NFL, are these college issues the big deal people are making them?
"Gurley didn't slug his fiancée, or whip his child with a tree branch, or contribute to some instance of mayhem," said Christopher Gasber of the Boston Globe. "No, he signed his name and got paid for it, and for that he gets to wear the NCAA's scarlet letter V for violation, instead of the black and red of the Georgia Bulldogs."
In my personal opinion, the student athletes are not professionals.
They are working on their education and just so happen to be outstanding athletes.
Yes, they are great athletically, but if you pay them they become professionals. This is the NCAA Sports Contracts and Amateurism law.
However, I believe these athletes should be able to sell their autograph on sports equipment and receive the full payment of that sale, as with any other sale of their name.
To force the athletes to not be able to sell their name is a direct violation of Freedom of Speech. Universities should not be allowed to control that aspect of the students' lives.
__________________________________________________
By KATIE SEFFENS
After reportedly black marketing its athletes the NCAA has been facing harsh scrutiny and a few legal battles regarding its rules on paying athletes.
A 2009 lawsuit recently reopened the wound after U.S. District Judge Claudia Wilken's 99-page ruling issued that section 12.5.1.1 NCAA bylaw should be prohibited. The bylaw states essentially that collegiate sports players cannot make money off their name.
If left unappealed the new ruling would mean that after July 1, 2016, players in the NCAA could receive between $5,000 up to half the allotted TV revenue the specific player may generate.
The Wall Street Journal quoted President Mark Emmert of the NCAA claiming this to be "the end of college sports as we know it," which would be true as regular payment would classify an individual as a professional.
This causes one to question the idea of how payment at the college level could affect the athletes' attitudes, play and also the integrity of the different schools and conferences.
Jameis Winston, a Florida State quarterback, one of the athletes facing suspension as he is accused of selling autographs, is already receiving a disciplinary hearing for an accused sexual assault, according to ESPN.
As aggression levels tend to be higher in sports players, paying college athletes to brand themselves would in most cases result in an ego boost, so it could surely be argued this ego boost could potentially result in more violence.
In my personal opinion, athletes should receive payment in some form. How much and to what extent, I would leave to the people who study enough to write a 99-page inditement inclusive of guidelines.
However, most would agree 5-year-olds should not be paid by YMCA leagues for boosting their sales of soda and hot dogs.
It is important to remember the laws and arguments are over individual branding of players, not should they be paid to play or whether or not individuals' emotional tolerance can handle it.
The fact of the matter is that college sports and activities typically can take the place of an actual job and if that limits student athletes' ability to get life necessities like food, housing and/or tuition, they should be paid based on the hours put in each week, as they are generating revenue for their universities.
If college students can be taken on as teaching assistants for their major or selected to work any random job around campus to help the school it does seem to be ethically right.
I do believe it should be the NCAA's choice since it poses a threat to the integrity of the association, but if someone wants to pay someone for their name, that is their right and if they choose to not allow it they should not be using it themselves.