Since 1903, Sunshine Ministries has been helping provide Christian social services to those in need in downtown St. Louis.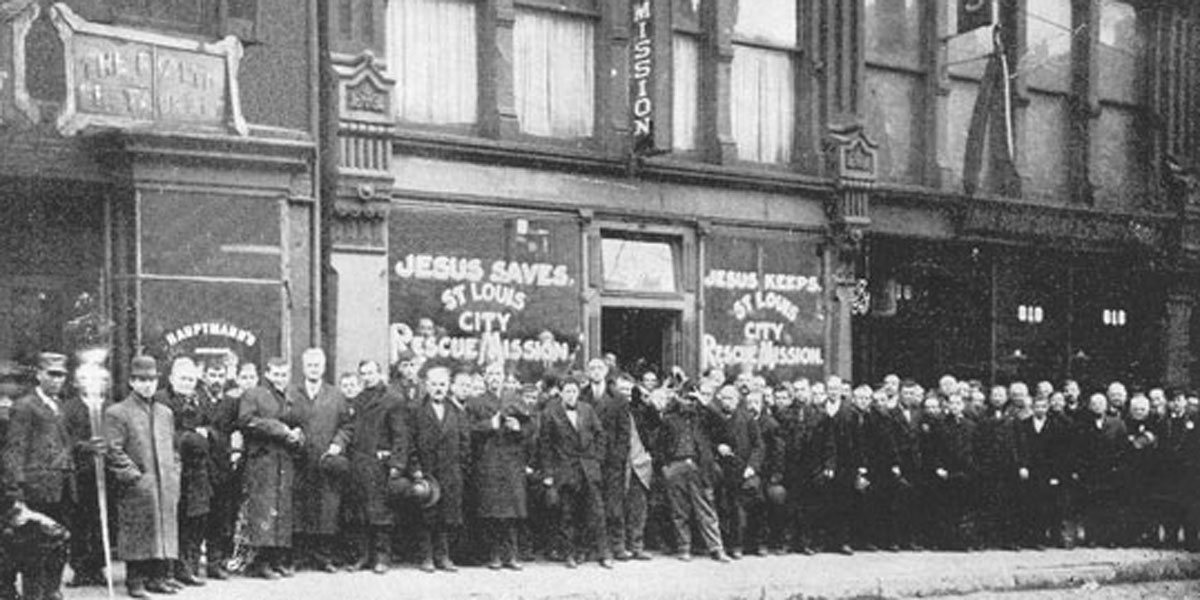 Photo by  Sunshine Ministries
__________________________________________________
Sunshine Ministries has seen men, women and children come through their doors every day looking for financial and emotional support.
Founded in downtown St. Louis where Kiener Plaza currently resides, Sunshine Ministries, the oldest homeless shelter in St. Louis, has grown into a bustling ministry serving the community from five facilities on the north side of downtown.
Originally founded in 1903 as the St. Louis City Rescue Mission by George Warren Brown and Edward "Daddy" Card, the mission, at 14 N. 7th St., started to provide food to men in need who were residing on the St. Louis streets.
Card was the one who originally had the idea of starting the mission. He moved down to St. Louis from Chicago and was financially supported by churches in the area and by other businessmen, including Brown.
Brown was the founder of Brown Shoe Company, now known as Caleres, Inc., which operates the Famous Footwear stores and produces the brand Dr. Scholl's Shoes.
During the Great Depression (1929-39), Sunshine Ministries fed, on average, 100,000 men a year and added a shelter for men to sleep overnight.
In 1996, Sunshine Ministries came under the direction of Jim and Carol Clarkson.
"Our mission is to provide good, solid, Christian social services and we use the motto that we offer healing from the past, help for the present, and hope for the future," said Carol Clarkson, originally from St. Paul, Minn.
The Clarkson's first became involved with Sunshine Ministries as volunteers, with Jim Clarkson, a St. Louis native, eventually being named president of the board of directors for the mission.
Before becoming the directors of Sunshine Ministries, the Clarkson's ran a manufacturing company that produced early childhood educational games and classroom equipment.
From the beginning, Sunshine Ministries has continued to grow.
Under the direction of Clarkson, Sunshine Ministries has added a family center in 1997,a summer camp program in 2000 and a preschool program in 2004.
Through the family center, MBU alum, Holly Vardeleon works with the preschool as the lead teacher.
The preschool serves up to 12 students each school year.
"It's been a really good experience getting to work with children who are in need, who want to be loved, and who want to learn. It's a joy to be able to go to work every day to love and serve the kids; I wouldn't want to be anywhere else," said Vardeleon, a 2012 graduate with a degree in elementary education.  
While at the preschool, the students are not only able to learn skills they will be able to use when they enter kindergarten and through the rest of their school year, but also learn about the love of God.
"Our goal is to teach them academic things, get them ready for kindergarten and school, but our most important thing is to teach them about God and Jesus," said Vardeleon. "We just hope that is the most important thing that sinks into their heart, that God loves them."
The efforts of the preschool to teach of God's love has proven to bring about a change in the children.
"One of the most memorable things would be when we were learning about community helpers. Police officers came to visit and the kids got to tour the police cars. As one of the kids was climbing out he looked up at the officer and said 'God loves you,'" said Vardeleon. "That was a pretty cool moment to see that the things that we teach them do sink in because we weren't talking about God at the time and he was just thinking that for himself and wanted to share that with other people as well."
MBU freshman Kathryn Hinrichs has also been involved with Sunshine Ministries through the summer camp program.
While working at the summer camp, Hinrichs, a music education major, hopes to be able to reach children and share the love of God.
"My greatest hope is just that they can know and tell how much I love them and then be able to understand that I'm telling them that's because of God and that they can be able to connect that and just see and feel the love that they're given at camp by me and the other workers and the staff there," Hinrichs said. "And that they can feel that love and know that's because of God and then connect those things and just have a more grateful, open heart to him."
As Hinrichs has been able to touch the lives of the children she works with, Sunshine Ministries has been able to have an impact on her life as well.
"It has shown me the importance of missions being done right where you're at, in your own city and in your own country, because before that I had gone on a mission trip outside the country but I hadn't been involved with doing stuff in my actual community to reach out to people," said Hinrichs, who recently graduated from Westminster Christian Academy in St. Louis. "It has opened me up to the importance of impacting your own community and country for Christ."
After a century of service to the city of St. Louis, Sunshine Ministries continues to grow, with a new family center opening up in 2013 and the groundbreaking of their new men's homeless shelter in 2015.
With continued growth and changing times, the ministry keeps its mission the same and tries to remain focused on accomplishing that goal.
"The goal is that the people we serve would learn that they have God-given gifts that they should not waste, that they should use, and they can use those gifts to become independent, responsible people and not always being dependent on other people to help them," said Clarkson.