As we approach Easter Sunday, the most reverent day in the lives of Christians and the most important day in the history of mankind, how do we make sure it does not become just another day of colorful eggs, bunnies and spiral hams? How do we — collectively or individually — ensure that we recognize what Jesus Christ did for the world?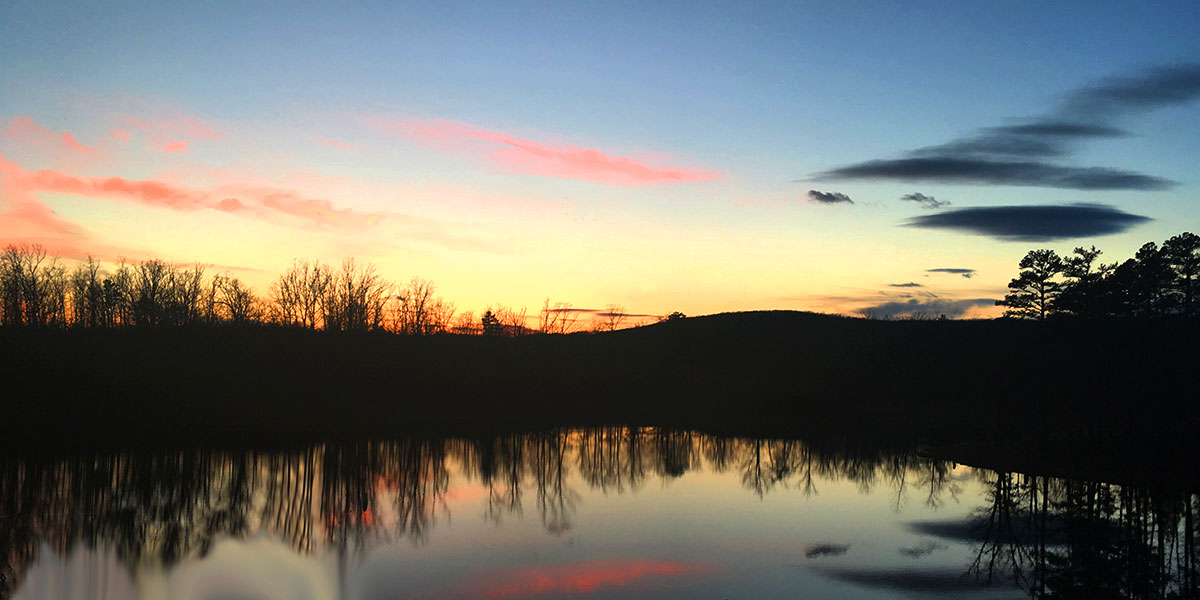 Photo by Michael Aylor
__________________________________________________
By ELIZABETH HARRIS
It's important to take a moment to slow down and remember what Easter is really about.
Yes, bunnies, eggs and candy are all fun and something I would never want our culture to forgo. However, there is so much more to the meaning of Easter.
I think that incorporating the two concepts for kids to be able to learn about the history of Easter and have a little fun at the same time is the way to go.
Growing up, my family always used Resurrection Eggs.
Each egg has a surprise inside, just like any other Easter egg hunt, but these eggs have symbols in them that relate to Jesus' journey to the cross.
After all the eggs are collected, we would sit down as a family and talk about what each symbol meant and reflect on the death and resurrection of Jesus.
For us, this was a great way to tie in the importance of Easter.
---
By JOSH EATON
Some of the most reverent Christian holidays have been morphed into something they are not, the celebration of a phony, idealistic misrepresentation of what the day is truly about, making the Easter bunny the focus on a day that is Christ's alone.
Parents create a picture that the gift-giving nature of Santa Claus is the magic children need to adequately celebrate the Christmas season, but the beautiful story of Jesus' birth is an afterthought, second to a made-up character.
This Easter, how do we as Christians take the focus off the egg dying and mall photoshoots with the Easter bunny, Easter egg hunts and candy eating, and put it back on Christ?
Prioritize the day to make Christ the center.
Eating candy and painting eggs are harmless activities, but when we get excited to partake in the day because of these hobbies and not because of the overwhelming joy we receive through the person of Jesus and the death-defeating work He did for us, then we've lost sight of what we're celebrating for.
Go to church with your family. Read the story of Christ's resurrection. Take communion together. Pray. Partake in these other Easter activities, but don't lose sight of what the day is about in the process.
---
By EDUARDO MAIA
For the third time in a row I'm unfortunately spending Easter holiday away from my family and people who I love.
By the way, not only Easter but any other holiday related to family is rough to be by myself while I see everyone else with their families.
There is not a good feeling, there are neither good memories nor unforgettable moments. To be honest, I don't even remember the last Easter alongside my parents.
Although it's a tough holiday for me, I still feel happy for my other friends who will be having an enjoyable time with their beloved ones.
I wish I could be with my mom who takes care of my entire family as a real warrior, sustaining all of us physically and emotionally.
I wish I could be with my grandma who has been at the hospital for three months struggling with health issues.
With all that being said, I just pray for my loved ones asking God for protection regarding my family and friends, and that they can have fun and enjoy their loved ones, because no other feeling is compared to this one.
---
By KARA SASIELA
I've always loved Easter, the egg hunts, the Easter baskets I would wake up to, all the candy I got.
It was great, but I also knew there was more to the holiday than all of these fun activities.
The Easter story.
I always loved going to church on Easter Sunday because they run through the story of Christ's crucifixion and resurrection.
It's a great reminder of God's sacrifice, power and love for us.
---
By ASHLEY VAN CAMP
Have you ever sat back and thought to yourself, why are we here? What is the true purpose we come to celebrate Easter? Are we in it for the endless chocolate and belly laughs with our cousins who we see a few times a year, or is there a deeper meaning?
Baskets full of delicious chocolate bunnies, handcrafted hard-boiled eggs and the green confetti strings that leave a mess all over the carpeted living room floor.
Sitting back admiring the youngsters who still believe the Easter bunny left small plastic eggs throughout the small pink house that is filled with circular metal coins that rattle if you shake the now-found egg.
Watching the boisterous children scatter all over the small house, you wonder if they solely think of this day as a day for laughter and fun.
Is this what I thought of Easter as an unblemished child, no recollection of what Easter really meant?
No longer attached to my mom's hip, wearing pastel-colored dresses that match the occasion, with a scratchy straw hat that has a flamboyant pink bow on the back side.
No longer selfish or a nuisance to the grown-ups who sit around eating grandmother Jones' lamb cake.
Now a young adult whose tastebuds acquired the subtle taste of coconut and can now partake in sitting with the grown-ups.
Realizing that this is a day of love, not like the day where cupid shoots his bow and arrow, but a day where you appreciate the reason why you are here and why the people who are currently surrounding you are here.
Resurrection Sunday, a holiday in celebrating the resurrection of Jesus, who died on the cross for us, because he loves you and me.
---
By DANIELLE DIRKS
I remember as a child waking up on Easter Sunday and jumping out of bed to see what the Easter bunny had left me.
As a kid there is nothing more exciting than seeing a full basket of candy sitting in your room, almost like a preview of what to expect come Halloween.
After the excitement of all my new goodies wore off, I remember hearing my mom tell me I needed to get dressed in my Easter best.
I always hated those fancy Easter dresses. I wanted to be comfortable and wear jeans and a T shirt, but no, I was expected to be in something flowy and floral.
We soon headed to church and spent Easter the way everyone should, celebrating Jesus.
Often in today's culture, the real meaning of holidays is forgotten. Kids associate Christmas with Santa, Easter with the Easter bunny and Good Friday as a day off school.
We have forgotten the real reason we celebrate these holidays.
Easter eggs hunts and decorating eggs are always fun and a great way for parents to keep the kids busy, but parents also need to be spending time talking to their kids about Jesus.
As Christians we can't sit back and watch as society turns Easter into something it is not.