It was one of the most difficult decisions I had ever made — or ever will make — moving from my home country Brazil to the United States of America in order to earn a college degree. Each day hope pushes back regret, and I look toward the future.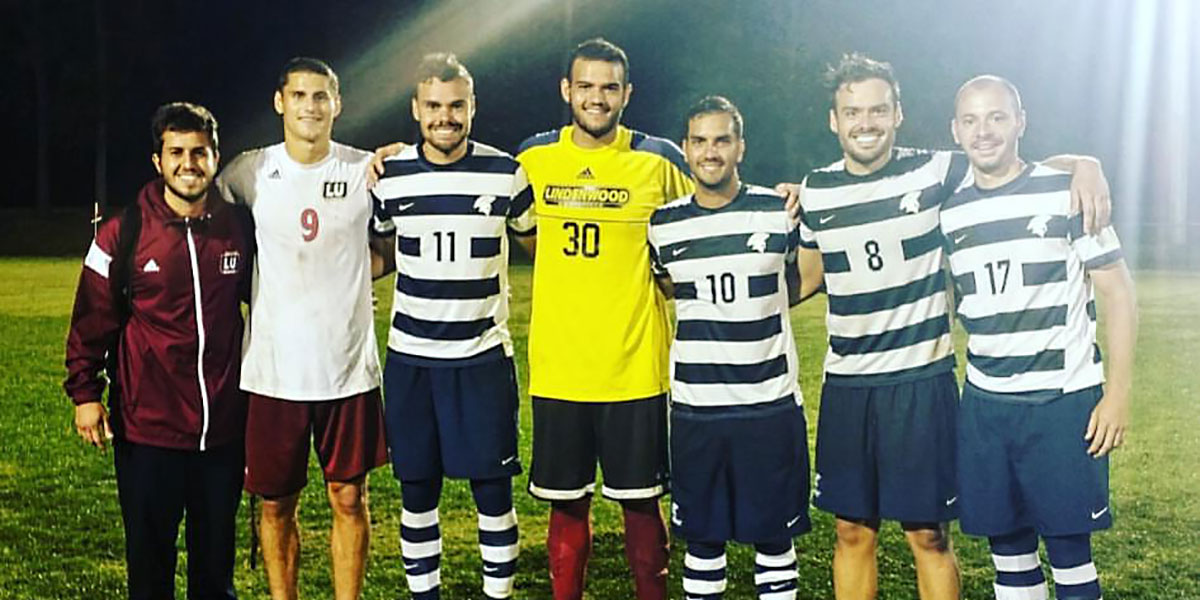 __________________________________________________
Three years ago I decided to write a new chapter in my life that I knew would be challenging from the very beginning.
Starting a new life, living in a different country, meeting new people who are totally different from me, surviving even with language barriers, cultural realities, different routines and new habits.
All of those realities were clear in my mind about the decision I was making. The scenario had been imagined, God had set me up, anxiety was increasing daily, time with family was running out.
As we know, life is always surprising us. Of course I would only figure out how right or wrong the decision I made was, living the college dream. Uncertainty and insecurity vs. positivity and faith in the Lord.
People in Brazil are always saying how lucky I am for having this opportunity. In fact I am. I don't ever complain about what God has been setting me up to face throughout my life. Spiritual evolution.
Living far away from home is thoroughly unpredictable. Indeed, it's been the most challenging episode of my entire life so far. Unfortunately, there are more negative things to worry about such as financial struggles, personal issues and shocking cultural differences along the way, and most of the time those can put your best and most positive feelings down.
What would be the best way to deal with all the difficulties we face during our journey?
Even though we try to follow the guidelines of the desired and happy life, such as thinking positively and trying to understand why God is putting out those obstacles for you to overcome, sometimes I see myself skeptical about my future.
Am I really going to be rewarded for all these sacrifices I have made, living far from my loved ones?
Are there any useful guidelines for those who live the college life away from home? As in, 4,000 miles away from home.
Too many questions, just a few answers.
Among my concerns, the most relevant is always family. Thank God my relatives back in Brazil are healthy and well-sustained, however, there is always that boring and draining question which is consuming you every single day, torturing your thoughts when you lay down in bed: What if?
What if something happens to my 94-year-old grandmother while I am here pursuing my dreams? Shall I be strong enough to survive this?
Shall I keep responsibilities taken care of? Shall I give up and throw everything away? In fact, her time here among us is running out too, as my patience does. As my money does.
Money: another crucial and concerning point. For all of us, I know, but in my case, there was an episode that happened two years ago that could have changed my life.
The currency in Brazil, called Real, was equal to the U.S. dollar when I arrived in America. That is, one American dollar was equivalent to one Real.
Guess what happened two years ago? This value increased from R$1 to R$4, which means the Real drastically declined in value against the U.S. dollar. So that meant one Real was worth only about one-fourth of one U.S. dollar, or about 25 cents.
Being more direct, imagine instead of paying $500 monthly rent for your house — which fit perfectly into my planned budget for four years of college — you are suddenly paying $2,000 for the same house.
From that point on, changes had to be made such as getting a job here in America — which is not the simplest thing to achieve for international students — saving as much money as I could. My family in Brazil moved into my uncle's house.
Furthermore, we had to find more housemates to live with us, in order to decrease the cost of rent.
Believe me or not, all of our furniture in my house here came directly from other people who have donated it, or we snatched it from the trash.
My country is living through one of the worst economic times in its history, and it's been affecting every citizen no matter where they are living.
In my case, it opened a hole in my financial account, putting my graduation at risk. Solution? Sell my car, put my house for rent in Brazil, etc.
Tough life? There are plenty of other concerns on our minds day-by-day but I'll stop right here. In the end, everybody has her/his own personal issues.
The secret, in my case, is to try to face every single day as a new opportunity and absorb as much knowledge and life experience as I can. Thinking about the future is necessary, planning stuff is very important.
But let life flow smoothly. It can be really harmful for your body, spirit and soul to do otherwise. Trust in God and keep your head up. This is only the beginning.