Today, Pinterest has flooded the hearts and free time of young women everywhere with its easy-to-access DIY wedding ideas. However, the overuse of Pinterest could cause the bride to forget what's truly important: her husband.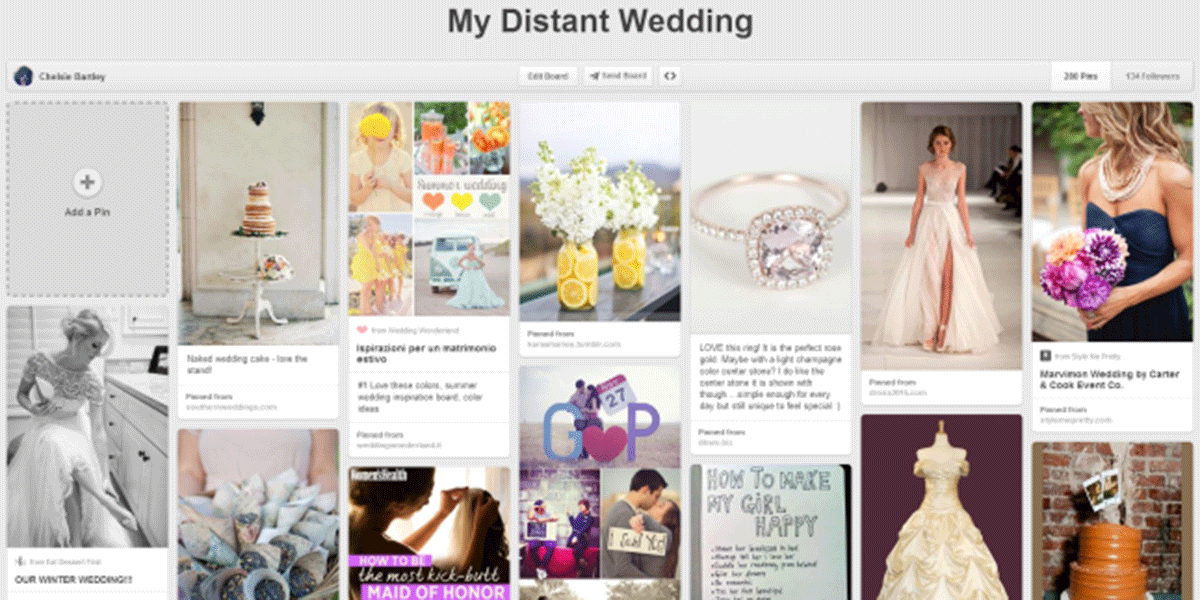 __________________________________________________
For one reason or another, there has been a lot of wedding talk in my life.
I think the main reason is because I'm a young adult at a Baptist university.
Wedding talk is everywhere.
Which I guess is fine, I mean as Christians, marriage is pretty important.
My whole life has revolved around planning a perfect wedding with the perfect man.
We spend a countless amount of hours pouring over magazines and watching everyone else say "yes" to the dress.
Pinterest has fed my inner Bridezilla to the point of getting upset when someone else would repin from my board.
It's almost as if they were out to personally ruin my life.
For the past several years I have spent hours of my time pinning the perfect everything.
But after a month or so of being surrounded by wedding season, I've had a lot of time to do some inner searching.
What am I preparing myself for?
I realized something very important … the one thing I will never be able to pin on my wedding board is the perfect marriage.
So much of my time was being taken up by thoughts of my wedding that I didn't have time to think about what a Godly marriage looks like.
I was pinning things like, "how to save money on your big day," which is very practical,
but I should have been pinning things like, "how to pray for your husband," which trumps practical.
Having a Godly marriage is so much more important than having a trendy wedding.
I have been so blinded by the shiny things in life that I forgot about the real things.
The real things that make you so full of life and love are the things that God encompasses.
Ecclesiastes 4:12 says, "Though one may be overpowered, two can defend themselves. A cord of three strands is not quickly broken."
I'm done planning my wedding, and considering the fact that I don't even have a boyfriend, that's probably the best idea.
There are so many things I have to accomplish before I settle down.
One of the things I need to do is mentally and spiritually prepare myself for a marriage.
I want to spend the time I normally spend scrolling through pages of wedding dresses, praying for my future husband and preparing myself to be a Godly wife.
I need to become less selfish, more aware of my spiritual growth and be able to grow independently in my faith.
So, earlier in the summer I deleted my wedding board and I replaced it with a board devoted to marriage.
I vow to use the marriage board as a place to pin things that will ultimately help me grow in every area of my life and prepare me for that day in the future when I get married.
At the end of the day, my wedding could potentially be me walking down the aisle in a dress I bought for $30, in a church that is barely decorated, because nowhere in the Bible does it say, "Thou shalt spend thousands of dollars on ivory tablecloths."
Whether you're married by an Elvis impersonator or by the Pope himself, you're married.
Matthew 19:6 puts it this way, "Therefore what God has joined together, let no man separate."
If your future husband really is the man for you, you won't care about how you were married, you'll just care that it happened.