For me, making the trek from St. Louis to Atlanta for the Passion Conference has been vital to maturing as a follower of Christ. When I'm standing in a massive stadium with tens of thousands of other believers my age, it makes any moment so much more powerful. That's exactly what I experienced at Passion 2022.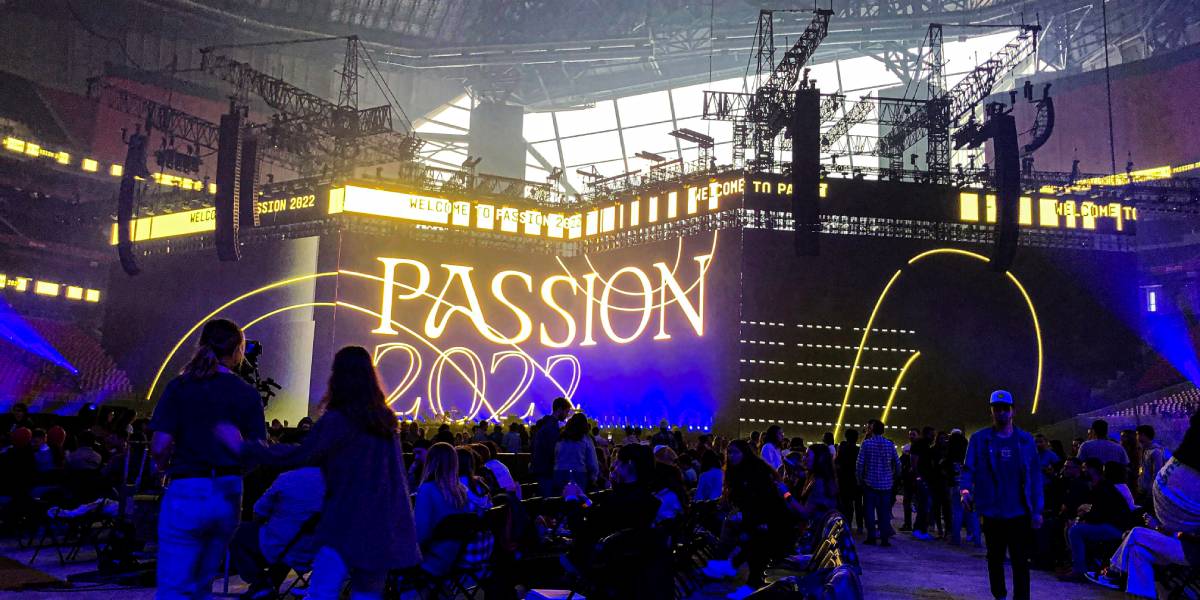 The view from the floor of the Mercedes-Benz Stadium shortly after doors opened for the first session of Passion 2022 which had over 60,000 students in the 18-25-year-old age range in attendance.     Photos by Christian Akridge
__________________________________________________
Let me take you back to June 2021. Passion Ministries posts on their social media a picture with a black background and four simple words: "Good news coming soon."
Fast forward a matter of days later and we find out what that "good news" is. Passion 2022 was officially made known to the public.
But that wasn't even the biggest surprise of the announcement. The conference was being held in Atlanta's premier football and soccer stadium, the Mercedes-Benz Stadium, which also hosted the conference back in 2020 to over 65,000 attendees from around the globe, before the COVID-19 outbreak.
This was the biggest surprise to me because, 1) I thought it would be quite a few years before they held it at the Benz again, and, 2) It's a bold move to host an event in any venue like a stadium or arena as we're still living in a time where COVID-19 is prevalent.
As 2021 went on and the conference became closer, more details were announced, like information on travel and hotels and probably most importantly the list of people who would be speaking and leading worship.
Now, when it comes to Passion, there are always a few people you can expect to see if you regularly attend the conference.
Some of those are Louie and Shelley Giglio, founders of the Passion Movement, Passion Music, writers of countless well-known songs for churches such as "Glorious Day" and "One Thing Remains";  Crowder, who also wrote several songs you've probably heard on the radio such as "Come As You Are" and "Good God Almighty"; Sadie Robertson-Huff, a speaker from West Monroe, Louisiana, and the daughter of Willie Robertson, who is the CEO of Duck Commander as made famous in the TV show, "Duck Dynasty"; Sean Curran, a worship pastor from Atlanta; Tim Tebow, a former quarterback for the Denver Broncos, and Christine Caine, a speaker from Australia and the founder of the A21 Campaign, which fights against human trafficking.
In addition to that, there are speakers and music artists who are different for each conference. Some of those people at this year's conference included Ben Stuart, lead pastor of Passion City Church DC; Maverick City Music, writers of songs like "Promises" and "Jireh"; Brooke Ligertwood of Hillsong Worship, who wrote "King of Kings"; Jennie Allen, an author who currently lives in Texas, and David Platt, founder of the Radical Movement.
Now, that's a pretty wide range of speakers and musical artists. But one thing that continues to blow me away year after year about the conference is the fact that all of the talks and songs have one underlying theme that makes the conference flow.
This year's theme had a lot to do with the topic of identity: Who God is, who we are, why we're meant to do what we do.
Some of the most notable examples of how this topic was tackled were through talks given by speakers like Huff, who spoke about how we see ourselves compared to how God sees us.
Stuart's presentation offered us more of a different approach to identity, discussing how we deal with anxiety and how we can give it to God as a form of worship.
But the talk that blew me away, like it does every year, was given by Giglio, called, "Finding Me In the Story of Thee." I loved hearing about how we all have a set role in this story that God has been writing since before the beginning of time.  
This topic wasn't just addressed through messages, it was also addressed through songs. 
Two of my favorite songs were, "What He's Done," which paints a beautiful picture of the gospel with lyrics about what Jesus did for us and what our future holds because of what he did. 
The other song that really spoke to me was called, "Yesterday, Today, and Forever," which focuses on the attributes of Jesus.
As I sat in that stadium with 60,000 or so attendees, listening to the messages and songs, I made a mental note to look around every so often to recognize just how massive this event truly was. 
It is, to this day, the second-largest event I have ever attended, the first being Passion 2020.
Now, I'd be lying if I said I wasn't nervous attending an event of this magnitude while we were still fighting a pandemic, but my love for God and His word far outweighs my fear of contracting the coronavirus.
And I'm sure I wasn't the only one there who had the same feelings. But for me, it was super refreshing to be in a room with thousands of people once again for one name, and that name is Jesus.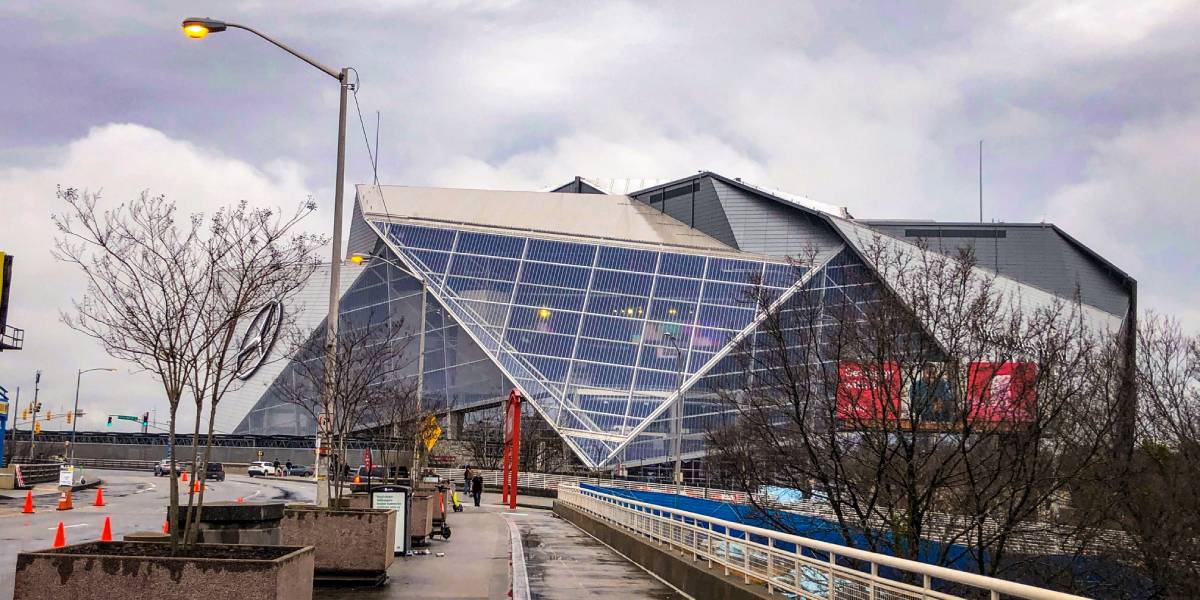 An outside view of the Mercedes-Benz Stadium in Atlanta which is 305 feet high, 2 million square feet and can hold a maximum attendance of 75,000 fans for an event.