As the world joins together for the 70th international day of reflection on the horrors left in the wake of the Nazi rise and fall, one student remembers her own journey through the United States National Holocaust Memorial and the impact it left on her.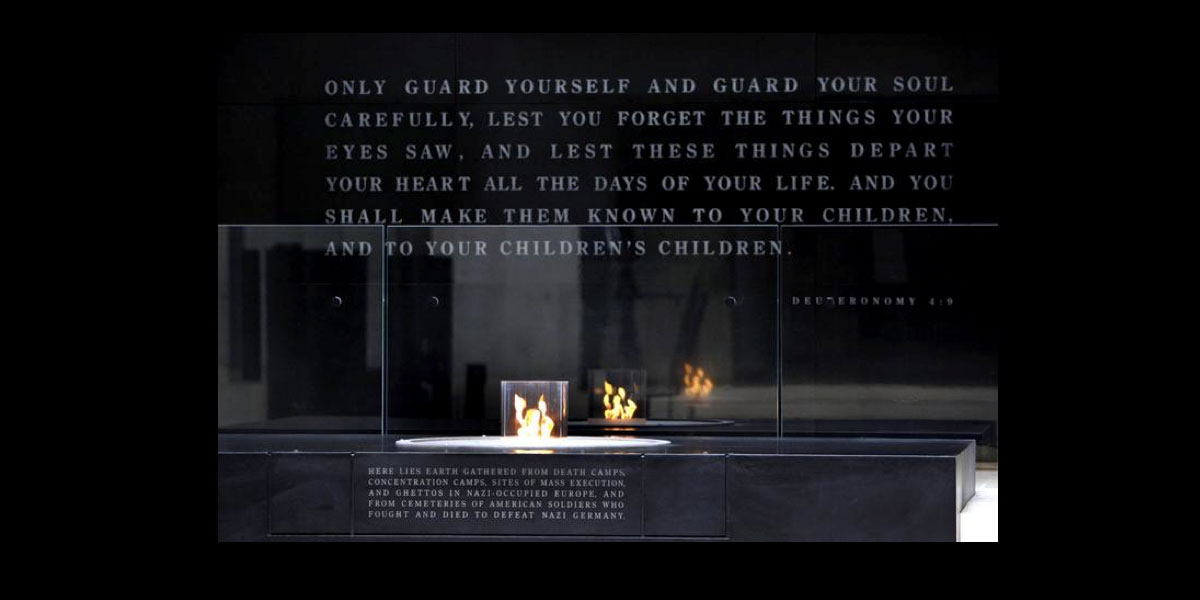 _____________________________________________
On June 8, 2014, I walked the halls of the National Holocaust Museum in Washington, D.C., with 12 other NAIA student-athletes.
The experience is one I can hardly describe in words.
It numbed my soul and crushed my heart to see, smell and to touch items that had been used to torture and subdue millions of people.
You begin your self-guided tour with a nervous elevator ride which takes you to the first floor of the exhibit.
The initial sensation you face when exiting into the dimly lit atmosphere is the painful silence.
You are shown propaganda footage of how Germans were won-over by Nazism.
You see education tools used in primary schools to aid in educating young Germans about identifying non-Aryan citizens.
Moving through the floors you see damaged doors and broken window fragments from Kristallnacht, or "Night Of Broken Glass."
Eventually you walk a long corridor full of personal belongings that were collected from unsuspecting victims, considered enemies of the German Reich.
The stale smell of aged leather burns in your nostrils.
The stacks of heels, men's loafers and children's shoes stains your memory as you imagine the doomed souls who once arrived wearing them, hopeful for the day they would return home cannot escape you.
Here you walk through a train car, an exact replica of the cattle cars where nearly 100 people were forced to stand during their transportation to the many camps established to end their lives.
A barracks stands that visitors can walk through to see living conditions of the prisoners who were kept at the KL Auschwitz camp.
It was hard to believe that 69 years before, thousands of ghost-like figures roamed the halls of barracks like this one hoping for salvation.
Little did they know their dream was only months from fulfillment.
On Jan. 27, 1945, Red Army soldiers appeared to liberate the prisoners who had been left behind in the Auschwitz Main Camp, Auschwitz II-Birkenau and Auschwitz III-Monowitz.
Unfortunately, for nearly five months, approximately 65,000 prisoners had already been secretly evacuated by Nazis before this day would come.
During this time, SS authorities also dedicated their efforts to devastate all evidence of the crimes committed in Auschwitz camps.
They destroyed files and burned lists of the Jewish prisoners and other enemies of the state who had been brought there for immediate extermination.
In an attempt to eradicate all direct witnesses to the mass murders, the SS then killed all Jewish prisoners who had been assigned to operate the crematoria and gas chambers.
In the days leading up to the liberation, nearly 56,000 additional prisoners were sent marching on foot or were transported by rail along with SS guards.
Prisoners who attempted to escape during transport, or those too exhausted to carry on were shot.
It is estimated that as many as 15,000 of these prisoners died during the course of the evacuation.
Those who survived this journey were sent to work for the Third Reich.
Back at the Auschwitz camps, Crematories were blown up and a complex of barracks were burned.
Only around 7,000 prisoners remained in the camps; their future was uncertain.
For several weeks they had heard the progression of liberating armies approaching the camps, although many of them were so terminally exhausted it is hard to know if they knew to hope for liberation, or if they were preparing for death.
The SS could murder only around 700 of the remaining prisoners before the Red Army entered the camps.
After their arrival, heavy fighting ensued and over 230 Soviet soldiers died in an attempt to take the camps and surrounding town.
For those rescued, the battle was hardly over. Many left homeless, their families had been lost and immigration was a distant dream.
On the day they entered the camps, they lost their name and became a number. On Jan. 27, 1945, they reclaimed their name, and they became survivors.
Standing at the end of the museum, I sat with other visitors and listened to the stories of those who bear this distinction; the silence we had endured throughout the museum which started as painful became empowering.
When you leave the darkness, you enter a hall with candles that visitors may light as they pray for or just reflect on the souls who had suffered so unbelievably.
There is also a wall where you can see a flame burning around earth collected from Death Camps, ghettos, concentration camps, mass graves and cemeteries of liberating soldiers. I found myself standing there for longer than I realized allowing the words carved there to wash over me, completely submerging me in their power:
"Only guard yourself and guard your soul carefully, lest you forget the things your eyes saw, and lest these things depart your heart all the days of your life. And you shall make them known to your children, and to your children's children."
As we reflect on this most somber day of Remembrance, it is important to honor those who not only lost their lives but also those who achieved the greatest retribution in defiance of the Nazis: their survival and the survival of their posterity.
But more so, we must not forget those who still suffer with little aid all over the world. These people cry out a scream which has fallen on deaf ears for too long.
They cry for the same liberation those survivors achieved 70 years ago this week.
They hope for a better tomorrow and for support to one day be the next generation of survivors, to build new lives and cultivate families of future survivors.
__________________________________________________
To join in on the International Holocaust Remembrance Day ceremony at Auschwitz, visit the Auschwitz Memorial's website.
To learn how you can help end and prevent modern-day genocide around the globe, visit the USHMM website's resource page on the subject.