Do we really need involvement in the teen years to receive that great athletic scholarship in a private institution, or is it JUST good for well-being?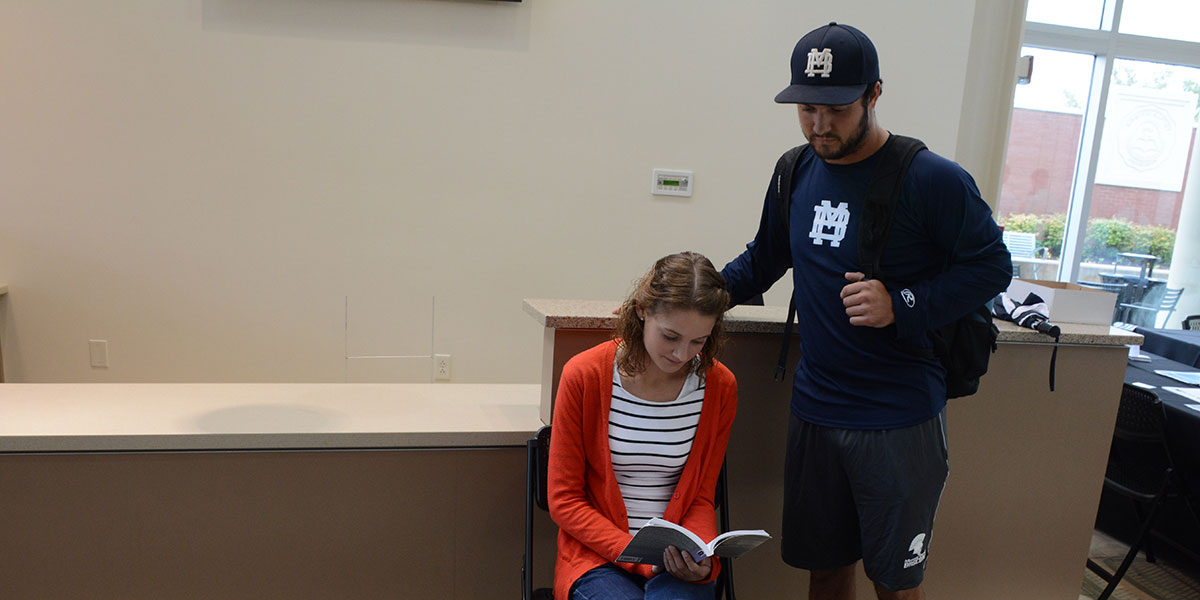 Photo by: Brittany Gammon

__________________________________________________
"You need to get a 4.0 GPA and get involved in as many things as humanly possible," the freshman guidance counselor told the fish sitting in my first class (Spanish I) of high school six long years ago.
As I sit in my first class of my junior year here at MBU, where I cannot stack athletic and academic scholarships, I am left pondering the idea of all the stress that I endured during my time in high school.
The questions and observations are: Do you really need extracurricular activities and stellar grades to get a great scholarship at MBU and other private institutions that do not stack scholarships? What is all of that "stuff" used for in the future? Is it really worth it?
No Ryan, I initially thought. You did not need all that stuff that added stress to your life. You could have become a better golfer or specialized in a certain area. After all, that's the sport that led you to a scholarship at MBU.
"Football and men's basketball players are admitted and given full scholarships almost entirely because of their athletic abilities. Academic criteria for their admission are far below those for other students," according to an article written in The New York Times.
Why all of the stress on SAT and ACT scores? Just learn how to score 2 goals a game, throw a 95 mph fastball, kick a 50+ yard field goal, or be a scratch golfer.
"For example, SAT scores are over 200 points lower than those of nonathletes," according to a piece written by US News.
Again, do we truly need academics and extracurriculars?
In fact, "most athletes consider their sport as their main extracurricular activity," according to a survey listed in that same New York Times article.
These statements prove that in most circumstances, as long as you can score 25 points a game or rush for a 150 yards per game, you do not need anything else but your athletic talents.
That may be true for solely athletic scholarship purposes here at MBU, but really looking back, it was necessary, and I am glad that I challenged myself to attain that high GPA, and that I did get involved in numerous organizations that shaped my life throughout high school.
From learning study tactics and how to deal with defeat on the Future Farmers of America (FFA) Public Relations team, to learning how to not give up on a dream of winning a state championship as a golf team when everyone counts you out at the start, to celebrating with my baseball team during the playoffs three years in a row, to learning how to keep up my grades while missing over 25 days a year for being involved in all of these activities. You never know what you are getting yourself into.
It is crazy to think that the words of my freshman guidance counselor in high school can relate to life now.
I am still striving for that high grade point average (and will be for two more years), and those extracurricular activities are now golf, internships and clubs around MBU.
From learning now in my two years of college how to not give up on a dream of qualifying for the golf national championships when no one but the team thought we could, to obtaining an internship after not getting calls back from multiple places beforehand, to getting involved with MBU Timeline and becoming an assistant managing editor. Again, you never know what you are getting yourself in to.
Looking back, high school really can teach many life lessons.
"Shoot for the moon. Even if you miss, you may land among the stars," the quote read on the wall in one of my English classrooms in high school.
Motivational speaker Les Brown makes a far-fetched idea that I will always keep in mind, and serves for many observations that I can make about high school and college.
Sure, a 2.5 GPA will meet the minimum requirements, and I'm not saying that is even a bad GPA. But why not shoot for the moon? Why not go for the 4.0?
Getting involved in your teen-age years may not put money in your wallet for college for collegiate athletes, but it sure can help when you are thinking about how to juggle grades, sports and two jobs while going to college.
So, long story short, I believe the answer to do you need extra-curricular involvement and stellar grades to get a great scholarship is no, but definitely yes.
Scholarships for sports in college are great, but what is an athlete at Missouri Baptist University really here for?
That is the question we all must ask ourselves at some point during our trek throughout athletic careers. Most of us will be coming to the end of our athletic journeys and looking for the next hurdle to jump.
"There are nearly 60,000 student-athletes participating in 13 different NAIA sports," according to a website concerning NAIA athletes turning pro.
Although only a select few of us will actually become professional athletes, we will all use our past athletic history along with other experiences to aid us in overcoming the challenges in our future.
A bachelor's degree and a job after college are not an easy moon to reach. Good thing there are many stars to use in making our way up there.