Missouri Baptist University students share their excitement as MBU offers the school's first year of organized color guard.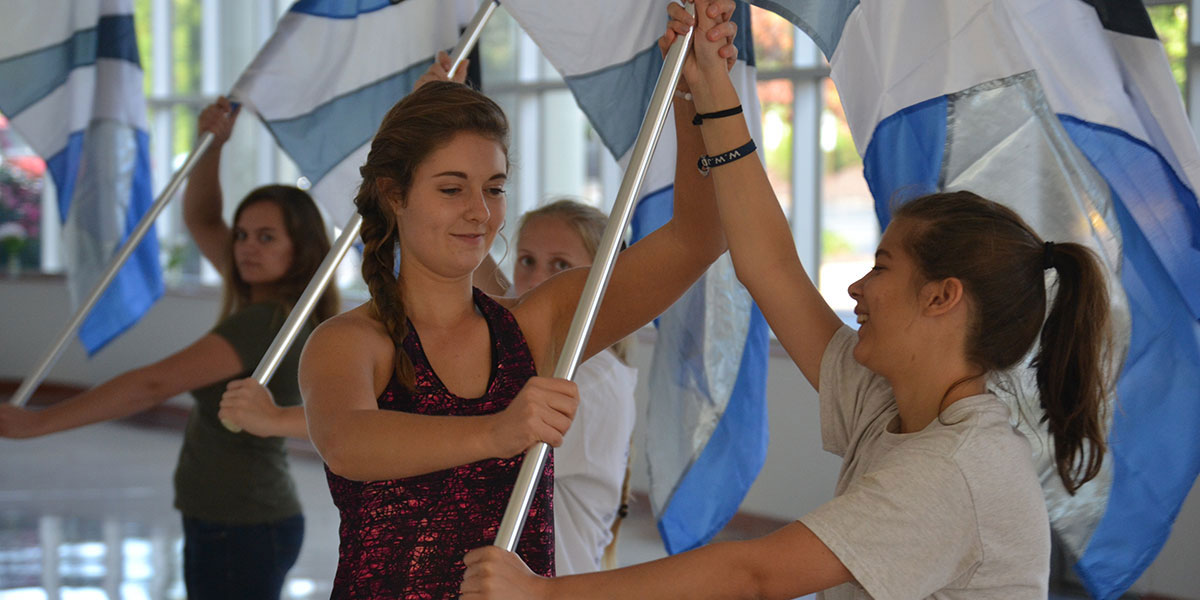 Photos by Michael Aylor
__________________________________________________
Following their first practice of the fall season, Missouri Baptist University Color Guard captain Rachel Mann and co-captains Rebecca Stallard and Lindsy Barns talk color guard and their aspirations for the first official season of color guard at MBU.
"This is a new thing here, so recruiting people has been really fun and just getting to know everyone, and I hope that this starts to form a little family and that we all just get really close," said Stallard, a freshman majoring in Communication studies.
MBU color guard expects to have up to 10 participants this season.
Students participating in color guard receive an athletic scholarship of $1,000 per year.
"Color guard is a really unique thing that you get to share a story in a very unique way that not a lot of people get to do. Not a lot of people get to experience color guard, so I'm really glad that it's here now at MoBap," said Stallard.
Barns, a freshman majoring in English, is looking forward to the learning process.
"The thing I'm most excited for this season is just teaching people about guard, because it's just so exciting. It's been such a valuable part of my life and I just want to spread that to other people," said Barns, who has nine years of previous color guard experience.
Mann explained how organizing a color guard at MBU has been a work in progress.
"When I got here [2012] there was no color guard," said Mann. "My sophomore year we had a color guard of two people, just me and one other person, but obviously we grew, because the next year we had three people and this year we have upward around 10, so that's super exciting."
Stallard believes color guard is an excellent addition to the programs at MBU for multiple reasons.
"It's a great way to perform. Actors perform on a stage, but we perform on the field along with the dancers and cheerleaders and everyone else and it's just a really unique experience," said Stallard.
Mann, a senior majoring in Music Education, said color guard encompasses a little bit of everything.
"It's beauty, it's art, it's expression and movements and creativity and music and dance and all this amazing stuff. It's worshipful even. Even in ancient cultures, people used flags to worship. It's always brought people together and that's what I feel like guard does for music programs," said Mann.
Mann and her co-captains really exhibit a passion for color guard and what it means to them.
"What would make someone get up one morning and think, 'Oh, I'm just gonna throw flags and fake guns in the air?' That's not a thing most people think, but when you see it, I know for me the first time I saw it being done, it was just so beautiful and I just wanted to be a part of it, and most people who get into doing it, it doesn't make sense necessarily, but they just love it," said Mann.
Barns said color guard is a great stress reliever, much like a sport is to an athlete.
"It's something that, when you're upset, you can just take it out on your equipment. It's always a stress reliever, just like football players have practice, like if they've had a bad day, they're able to go there and just take it all out and put all their effort into it, and then afterwards just be able to breathe and be unstressed," Barns said. "It's like that for us too."
Barns expressed that color guard is more than just a performance.
"This is a sport for us, this is our sport. For what we do, it takes so much effort and to be able to show people and start teaching people how to do these things, yes, it's baby steps as we go, but sooner or later they're going to be just at the same level as us, and it's just so exciting to be able to teach that and give that to someone else," said Barns.
Stallard expressed her interest in making color guard a tradition at MBU.
"Eventually we want it to be like marching band, like high schools have, and the color guard be like a big halftime show and then hopefully eventually a winter guard that would perform," said Stallard.
The three captains sat down with their team after practice to lay out a plan for the upcoming year.
"We're doing three songs, pretty basic starting off, because we have lots of different skill levels we're bringing in and people will be coming and going," Stallard said. "We might have 10 people show up, we don't know, so this will be a very crazy first season."
Mann has hopes to extend color guard into winter guard after the fall season.
"We'll have three or four little bits and then we'll also learn the fight song for football games, then it will be different for the winter season," said Mann.
Stallard and company have high hopes for color guard.
"It's so inspiring to watch a color guard show and you can tell such a unique story through color guard and through marching band, and that's what hopefully our goal is, to tell a story and eventually get a whole marching band/color guard halftime show out on the field."