Need help writing an essay, research paper or story? The Writing Lab is a growing center that offers free assistance for students who need to improve any part of their writing process, from brainstorming to revisions.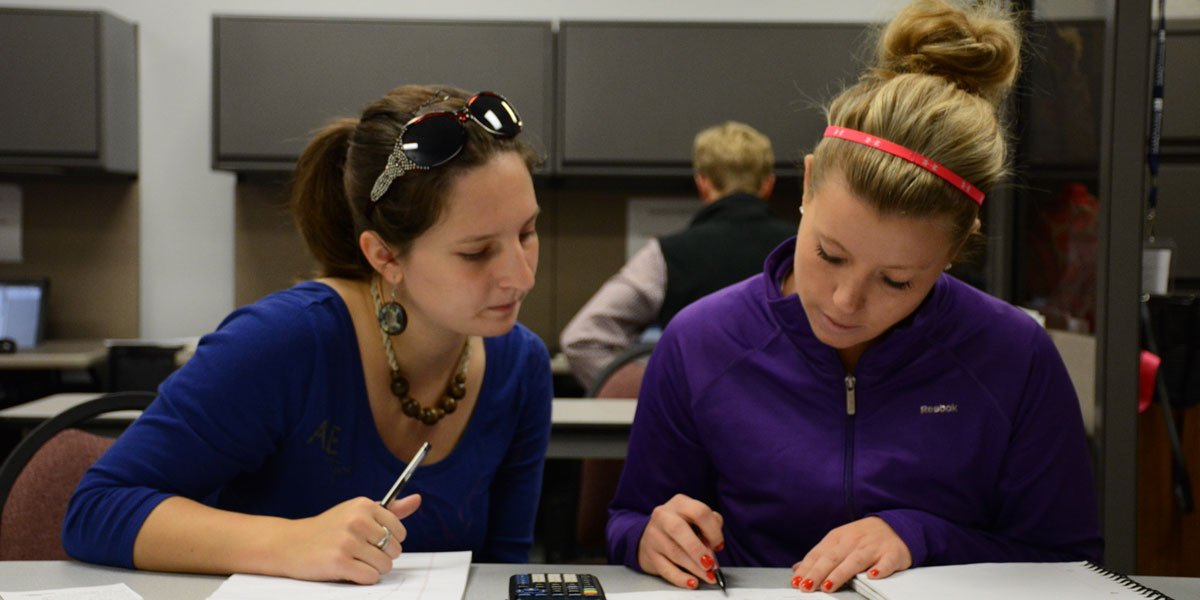 Photo by: Brittany Gammon
__________________________________________________
Since the start of this semester, the Writing Lab at Missouri Baptist University has seen a significant growth in the number of student appointments.
"If we compare the 2011-12 school year to the 2012-13 school year, we grew 158 percent. This number includes face-to-face appointments, online appointments and workshop participants," said Elizabeth Busekrus, Writing Lab coordinator.
Busekrus, an MBU alumna who recently finished her master's degree, has been working for the Academic Success Center for the past three years.
Located in the Academic Success Center in the lower level of the Field Building, the Writing Lab is free to all students enrolled at Missouri Baptist University.
"We're a service for all writers. We aren't just a place for students to come to if you are bad at writing and we don't label students' writing either," Busekrus said. "We are a place for students to receive guidance and to simply talk about writing. Writing is always changing and you can always improve your writing."
There are a few ways students can make an appointment with the Writing Lab. Contact the Writing Lab at 314-392-2364, by email or online. Walk-ins are welcome, but appointments are preferred.
Every Friday the Writing Lab offers the Portable Writing Lab, from 1-3 p.m. in the Perk, where writing coaches provide quick writing help, "but we also do fun things like the writing wheel," Busekrus said. "This makes students think of writing in a fun way."
Another option the Writing Lab offers is The Writing Space, an engaging way for students to learn more about writing and gain some helpful tips online.
The Writing Lab also offers an option for students studying at MBU's Regional Learning Centers to submit their writing online.
This year, the Writing Lab has brought on three new writing coaches, who Busekrus said "are really good at working as a team." They are: Shelby Mund, Ryan Rerich and Abigail Crain.
Mund is a junior majoring in English and secondary education.
"The Writing Lab is so much more than a resource for students who struggle with writing. We give workshops, we sponsor an annual writing contest, we have a website with blogs and interactive posts. We work to have something to offer every type of student, and I can really see that work paying off," Mund said.
Rerich is a junior journalism major.
"I believe that not only is it important for students to take advantage of the free service to aid their writing skills, but the tutoring can help the student develop their ideas and overall become a better critical thinker in all that they do," Rerich said.
Crain is a sophomore majoring in English.
"Since coming to MoBap, I have seen how important it is to be able to write a paper. Whether it is for a class or a job, writing a paper gives an impression about the writer as a person," Crain said.
With the newer and improved services the Writing Lab has to offer, the number of appointments has also increased.
The Writing Lab hours are as follows:
♦ Monday: 10 a.m. to 2 p.m., 3-5 p.m.
♦ Tuesday: 8 a.m. to 5 p.m.
♦ Wednesday: 8 a.m. to 4:30 p.m.
♦ Thursday 9 a.m. to 11 a.m., 12-1 p.m., 3-5 p.m.
♦ Friday: 8 a.m. to 4:30 p.m.