MBU Student Abigail Crain, senior English major and psychology minor,  describes her experience abroad as she studied in Dublin throughout the spring 2016 semester in hopes her reality will convince people to partake in the opportunity in the future.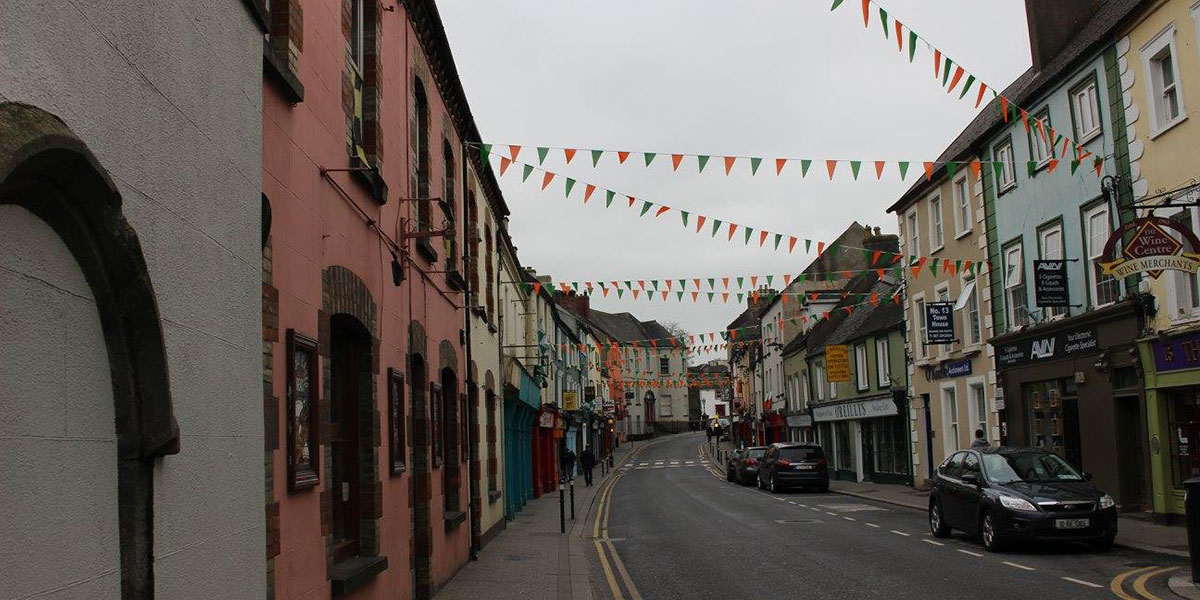 Photo by Abigail Crain
__________________________________________________
By ABIGAIL CRAIN
To anyone at MBU wondering if you should study abroad I have two words for you: DO IT. I say that with the most sincerity.
The spring semester 2016 was one of the best of my life, and I strongly recommend at least looking into a semester abroad.
I made the decision to study in a foreign country for a couple reasons.
For one thing, I wanted to have an excuse to come to Ireland for four months, but I also wanted to experience something bigger than myself while furthering my education.
Studying abroad, as I hope you will find out personally, is not so much about learning in a foreign classroom (although that is a big part of it) as it is finding things out about the world and yourself, and who God has made you to be.
"In Dublin Fair City"
As a global city, Dublin is unlike anything I've experienced before.
Walking down the street daily, I saw people of all cultures and walks of life mingling together; it was fantastic.
I have heard this was not the case 20 years ago. Today, Dublin is a hotspot for a plethora of people groups.
As for foundational Irish culture, last semester I got to experience not only the St. Patrick's Day parade in Dublin, but also the centenary of their 1916 Easter Rising, something of which the Irish are very proud.
There was so much information about the Rising going around I felt like an expert by the end of it.
Living Quarters
Back to my daily life.
I lived with a host family, and they were pretty great.
There are certain stipulations that host families have to follow in order to have a student, so don't worry that you will sign up and then get placed in a cramped house with 10 people and one bathroom. CAPA worked with me to make sure I would be happy and comfortable  —  even asking questions about whether I preferred pets or not, and when they told me who I was staying with they sent pictures of the bedroom and bathroom I used.
Transportation
When getting around, the only issue is the bus system, because it stops running at around 11:30 p.m. and that definitely cuts down on time with friends in town.
The bus system is also tricky in that it does not run on the dot as we are used to in America — it runs on "Irish time," as they say.
It could be five minutes early or 10 minutes late, and there is never a guarantee of the exact arrival time to your stop, but once you get the hang of it and use your time wisely — and remember to hold your hand out so it will stop for you — it's pretty grand.
CAPA semester students get a monthly bus pass refunded and reloaded, which is a super nice resource that allows a ton of freedom to travel through the city and gives student discounts at multiple places.
There is also the DART (Dublin Area Rapid Transport) that is good for day trips to coastal towns, and there is also a train.
The bus pass will either fully cover you for some of the DART trips, or allow you to have a nice discount.
Dublin also has hop-on-hop-off bus tours, as well as various companies that you can pay to transport you to tour various towns in Ireland.
Academic Life
The classes I attended at Griffith College were only once each per week, and the school had no classes on Friday — except for a special class on Irish History for international students, which I happened to take.
The start times ranged from 9 a.m. to 4 or 5 p.m.
Each class is about three hours long (unless it is worth more credits), but the teachers are so laid back that many times they let you go early. They also tend to arrive a little after class time but find it rude if a student shows up too late.
One class I took, The History of Art and Photography, had a lecture time with all of the students, then separate hours for a "tutorial" (a more hands-on time) with groups of the students.
Almost all Irish classes have very few assignments but each is weighted heavily. For example, my Creative Writing class  ( definitely my favorite )  had only four assignments but three were worth 20 percent of my grade and one was worth 40 percent; my participation and attendance affected the grade as well.
I also had an internship through CAPA The Global Education Network at the Ballyroan Library in South Dublin. The internship has a class to go along with it, which sounds annoying on top of having to actually work at the internship, but the cultural information I learned was so valuable and eye-opening to me as a young adult and as a human being.
I quickly found that cultural intelligence is just as important as typical intelligence and emotional intelligence, and my internship itself was a learning and growing experience.
The library was a very laidback environment, as are most workplaces in Ireland, but  —  as some of you will see if you come to Dublin and choose to have an internship  — the Irish workplace is very different from an American job.
Every instruction to do a task is given indirectly and as non-bossy as possible, and therefore relies heavily on context.
For example, American bosses would typically walk over to their American interns' desks to tell them to hurry and finish their list of phone calls before lunch; an Irish supervisor would come by the Irish interns' desks to ask how their day has been going — and have they had a chance to look over the list of people they need to ring soon?
An Irish workplace will very rarely have a definite, obvious hierarchy of positions, and they avoid at all costs any appearance of bossiness or arrogance. The Irish people value the quality of coworker relationships over the quantity of work, and are very serious about taking full tea and lunch breaks.
There is so much to learn culturally as well as personally when doing an internship that I can't stress the value enough.
Having an internship in Ireland not only gave me something to put on my resume, but even greater is that it helped me build interpersonal skills and gave me a higher level of cultural intelligence that will serve me well in future relationships and settings, work-related or not.
Learning the Culture
OK, so I've talked about the ins-and-outs of school and work, but I think my favorite part about Ireland was honestly the ability to walk everywhere around town and see all of the little quaint streets and stores everywhere.
Within a 30-minute walk from Griffith College (which will end up sounding like a breeze in no time if you study there), you can get to the town center, visit the famous Trinity College, pass at least eight coffee shops, and walk by probably 20 convenience stores.
Like I said earlier, Dublin is a global city, which means on a single street there will be not just an Irish pub with delicious burgers and chips (French fries that are cut a specific way) but maybe an Asian "takeaway" restaurant and even the country's version of Chipotle, called Tolteca.
The Temple Bar area, while a hot spot for tourists due to the pubs and loud nightlife, is being culturally revamped into an area for open markets and Irish events, and the shops are fantastic.
I made a personal goal to visit as many different coffee shops in the city as possible, and I definitely achieved that.
In addition, there are multiple parks, museums and historical places to visit; definitely something for everyone's tastes.
Not to mention that the island itself is so close to many other countries that a weekend trip to Barcelona or Brussels, or a spring break trip to Greece, is totally within the realm of possibility.
So now that I have gone on and on about how awesome Dublin is, I hope I have convinced some of you to look into it.
Of course, there are various personal struggles that will come along with leaving the country for four or five months, and homesickness is a definite reality, but the knowledge and experience you will gain from being abroad for a semester will be carried with you for the rest of your life. If you want to get my personal take on anything I didn't go into detail on, please message me on Facebook.