A Personal Narrative: The story of a young man succeeding early in his high school athletic career at the IHSAA Regional Golf Championships has led him to where he is today.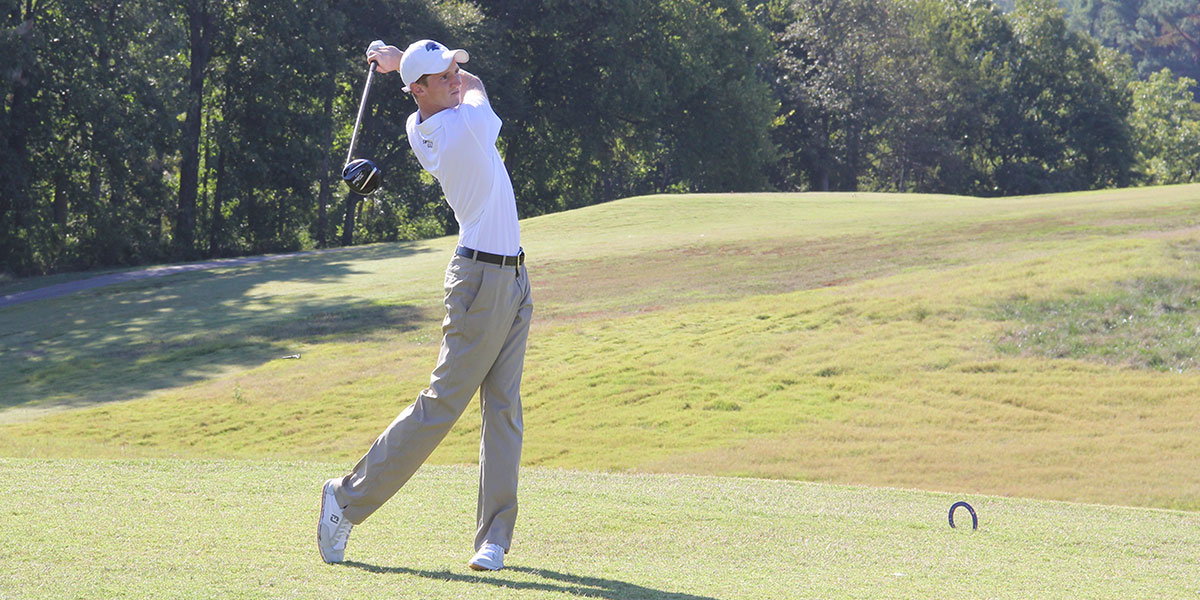 __________________________________________________
It was my first high school regional golf championship. My tee time was at 8:30 a.m. Friday morning, six years ago at Orchard Ridge Country Club in Fort Wayne, Ind.
The weather, threatening rain, was cool with a brisk breeze that had all the competitors in jackets and rain gear.
I was beyond nervous. How was I going to perform? What if I let the team down? Will I be able to keep up with all these older players? I was one of the four freshman competitors in the field that day.
With my legs shaking uncontrollably, hands a bit numb yet still shaky and my stomach in my throat, I took the first tee as the marshal announced my name.
"Next on the tee, freshman from Northridge High School, David Long."
I gave notice to the crowd that was applauding me moments before I took my set-up.
"Clear your mind, David. Take a deep breath and do what you know how to do," I said to myself before hitting my opening tee shot.
After a few practice swings I took my stance and hit the ball down the middle of the fairway, just as I had planned on doing.
What a relief it was to start my round on a good note. Now with a bit of confidence, I knew I was going to play well.
The funny thing about the game of golf is that anything can happen. Just five holes later I found myself struggling. Already four-over-par. How was I going to come back from this?
My focus was now on minimizing the damage rather than shooting a good score. I proceeded with a few tentative pars and a bogey on the last, finishing the front nine with a five-over-par 41.
What started as a high-spirited, positive round was quickly turning into a near disastrous round that could keep myself and the team from making it to the state championship.
I knew my parents and grandparents were there watching me play. I felt bad for them having made the two-hour drive to the tournament to watch me struggle.
While I was having a snack before teeing off on the back nine, I heard a familiar voice … "David! Let's make some birdies, bud!"
What I did not know, and was shocked to see, was that my Uncle Mike had made a four-hour drive to catch the back nine of my round. I turned around excited and met him with a familiar hug.
"Uncle Mike! What are you doing here? I didn't expect to see you here!" I said to him.
"I wouldn't miss this for the world, buddy. How did you play on the front nine?" he asked.
"41," I said in a discouraged tone.
"Ah, it's OK. There is a lot of golf to be played and a lot of birdies to be made," he replied in an attempt to lift my spirits.
"I'm going to do my best to turn it around right now. I am so glad you came all the way out here to watch me play," I said as I turned and headed for the 10th tee.
I was ready to start the back nine now and show my family that I still had some fight left in me.
I finished the 10th hole with a birdie and started to see the light of a salvageable round. Another birdie at 11. A par at 12.
Then, miraculously, birdies at 13, 14 and 15. I was back to even-par with only three holes left to play. I did not know how the rest of the field was doing but was confident that if I finished strong, I could maybe place in the top 10.
A par on 16, then another at 17. I was pleased by the turn-around I had made as I stepped onto the daunting 18th tee box.
As I looked down the fairway I was struck with a gut-wrenching fear when I saw how big the crowd was around the 18th green.
I did my best to gather myself and managed to get the ball into the fairway. From there, I hit my approach shot onto the green but was still what seemed like miles from the hole.
I watched my playing partners putt out for their pars. I was last to play.
"You have 30 feet left for birdie. Let's just try and get this putt down in two and get out of here with a par and an even par round," I said to myself before lining up my putt. All eyes were on me.
The crowd was silent, almost too silent. So silent you could hear breathing in the atmosphere around the 18th green that day.
My ball was lined up and I was prepared to play my third shot, for birdie. I brought my putter back and sent the ball down what I thought was the best line.
Tracking … Tracking … Tracking … It seemed to take the ball forever to get to the hole.
The putt was looking really good now. I started walking forward slowing just as the ball disappeared.
It went in! Birdie! The crowd was electric. To my surprise, my teammates were running toward me, which was unusual, as I grabbed my ball out of the cup.
"Why were they so excited that their freshman birdied the last hole? What was the significance of that putt?" I thought to myself as I watched them running toward me.
"You did it! You won! That putt was for the win! We are going to state! We needed you to make that putt for the win!" They all yelled.
My stomach was in knots. I could not fathom that I had made such an important putt.
My parents and extended family came rushing onto the green to meet me, and the team, and give me their congratulations.
I was a whirlwind of emotions. I took my scorecard to the rules official and made sure my score was countable. It was. Then the biggest surprise of the day came …
Not only had I helped the team win the regional championship that year, but I had finished in first place out of the entire field.
I was at a loss for words. A freshman victor.
What I had accomplished did not hit me right away. When the award ceremony started, I was in a daze.
A cloud of overwhelming excitement, relief and applause came from the crowd. I walked up to the front, amidst a sea of people, to retrieve my first-place trophy.
I did not know whether to cry, scream, or jump for joy, so I just stood there and took it all in. I had done it. I had won.
Not only did I keep up and compete with all the upperclassmen in the field, but I came out on top, victorious.
After a 41 on the front nine, I had shot a six-under-par 30 on the back nine to win the tournament by one stroke, with a 71 total score. What a monumental day.
After that tournament I was excited for the state championship (where I finished fourth overall) and for the rest of my high school golf career.
Since then I have had much success, finishing up high school with four years of All-Conference awards and two years as captain and breaking the individual low score record for nine holes.
My collegiate career has been just as successful at Missouri Baptist University. I have recently tied the school record for individual wins in four years with my most recent win coming Sept. 29-30 at Columbia College's "Cougar Classic."
Competitive golf has been a huge part of my life and still is, but it all started my freshman year in high school when I won the tournament that boosted my confidence for years to come.