Baseball: For a High School Player, it was More Than Just a Game
A Personal Narrative: The sport of baseball is always unpredictable, and no one can completely predict when the exact moment has come for you to perform for your team.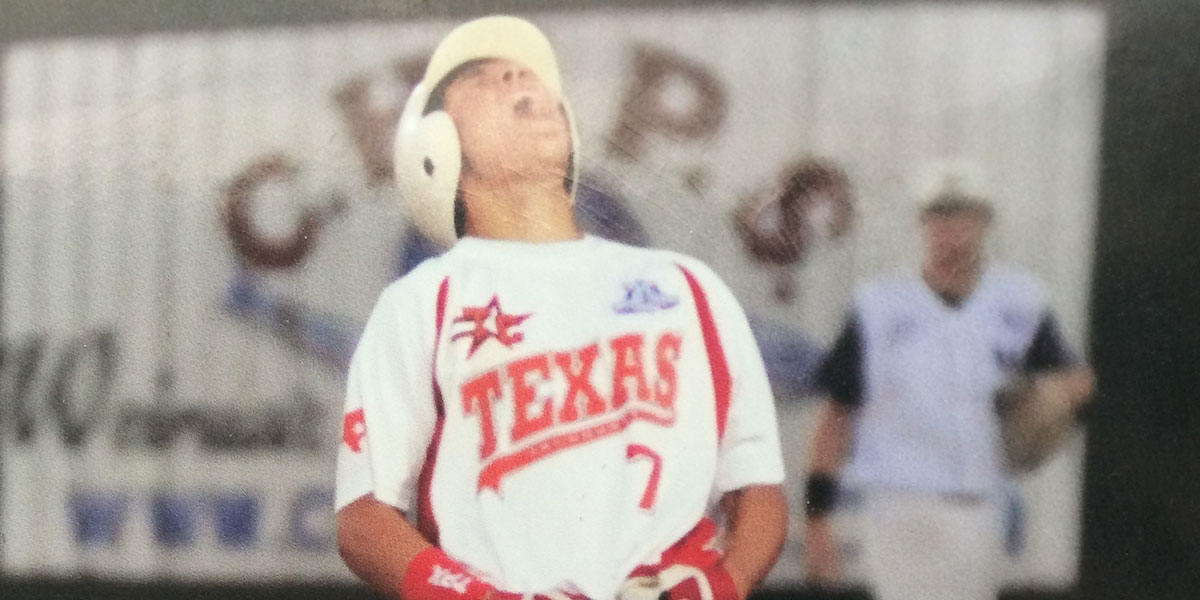 Photo by: Lynda Beal
__________________________________________________
Team failure after failure, you learn how to expect negative results from the No. 1 baseball team, the Weimar Wildcats, in the Division 2a Texas playoffs.
How we got to that point in 2012 was preceded by two years of heartbreak and close losing efforts in the playoffs.
As a sophomore on the Weimar Wildcat baseball team in 2010, we defied the odds and made it to the Regional finals after a third-place district finish, barely squeaking our way into the playoffs.
We upset the Salado Eagles, the No. 1 team in the state, and knew we had a chance to win it all with a strong senior class leading the way.
It all came to an end when a ball hit in the bottom of the seventh inning in a 3-2 game on a muddy, rain-filled day skipped past the pitcher's mound and struck second base, eliminating all chance for our center fielder to throw out the potential game-winning run at home plate in the Texas 2a Regional Finals.
We were all devastated, but we knew with four starters returning, we could make a run in the playoffs in the year to come.
My junior year flew by and there we were again at the end of May in the Regional finals after winning district and three playoff series.
The Cameron Yoemen were solid, but with a few errors — me committing one of the huge ones when I threw the ball over the first baseman's head to let the Yoemen take a 2-run lead — they beat us handily in two straight games.
Again we were shattered inside, but we knew we were only losing two starters from the 2011 graduation class heading into my senior year and the 2012 season.
My senior year was a flash, and again we were district champions, but this time ranked No. 1 in the state.
On a blogging website, there were jokes being made that we should not even play the game, and that it would be a blowout, but little did we know that the worst was about to happen.
In an unexpected tie game in the top of the seventh inning, I stepped up with men on second and third and the chance to give our team a needed lead.
I saw a pitch to hit and struck a hard grounder in between shortstop and third base.
With every stride I knew the play was going to be close. I kept my head down and ran like there was no tomorrow.
With the grass being wet and the ball slick, the shortstop made a decent play, but proceeded to throw high and I beat out an infield single to plate what seemed to soon be the game-winning run in the 0-0 game.
One run scored and then the next was signaled in on an interference call when a Tidehaven player got in the way of our runner trying to escape a rundown in between 3rd base and home without the ball, resulting in a 2-0 lead for my team going into the bottom of the seventh inning.
Our senior all-state pitcher, with a no-hitter going into the seventh inning (which is the last inning in high school baseball) looked to finish strong and record his first no-hitter in his high school career. All he needed was three outs.
After a lucky bloop single into left field ended the no-hit bid and a hit batsman with one out put runners on first and second base, a routine double play ball was hit up the middle.
I could see the celebration beginning to happen, until a mistake crushed this out of my mind forever. Here is when it all began to spiral.
The second baseman threw the wet baseball past me, tipping my glove and rolling into the outfield.
The rest is history after that and a few batters later, we lost on a walk-off triple in the left center gap to plate two runs.
I will never forget turning and watching the ball fly over my head, and hearing all their fans screaming, "Go!"
I can still hear their coach screaming, "Oh my gosh," "Oh my gosh," as they ran and dog piled on that playing field.
The Tidehaven Tigers had pulled off the upset on the number one team in the state, the Weimar Wildcats.
I was devastated to say the least. This ended my high school baseball career. I did not even get to celebrate my state golf title that we had clinched three days before that Friday night. Every sport seemed to be simply a letdown.
Every day slowly passed as the summer baseball league rolled around. I knew that the 2012 Babe Ruth World Series was going to be hosted in my hometown of Weimar, Texas.
I had played on the team that had lost in the regional qualifier badly in 2011, but this year as the host team, which was Texas Tri-County, we received a host bid into the World Series.
I did not know whether I wanted to dust my cleats back off, try out for the team once again and step on my hometown field for one last time.
Tryouts came around at the end of June and I had to.
I was sick and tired of hearing the ball hit bat and watching the play over and over in my mind when we lost on that somber evening in April.
I could not let the sound of voices haunt my ears and the feeling of that ball tipping my glove and rolling into the outfield define who I was.
I laced up the shoes, got the old Korean Sunbird (my glove) out, grabbed my bat, and headed out to do this one last time.
Tryouts went well and I made the team and was an expected starter since I started the year before for the team.
We played in some warm-up tourneys and before we knew it Opening Ceremonies for the 2012 Babe Ruth World Series were upon us.
It was an honor to wear the white and red Texas jersey on the field that I grew up on, and be a part of a team that was composed of counties in my area.
I ran out to my second base position and the game had begun against Middle Atlantic, which was a team from New York.
They beat us to open up the World Series, but the tourney was far from over.
We finished 2-1 in our pool, with wins over Alabama and South Dakota, and our lone loss to New York.
After finishing second in our pool to New York, we faced our first elimination game against Port Angeles, Wash.
With a 0-0 game in the bottom of the second, and the bases loaded, I came up to the plate for the second time.
Everything felt surreal. I was in a place of comfort and I was confident even though I had been struggling in the tournament.
I had put aside all of the past struggles and wanted to do this for my team, and more importantly my life-long friends. The hometown crowd was chanting, "Let's go Ryan, da. da. dadada… let's go Ryan, da. da. dadada…."
I had to do it for the near-1,000 fans who were in attendance that night wanting to see us Weimar boys on the select team redeem ourselves from the high school failure a few months prior.
I dug in the batter's box and stared down the pitcher. I did not even get a sign from my coach.
He told me that when my time came, I needed to show the town of Weimar what Texas and Weimar baseball were all about.
The pitcher had a decent fastball with a curveball that could make you look silly if you did not adjust to it at the plate.
I had seen a few curveballs in my first at bat, but I knew if I could get a fastball down Broadway, I would send this little white ball to the fence.
I saw the whole field shaded to the right. Impressive, they had done their scouting reports. I was an opposite field hitter who liked to hit inside-out balls all day long.
I kept looking for that fastball. I got a curveball on the first two pitches, one for a ball and one for a strike.
There was no way I was swinging at anything else but a mid-80s fastball. Ball two. Ball three. Strike two. With a full count, I fouled off another outside fastball.
I knew they were going to stay away and try to get me to hit into the shift. With the seventh pitch of the at-bat about to be released from the right hand of the pitcher, the whole place went silent.
At that moment I knew I was going to get what I had been waiting for. Standing in the same box that I hit my first high school home run, this was no different than a game with a tennis ball playing with my friends at age 10, rounding the bases and picturing ourselves in the Major Leagues one day.
With a smile on my face, I will never forget picking up the seams and reading a high fastball that looked the size of a basketball.
I then took a cut on that baseball that I will never forget.
The crowd was going nuts as the sound of ball meeting bat was heard throughout the small town of Weimar, Texas, that night.
The ball hit off the wall at 375 feet in dead center, and I stopped at second as the play was over, looked up at the sky and let out months of anger and joy all at the same time. I then pointed at the home crowd and my dugout and knew that my time had come.
I had embraced the moment, enjoyed the moment and seized the moment. Playing baseball for 13 years, this was my last hurrah.
With a base-clearing double and the crowd on their feet, we had taken the lead in the Babe Ruth World Series, 3-0, against a pitcher who did not think he would be beat.
We went on to win that game that night, 4-2 and I received the player of the game for the final time of my baseball career. We went on to win one more elimination game and lost 4-1 in the World Series Final against the same New York team we lost to in pool play.
We took runner-up in the 2012 World Series, and I left my baseball career, with not one state or national ring to show for it, but man do I have hundreds of memories that I will hold with me for a lifetime.
Baseball is a game that owes you nothing, but gives you everything, or at least what you take from it.
I will never forget the times I had and the games that I played. The blood, the sweat and the tears that I left on the fields of America's favorite pastime will always hold a dear spot inside of my heart.
Tags: 7, America's Pastime, Babe Ruth, Babe Ruth World Series, Baseball, MBU Timeline, Ryan Rerich, Salado Eagles, TC, Texas, Texas Tri-County, Tidehaven, Weimar, Weimar Wildcats, Wildcats

Ryan Rerich
Ryan Rerich, Editor of MBU Timeline, is a senior pursuing a double degree in journalism and communication studies with minors in sport management and public relations. Rerich, from Weimar, Texas, is a member of the golf team and was on the national qualifying team in 2013. Rerich engages himself in the photography aspect of sports, as well as writing and editing stories for the student website in a multitude of topics. In the past, Rerich was an intern at the Press Club of Metropolitan St. Louis, as well as an intern at the Schulenburg Sticker, a weekly newspaper in South Central Texas. He is currently working in the MBU Writing Lab tutoring students during the school year. When he is not involved in those various activities, he can be found playing intramurals on Wednesdays or possibly playing catch outside of the apartments.