Did you know what really went on at the Media Talk with Gov. Mike Parson? If not, here is a little info about what really happened, as told from the personal perspective of one of the governor's interviewers, Colin Baillie.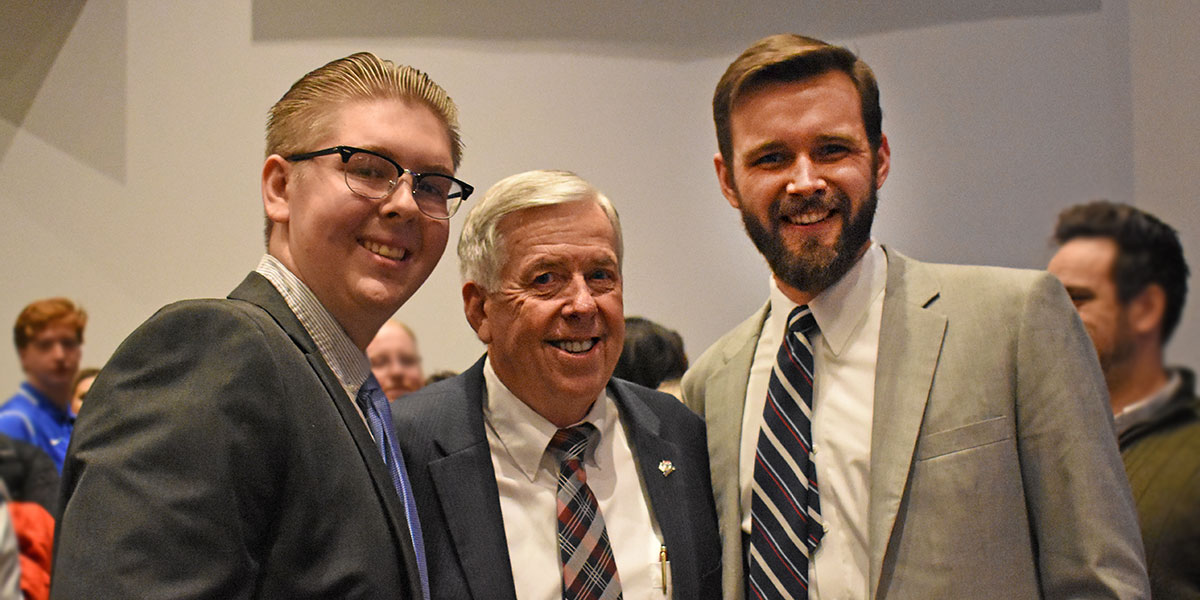 Photos by Dani Jo Stevenson
Interviewers Colin Baillie, left, and Ross Munroe, right, pose for a quick photo with Gov. Mike Parson after the 2018 fall Media Talk, in which the two MBU communications majors interviewed the governor in front of a packed Chapel.
___________________________________________________
When hearing about an opportunity like interviewing the highest-ranking public figure in the state of Missouri, fear is natural. For myself, I saw a chance that I could not pass up.
I was given the opportunity to interview Mike Parson, governor of Missouri, this past fall during the Communications Department's Media Talk event, along with my colleague, senior Ross Munroe, who joined me on stage for the 45-minute interview in front of nearly 1,000 audience members in the Chapel.
Students, faculty and guests from the St. Louis area attended the event, during which Munroe and I focused on a particular topic: Christian Communications.
We talked about the governor's entire life, starting with his childhood, then gearing toward his time serving in the military. We discussed his life before politics and then brought the conversation to where he is in his career today.
As he spoke, it felt as if he was in a grandpa-like role. By that, I mean when the governor spoke, everyone seemed locked in on what he had to say.
It was amazing being on stage with him. Munroe and I enjoyed every second of it.
"This was one of the most amazing things I have gotten to do in my lifetime," Munroe said.
But let's back up to our Media Talk preparation.
We spent many hours thinking of different ways to approach the interview, and many different questions were thrown out and deleted or rewritten. Also, time coordinating both of our busy schedules factored in when we could meet and plan.
Munroe and I spent a lot of time creating questions and bouncing them off our professor, Amanda Staggenborg, assistant professor of public relations and communications.
She would revise our questions and send them back, then we would edit again.
Once Gov. Parson's office approved the questions, it was time for us to order them in a particular way, then categorize them in case we went off topic in various areas. We had topics of faith, leadership, the state of Missouri, among a few others, all of which related back to Christian Communications.
Then came the day of the Media Talk. Munroe and I arrived on campus about an hour early just to feel comfortable and prepared.
When we met up beforehand, we went over last-minute details to assure we were on the same page, walked out on stage and made sure everything that we needed to do was complete.
By this time, Gov. Parson and his people had arrived. We met with his security team and walked into the board room connected to President Keith Ross' office.
Gov. Parson and his wife were there to greet us. We engaged in some small talk, then faculty members from the university arrived to meet him.
It was a bit chaotic in the room as everyone wanted to get a photo with the governor.
To view some of these photos, check out our university's Flickr page.
We both settled down and got our nerves under control, taking deep breaths with some small talk.
Something that stuck out to both of us before taking the stage were the words of one particular individual.
"If you think you are speaking too slow, you are probably not, and if you think you are going way faster than normal, you definitely are," said Dr. Allin Means, professor of journalism and communications.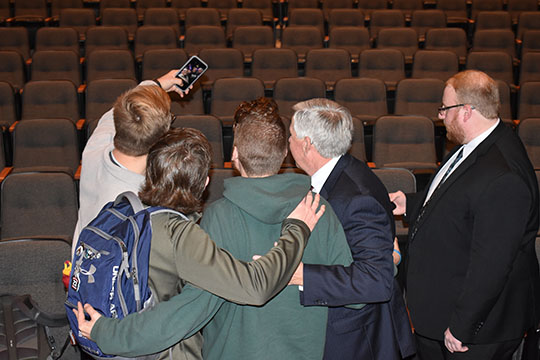 These were the last words that someone in the boardroom said to us.
We went backstage and reviewed the rundown one more time, and previewed questions we had for the governor.
Then came time to walk out. We exchanged fist bumps, and Munroe and I led the way, followed by Gov. Parson. He received a standing ovation and a roar from the crowd.
This was such an awesome moment to be able and look out at the Chapel filled with the large crowd of people. From there until after the first question, my heart was beating fast and the adrenaline was running.
Once the first question was asked, I took a deep breath, relaxed and was locked into the interview.
Ross and I took turns asking questions, and the governor was very in-depth with his responses. He had the crowd tuned in to what he had to say.
The Grandpa-like figure came out from the governor. On stage, you could feel that the audience got so much out of the thoughts that Parson shared.
Our 45-minute time slot flew by, and just like that it was time for the governor to head out to Columbia, Missouri, for his next event.
Gov. Parson took pictures with some lucky students, including a selfie with Munroe and I. From this point on, my co-interviewer and I realized that we just rocked this.
We reflected for about an hour after the interview. If it had not been for Staggenborg, we would've never had this incredible opportunity.
I am so glad I had this opportunity in college, whereas most adults don't even have this opportunity.
Gov. Mike Parson said he really enjoyed his stay on campus. As he was walking out with his team, he mentioned to me that he would like to do a sports broadcast together sometime. I plan to take him up on that offer.
All the hard work paid off, and it was an eye-opening experience for Munroe and I. I know neither of us will forget the interview we conducted.

Click here for a link to the entire Media Talk interview with Gov. Mike Parson.