Orchids are known as symbols of love, beauty, and thoughtfulness. The Missouri Botanical Garden showcases these flowers in a special event every February, a fitting tribute to the month that seems to revolve around Valentine's Day.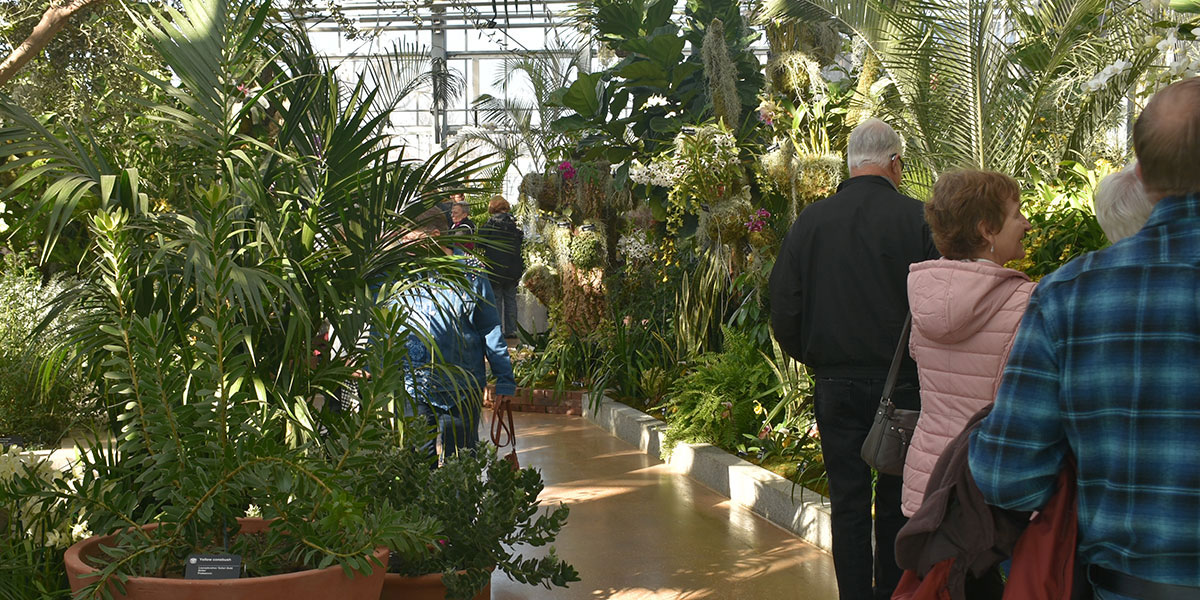 People of all ages enjoy the orchids on display at the Missouri Botanical Garden on Feb. 24, 2023, walking slowly between the overflowing flower beds and chatting with friends among the sunlight-drenched petals and leaves. All photos by Isabel Rinkenberger
___________________________________________________
As a native Illinoisan, I had never been to the Missouri Botanical Garden.
I did not know there are over 6,000 species of orchids or that many of them are endangered.
I had no idea they only bloomed during a specific time of the year or that the Missouri Botanical Garden hosted an annual orchid show from the end of January through the month of February.
I attended on a whim, hoping to get photos for a school project.
I did not expect to leave inspired.
When I walked through the glass sliding doors of the nature conservatory, I was filled with a sense of wonder.
Time seemed to slow down.
Green leaves punctuated by flowers in soft pinks and bright yellows lined the winding walkway.
There are orchids shaped like pitchers and dragonfruit, mosses lining stems and tree branches and leaves as long as a child's arm.
Bird chirps and the soft sound of running water mixed with the warm sunlight beaming through the glass roof and walls.
The sweet scent of fresh flowers filled the room, emanating from every corner.
An older couple entered the room reverently, like one would a church, their chins lowered and their eyes roaming the ground.
A woman in a red beret, who looked like a college art history major, meandered between the stems and flowers, pausing every couple of seconds to lean over and snap a picture with her phone.
A lady with silvery gray hair and a knitted gray scarf changed her height to match her subjects, bending for the lady slipper orchids on the ground and rising to her toes for the hanging tiger's mouth orchids.
Capturing beauty through photos can only go so far although I have tried to preserve a fraction through the photo gallery below.
To appreciate fully, viewing the orchids in person is almost required as the surrounding sights, sounds, and smells create an atmosphere that is hard to forget.
While the botanical garden show has ended, nature's outdoor spectacle is just beginning.
With spring approaching and warmer weather hopefully here to stay, patches of dead and dry grass will soon be replaced with vibrant green stalks and a rainbow of flowers.
People will have the chance to trade the indoors for outdoors, to become like the orchids of the Missouri Botanical Garden and welcome the sun and rain and everything in between.