BLOG PART 1: On Oct. 1, 58 people were killed and 500 people were injured at a country music concert in Las Vegas. Gunman Stephen Paddock, 64, got on the 32nd floor of the Mandalay Bay Hotel, shot a security guard and then opened fire on the concertgoers. For our MBU Timeline writers, a question to reflect on and blog about is: Are we ever safe anymore?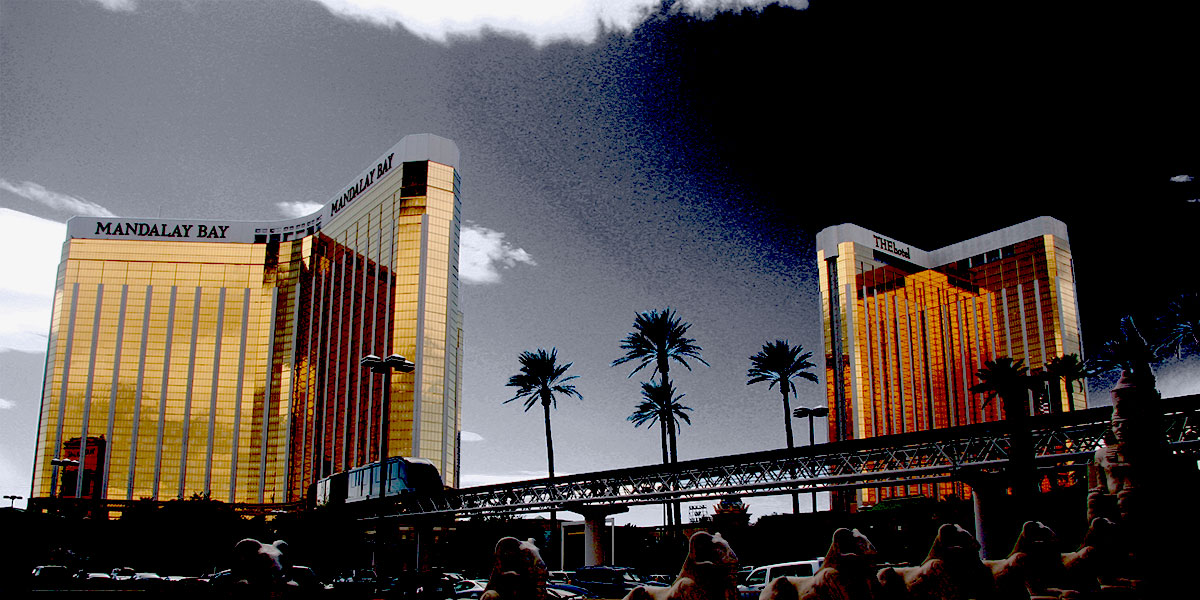 Graphic illustration by Madelyn Shotton
__________________________________________________
By HALEY SANDVOSS

Do you ever stop and wonder to yourself, are we safe anymore?

On that fateful day in Las Vegas recently, everyone was in a panic hearing the gunshots, seeing people fall to the ground, and seeing just the looks of terror in people's faces.

In a situation like this I would go to Psalm 46:1, which says: "God is our refuge and strength, an ever- present help in trouble."

The Las Vegas shooting is a time in trouble where God can be there to help those in need. He gives us strength to fight the battles we get into, and helps to get us out of tough situations.

The concertgoers were in trouble and needing help, and God was watching over them in that certain time of need.

Jason Aldean, Jake Owen, Lee Brice, Dylan Scott and Luke Combs were among those who performed at the concert. Once the shooting started happening they all prayed to God. Once the shooting stopped they all tweeted to their fans asking for prayers.

That is the work of God going through them, giving them strength to go on and help others in a tragic time of need.
---
By BEN RANDOLPH

Are we ever safe anymore?

2 Corinthians 4:8-9: "We are hard pressed on every side, but not crushed; perplexed, but not in despair; persecuted, but not abandoned; struck down, but not destroyed."

While events like this are seemingly unimaginable and are impossible to understand, in recovery it is now important to trust in God and to place all emotions, struggles and faith in Him.

Even while knowing the truth of the circumstance, it is difficult to grasp the reality of what has happened, and it is tough to comprehend how something like this could ever happen.

Worst of all, it can leave people without a sense of direction on where to go next and lead to questioning if we are truly ever safe anymore.

However, in all its tragedy, this massacre and these feelings epitomize the meaning of these verses.  

The victims, their families and friends, and even the United States as a whole, feels hard pressed and confused, and some may feel persecuted and struck down.

Yet, the strength of God saves from being crushed, His wisdom gives guidance to those perplexed in this incomprehensive situation, and through Him those who feel persecuted and struck down are never truly alone nor destroyed.
---
By ANNA MAITLIN HUGHES

Safety and security can mean a lot of things for a lot of different people.

For the toddler, safety lies in a stuffed animal, while the upper class businessman finds security in his crisp savings account.

However, what happens when a gunman goes to a concert and shoots this toddler, the businessman and numbers of others? Where is the security then?

In a world full of tragedy and sorrow, where Teddy bears and savings accounts can be taken at any moment, is there any way to find hope?

The only solidity is in God and his consistent character:

"Truly my soul finds rest in God; my salvation comes from him. Truly he is my rock and my salvation; he is my fortress, I will never be shaken." (Psalm 62:1-2)

The world is fading, fallen and far east of Eden, corrupt in nature and naturally inclined to evil.

God, however, is good.

The Gospel of Jesus Christ promises life and hope and an eternal security that puts root in a heavenly Kingdom, a country that will never fall or be shaken; for this I hope and long.
---
By SAVANNA CANTRELL

Scattered bodies, wounded souls and hopeless hearts all laid out on the Las Vegas strip, trying to seek safety and composure as moments before what was just a group of people with a common interest became a group of people with a common story.

Attendees of the 2017 Route 91 Harvest Music Festival traveled from all over the country to band together in a good time over country music, but little did they know their lives would be changed forever.

It seems as though every week or two there is a new tragedy on the news just as horrific as the one before.

You may begin to ask yourself, if you're not already, are we safe anymore?

There is a powerful passage in the Bible, "So do not fear, for I am with you; do not be dismayed, for I am your God. I will strengthen you and help you; I will uphold you with my righteous right hand." Isaiah 41:10

With all of these tragedies we experience on such a regular basis, this verse offers comfort to anyone who lived through the experience, or those of us on the other side.

I feel as though we are all subconsciously asking ourselves, "What's next?" Which makes us feel really unsafe when we never know where the next attack is going to be.  

So what do we do? Do we stay inside and live in fear? Do we refuse to live our lives because of the fear of the unknown?

I say no, we have a hope rooted much deeper than any weapon or attack that we could ever fear, a hope rooted in the Creator of each and every one of us. He knows the beginning, middle and end of every situation and to me, that hope is enough to not fear anything the world throws our way.