Dear Freshman, you are about to embark on four of the most exciting years of your life, and I want you to hear this from someone who has recently watched them come to an end.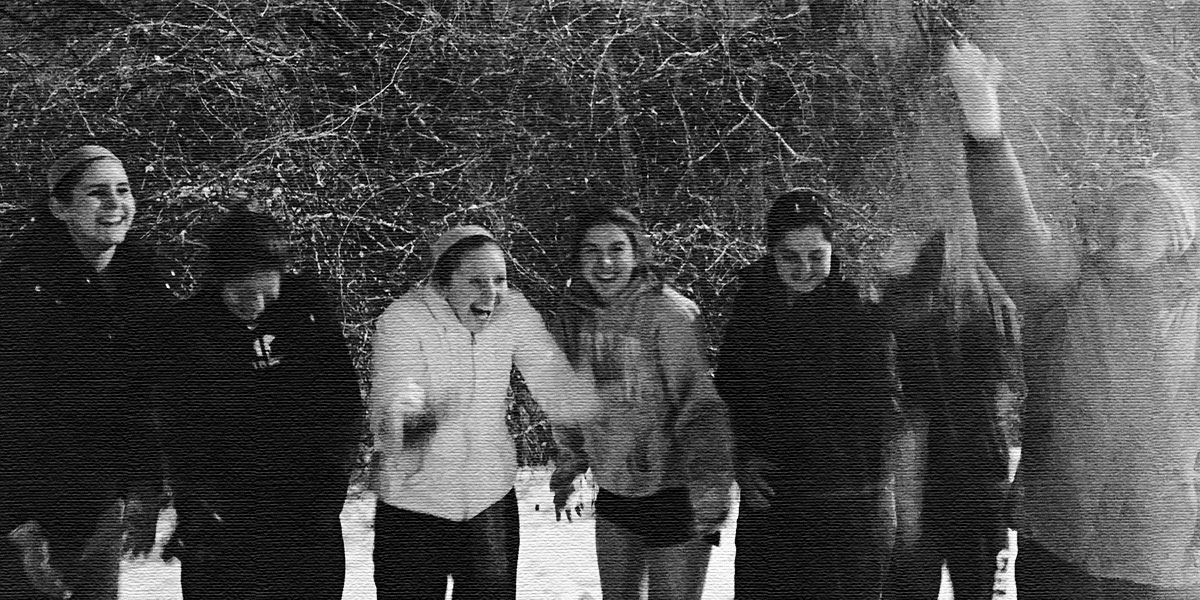 Photo by Liz Siegfried
After a late night practice her freshman year, Dani Jo Stevenson (far left) plays in the snow with her fellow MBU tennis teammates. Stevenson, who graduated in the spring, has written parting words to underclassmen and shared her wisdom as "a sentimental senior."
__________________________________________________
Dear Freshman,
Welcome to college. I remember the feeling of being a brand new college student, brimming with anticipation and eagerness to conquer the next four years of life.
I had been planning for this moment since I first started high school. Every class I took, every guidance counselor I met with, the ACT prep course I completed, every little detail was pointing me toward one end goal: Succeeding in college.
Now, you have made it, and you're ready to give this new chapter your all.
From dorm shopping to pulling your first college all-nighter, your new life is full of excitement.
Your first year of college can be crazy and exciting, but also daunting and overwhelming.
As I recently wrapped up my last semester as an undergrad and now reflect on my past four years at MBU, these are the things I wish I could have made my freshman self understand.
You do not have to be the perfect student.
I will never forget the first time I failed a test. Cold, harsh reality came flooding in. I was no longer a "perfect student."
I called my mom crying hysterically that I had received a D on a test. I was convinced I was going to fail college and never get a job.
I wish I could say that I figured out quickly that you are going to fail and that is OK, but truth be told I still struggle with getting less than perfect grades, but I have realized the things I have learned in school extend so much further than what one letter grade on a test or paper may show.
I have discovered that no matter how many assignments you are unsatisfied with you are still going to walk down the aisle and get your degree.  
As long as you can say with confidence that you tried your hardest, a 4.0 is not worth sacrificing friendship, health or overall personal well-being.
You do not have to know what you want to do with your life.
Many students go into college with a plan. They know from start to finish exactly how to accomplish the goal they set out to achieve, but for others, the path is not as clear.
Between my freshman and junior year, I changed my major a total of six times. Each time led to more feelings of sheer panic as I realized I was not at all sure of what I wanted to do with my life.
Since entering high school, I've felt as if there was this expectation that once you get into college you have to know exactly what you want to do with your life.
The truth is, you might not even end up working in a field related to your degree.
While choosing something that you are passionate about is extremely important, taking your time to think through all of your options and carefully deciding on a major is equally important.
Take time to explore your options. Don't rush into a major, take classes you think inspire you and take time to try out different fields, and allow yourself to change your mind. It just might be the best decision of your life.
Focus on the WHO not the WHAT.
Perhaps the most important thing I can share with you is don't spend your time looking for the "what you want to do," but rather, for the "who you want to be."
You are going to experience so many things these next four years, allow them to shape you into the person you want to be.
Use your time in school to gain so much more than just a transcript.
The most important lessons you are going to learn are the ones that go beyond the chalkboard. They are going to be the ones that show you more of who you are, what's important to you and who you want to be.
You have the ability to make these next four years some of the most enriching, growing and shaping of your life.
Enjoy every second because you don't realize just how fast it goes until you're heading into your last semester realizing this is the last time you will begin new classes or have a Spring Break.
Let yourself thrive and soak up the next four years with everything you have. Say yes to new experiences, meet new people, and love all the ups and downs you go through.
You are going to come out on the other side a much different person than you were when you went in, and you have the chance to make that person into who you want them to be.
Love,
A sentimental senior