This New Testament book offers vivid illustration and application of the importance of faith and works.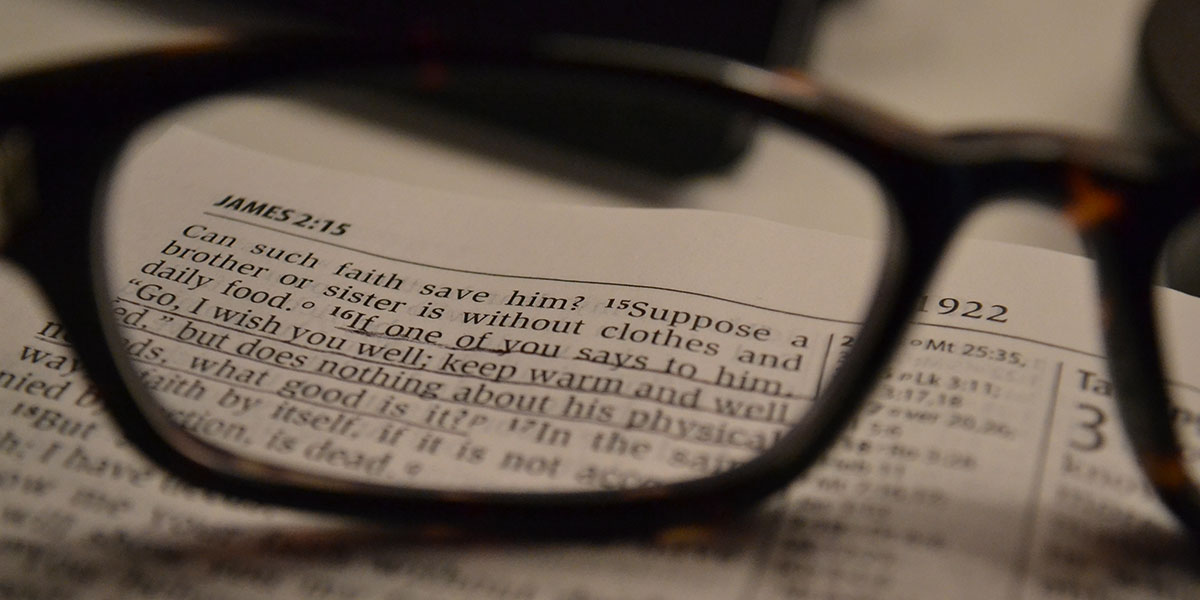 Photo By: Brittany Gammon
__________________________________________________
James, found in the New Testament, included the story of Abraham, from the Old Testament, as an example of God's lesson to man.
The story includes Abraham, the father of Isaac, who follows God's instruction to sacrifice his only son, Isaac, at Moriah, a mountain in the city of Jerusalem.
Isaac was not included in the discussion between his father and God, so he asked Abraham where was the sheep to be sacrificed, and dad came up with an answer.
"God himself will provide a lamb for the burnt offering." (Gen. 22:8)
Abraham tied his son to the wood on the altar at Moriah, and he took the knife to slaughter his son, Isaac, until God spoke: "Do not lay your hand on the boy." (Gen. 22:12)
Abraham saw a ram and took its life for the sacrifice rather than his son's.
God blessed Abraham "…because you obeyed my command." (Gen. 22:18)
Since Abraham put his faith in the Lord and followed his instruction through works, God called him a friend, according to the New Testament.
James 2:23 says, "Abraham believed in God, and it was credited to him as righteousness, and he was called the friend of God."
James associates Elijah to be faithful as well.
Elijah, a man of God, prayed that it would not rain, and the Lord granted his request.
God stopped the rain for three years and six months.
It did not stop there: Elijah prayed again, and the rain came down when he asked for rain from God. (James 5:17)
"Just as a body without a spirit is dead, so also faith without works is dead." (James 2:26)
James gives two examples from history, but faith and works apply today as well.
If someone was unclothed or hungry, God wants action.
"…but [if] you do not give them the necessities of the body, what good is it?" (James 2:16)
James shows the importance of faith through history and application today through his New Testament stories.
__________________________________________________
What are your thoughts on faith and works?
"I believe that to truly be a follower of Christ you have to have faith, a belief in him, but you have to couple that with actually doing what you preach. You have to show people that you believe what you say you do. I don't think they can be separated, and I don't think you can put one above the other."
–NICOLE SAVANT
freshman, biochemistry major
__________________________________________________
"Without faith works mean nothing because you can work as hard as you want, but it still can't bring you Christ unless you have faith and when you have faith it leads to works."
–JAN-HENRY JORDAAN
sophomore, accounting major
__________________________________________________
"I think faith is what gets you to Heaven. It's not works that gets you to Heaven, which is the world's view. Faith is the first step, but after that, you have to do all of the works that are required, but it still takes faith."
–AMANDA ARAGONA
junior, English literature major
__________________________________________________
"Your faith should inspire works. It's not connected to salvation in any way. It doesn't determine your level of holiness or any sort of merit that you have in any way. Good works are a love response to Jesus' action of the gift that He has given us."
–GRANT SODERSTROM
junior, business administration major
__________________________________________________
"The dichotomy between faith and works: I think that works are an example of faith but faith without works is dead, just as scripture says. If someone says 'I like to follow God,' like you would see in Ephesians, then ultimately when they become a follower of God their works will display what their faith is."
–MATTHEW MARSHALL
senior, worship arts major
__________________________________________________
"I think faith is more important than works. I think as far as salvation goes, your works don't save you because salvation is a free gift from God. You can't earn a free gift. I believe works are very important, though, but faith I'd say is probably more keene."
–CHRISTOPHER BUZZELL
freshman, sport management major
__________________________________________________
"Scripture does say that we aren't saved by our works. We are saved by grace through faith. You can intellectually acknowledge God, but if it doesn't show in your hands and heart, it doesn't mean anything. The work is a fruition of God's spirit. Those gifts He has given us, not a means to an end."
–BRAD BUCHANAN
senior, marketing major
__________________________________________________