Comparison of the

HTC One Remix

and iPhone 5c and which one is an adequate decision for me/you.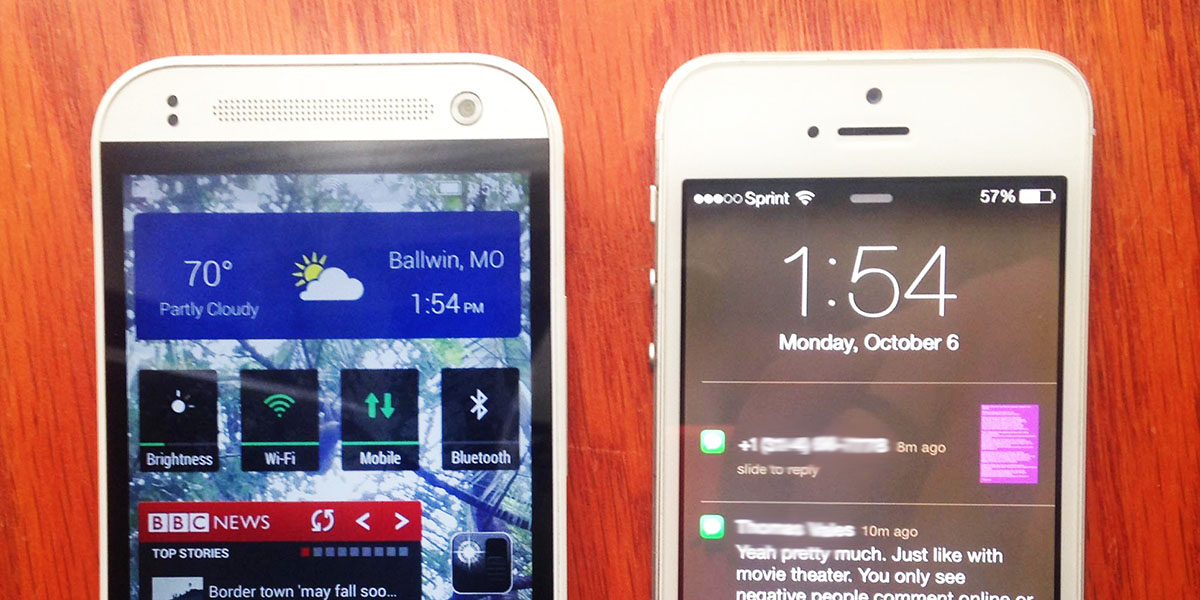 Photo by: Colby Duncan
__________________________________________________
Our phones need to work and they need to work well, so when I decide on a phone to purchase the main thing I consider is which phone will function better in the palm of my hands.
Also, of course, price. Being a college student I don't have a ton of money so I try to find some sort of deal when I am in need of a new phone.
A couple months ago I became eligible for an upgrade with Verizon Wireless, my cell phone provider.
Originally I was set on waiting for the iPhone 6 to come out so I could get the iPhone 5c or iPhone 5s for a better deal.
I went to the Verizon Wireless store on Manchester to figure out what I was initially going to do.
I spoke with an employee named John who filled me in on the discounts for phones.
Upsetting to say the least I found that the iPhone 5c was still $100 and the iPhone 5s was still $150.
Discouraged, I started to take a look around the store at other phones like Androids.
As I was looking at the HTC One Remix John came back up to me and said, "Do you like that phone?"
It was marked at $150.
"I have heard about this phone and how it's comparable to an iPhone, but it was too much money," I said.
John went on, "If I were to compare any of these phones to be the same or better than the iPhone 5c then it would be this phone." I was intrigued. "It is probably Android's best-designed phone they've ever had," he said.
And since the iPhone 6 just came out, if you purchase the phone off the Internet and not in the store then it's free if you have an upgrade. The same deal is true for the iPhone 5c, the salesman told me.
I optimistically decided to give this HTC One Remix a deeper look, wondering if it would strike my fancy and if the phone was actually comparable or better than the iPhone 5c.
I left the store, jumped on my computer and checked out Verizon's online store to see what type of deals John said they had.
The iPhone 5s was still $100 so I canceled it off the list due to my financial status as a college student.
Verizon Wireless, AT&T and T-Mobile are all giving away the iPhone 5c and HTC One Remix for free with a two-year agreement depending on what plan it is, but the flat price is the same for each provider.
They're also selling the iPhone 5s for $100, but with my college financial status it was out of the picture.
Now which one do I want?
The HTC One Remix came out in July of this year and the iPhone 5c came out in September of 2013, making it more than a year old.
I started to find people with the phones.
It was easy to find people with the iPhone 5c but it was hard to find many people with the HTC One Remix.
MBU volleyball player Mary Krause said, "I love my iPhone 5c because of the simplicities of the phone and how I can link to my iCloud."
MBU baseball player John Williams said, "I like my iPhone 5c but it doesn't have a ton of space being only 8GB and not being able to have a slot for an SD card for extra memory kind of doesn't hold up, but my battery always impresses me. The battery is a lot better than my old Android phone."
MBU lacrosse player Jacob Beckman said, "I went from iPhone 5c to the HTC One and I love it. I never thought I'd say this but I actually like the Android system over the iOS system. It seems like they worked out all the kinks to have their phones run smooth like the iPhones have always done. I also love the speakers, louder than any other phone I have ever heard, it has a speaker at the bottom and the top of the phone, giving it more of a wide range of sound."
MBU student Reid Cure, MBU Timeline's sports editor, previously had an HTC One Remix and switched to the iPhone 5c. He said, "I would say although personalization is limited, Apple products flow much better, I was able to sync my iPhone with my laptop (Mac) much easier."
After finding a couple people with each phone I started to think that maybe I should give the HTC One Remix a shot.
So I went to the all-knowing Internet and looked up comparison reviews for the two phones.
A website called versusos had a great comparison on the HTC One vs. iPhone 5c that gives a side-by-side chart of the specifics for each phone.
This made it easy to be able to see certain tools within the two phones that are right next to each other, allowing me to understand what is better or worse.
Another good comparison site I looked at was pcadvisor.
The site offered a descriptive review comparing the two phones by using both of the phones on a daily basis and doing odds and ends that a user would do.
The review was written by Matt Egan, a PC adviser who said, "I would usually be on the Mac side but the HTC One Remix is a better phone for a better price."
Egan said, "The HTC One wins on storage and display, whilst the iPhone 5c may just edge it on battery life. Build quality and software are of a similar quality but different. But if you have no strong feelings on design or Android/IOS, you need to opt for the HTC."
So I made my decision after a good amount of analyzing.
Today I purchased the HTC One Remix hoping that it does a better job than the iPhone 5c.
Also, if you are a Verizon customer, don't forget that if you're looking to purchase the HTC One Remix or the iPhone 5c then purchase it online.
Reason being the iPhone 5c still costs $100 in the store and the HTC One Remix still costs $150 in the store.