Even as a kid, I was aware of the heaviness of abortion because I grew up at a pregnancy help center where my whole family volunteered. As desperate mothers came in for assistance, I realized that, despite them all having different backgrounds and needs, we provided them the help they needed, and it shaped who I am today.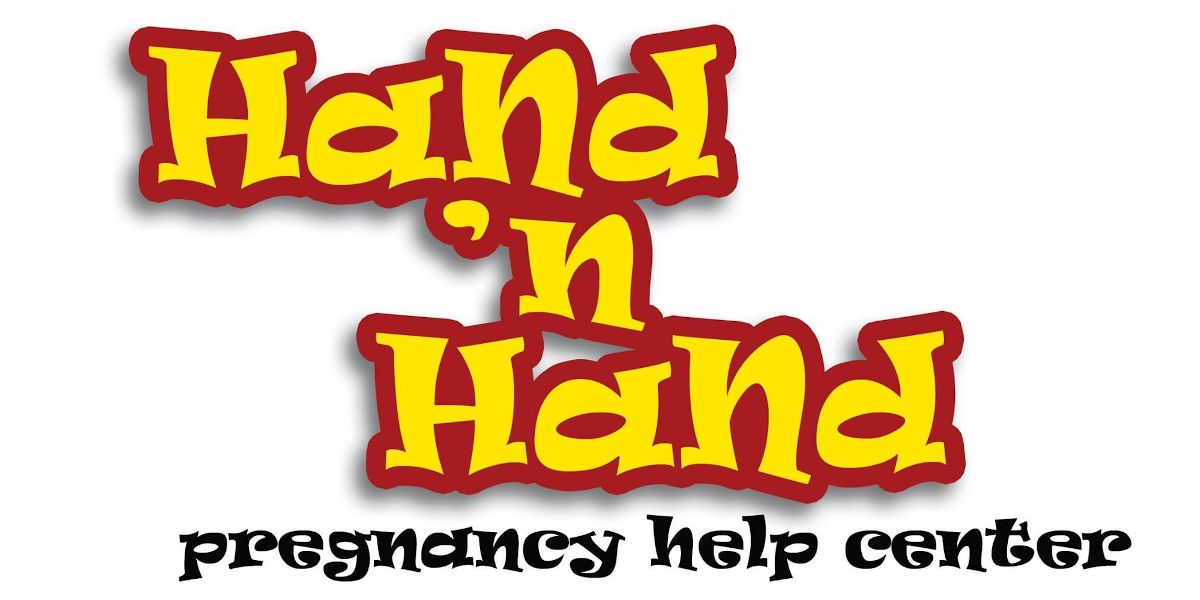 Graphic courtesy of Tim Notz
__________________________________________________
All of my life, I've been aware of heavy topics like abortion. But my perspective was different than the average kids' on the issue. I literally grew up at a pregnancy help center. 
My family has volunteered at Hand 'n Hand Pregnancy Help Center since its opening in 1998. My grandparents have been directors of the center since the position opened in 2000, and they continue to pour their hearts into the nonprofit today.
My mom and dad have always helped out along with my aunt and uncle, which meant that my cousins, my brother and I were at the center a lot throughout our childhood.
I have memories of making forts with totes of donations with my brother and sneaking the snacks for volunteers with my cousins before we hit double digits.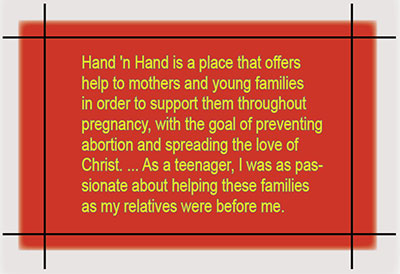 I especially remember that when we were there on certain days, our grandma made it clear to us that we couldn't come up to the front. As a kid, I didn't get why that was such a big deal. But now, I do. 
I always followed this rule, but that didn't stop my curiosity about it. I wondered why I couldn't just come out and say hi.
Eventually I realized it had less to do with me as it was a distraction. The volunteers wanted to give the clients their full attention and help them in any way possible, which meant the fewer distractions the better. 
Once I hit high school, my grandma asked if I wanted to volunteer to work childcare while the mothers and regular volunteers had a meeting. That was one of the first times the purpose of the center really hit me. 
I played with the kids. I met the mothers. And I realized they weren't so different from me and my family. They just needed help, and I became so thankful that my family chose to help them.
Hand 'n Hand is a place that offers help to mothers and young families in order to support them throughout pregnancy, with the goal of preventing abortion and spreading the love of Christ.
This means that desperate mothers come into the center to get help and share their stories. It wouldn't have been appropriate if the director's grandkids ran out asking questions or made a mess. 
As I've grown, my grandparents and parents have taught me more and more about abortion and the importance of being a light for people stuck in darkness. 
In 2015, the building flooded badly as it had many times in the past, and this is when plans for a new building began.
Through God's provision a warehouse became available, and my grandparents and uncle got to design a layout for the building. 
The building had a grand opening in 2016, and it was then that I realized how big of an impact the center has. I saw the crowd of people who cared about what God was doing for Hand 'n Hand. 
As a teenager, I was as passionate about helping these families as my relatives were before me. I decided to apply for a new position the center needed, a social media intern.
Since I got the internship in 2018, I have been volunteering at the center along with my family in order to help the women and children of Jefferson County.
I hope to continue growing the media sites in order to help more struggling mothers find help. The internet is a huge platform and should be utilized to help others. 
I firmly believe I am passionate about working for the center because I grew up seeing young mothers need help with their babies.
Even as a kid, I saw people who needed help who lived a totally different lifestyle than me and my family. It affected the way I saw the world. 
It's important to remember that kids pay attention. Even though I didn't know the stories of the women I saw, I saw that they were hurting and that my family was helping them. I noticed. It helped form who I am today.