There was a lot more to look at on Saturday than guys in uniforms running up and down a field. Here's my account of MBU's inaugural home football game, without actually talking about football.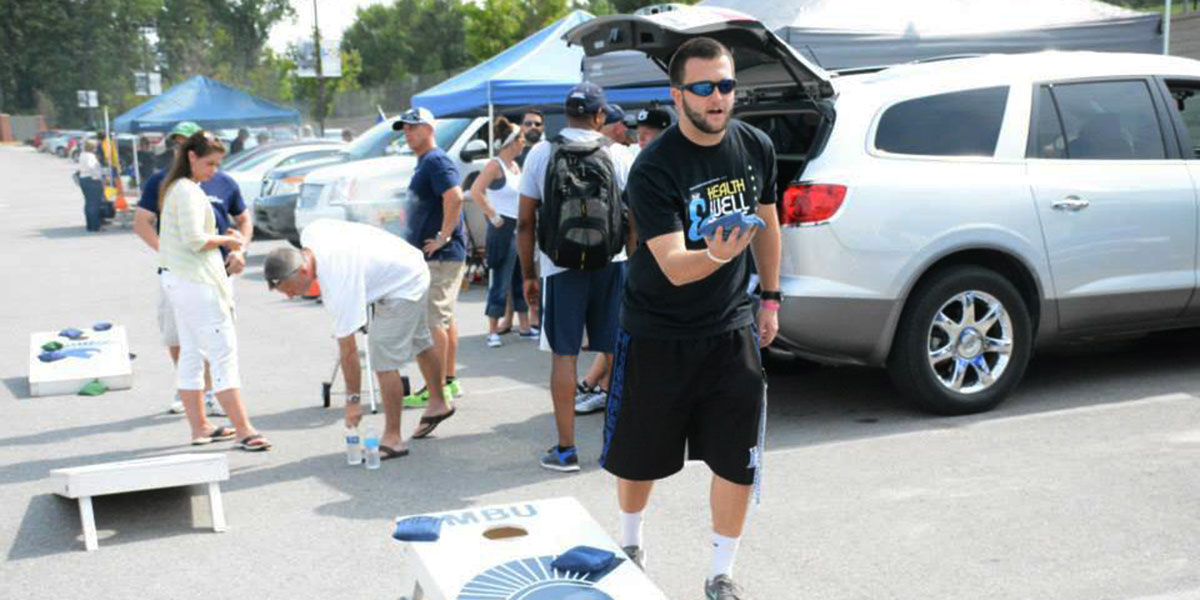 Photo by: Ryan Rerich
__________________________________________________
I've never liked football.
It's not anything against the sport, I just find it confusing.
However, coming from a very small high school in a farming community, I have been to my fair share of football games.
When I was in high school, the marching band was where I belonged and it was the sole reason I went to the games.
Now my viewpoint has changed.
I've had the experience of being a part of MBU's inaugural football season.
A recent Saturday home game was very exciting for me; I even went to the bookstore to buy another MBU shirt for it.
As I walked in some pretty extreme heat through Spartan Village on my way to Rally Alley, I was struck by a wave of excitement.
Parking Lot E had been transformed into a tailgating hub.
I was happy to see the great turnout as people in the traditional MBU blue and white walked around and took part in the activities.
As a self-proclaimed foodie, I was most eager for the food trucks, so I bought myself a burrito from The Curbside Cookery.
I grabbed my root beer from the Fitz's keg provided by the Office of Institutional Advancement and made my way, friends in tow, to the CBC field.
When the field came into view, I was amazed at the number of people who showed up to help make MBU history.
My friends and I found a seat and then … kickoff!
Saturday, I had the privilege to be sitting in a very action-packed section.
Directly in front of me were the Cheerleaders and Dance Team.
For the most part, they all looked happy to be there cheering for the football guys, however, I think the searing heat made some curls and smiles droop.
Regardless of the heat, they did a great job of getting the crowd excited about the game, even when the score was less than favorable.
To my right was the brand new MBU pep band.
Even though they appeared small in numbers, the students and faculty within the band knew their music and played powerfully.
I was also lucky enough to be sitting by someone who is very passionate about the game of football.
Over the course of the game, she tried to explain the sport to me, but to her dismay I was very, very slow on the uptake.
Every time something happened, I was brought back from my people-watching or Pinterest-surfing by her cheering and clapping.
By the end of the game, I was confused, sweaty and uncomfortable, but actually pretty content.
I was able to spend a historical day with my MBU family.
Even though the chances of me understanding football are slim, the jubilant fans, hardworking football team and the excellent food are enough to keep me going to games.