We have all doubted our work, but is it worth it? Does this pervasive doubt drive us to do better, or does it just drive us crazy?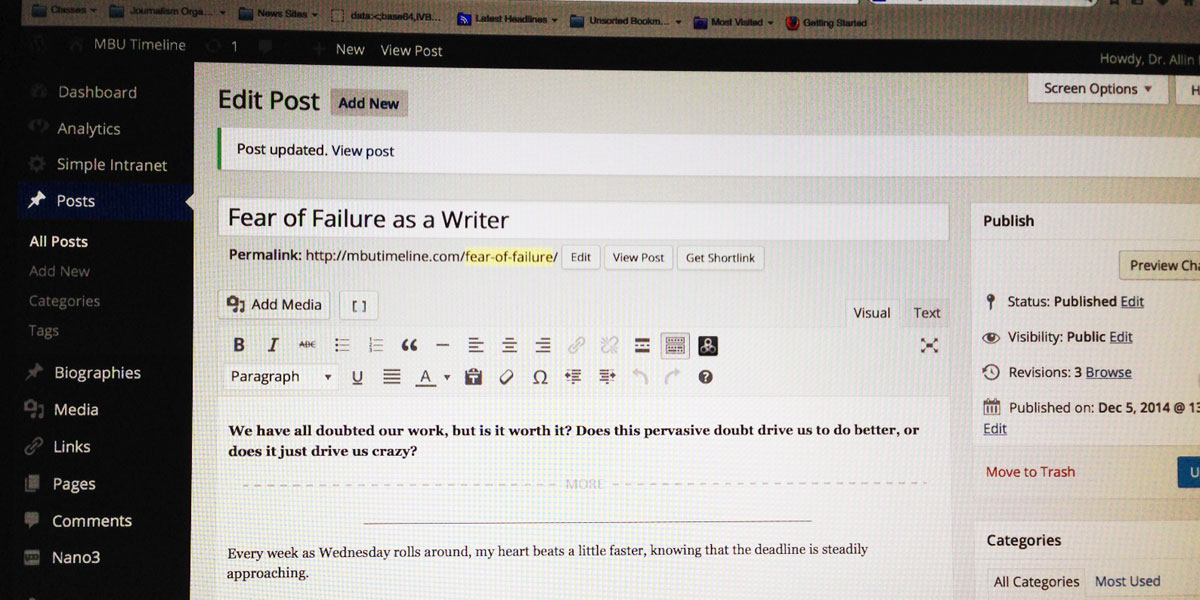 ___________________________________________________
Every week as Wednesday rolls around, my heart beats a little faster, knowing that the deadline is steadily approaching.
The pressure is on.
A folder full of witty stories waits for my mediocre piece to fall in with the rest.
This folder is open for editors and co-writers with access to pop in and give my "not so brilliant" story a read.
The mere thought that others have access to works I have no confidence in makes me want to crawl under a pile of blankets and never come out.
So, every week I've done just that.
I've written what's been sewn into the inner parts of my mind for as long as I can remember.
I pump out some story that I'm anything but proud of, in hopes that no one ever notices that it's there.
If you don't do it at all, how can there be any chance of failing?
If you don't put any effort in, then there is no shock when receiving the grade with dwindling numbers.
I've been wrestling this monster for years.
The truth is that "failure" is all a matter of perspective.
I can sit in my room alone every Wednesday night and watch the cursor blink on my computer with no ambition for writing anything decent, or I can realize that every time I fail is an opportunity for improvement.
When I started doing a little research, I found that there are numerous people who experienced failure at some point.
Michael Jordan is easily known as one of the most successful basketball players of all time, yet he was cut from his high school basketball team.
If Jordan had let that stop him, he would have never gone on to accomplish all that he has, including five NBA Most Valuable Player Awards, six NBA championships, 14 All-Star teams and induction into the NBA Hall of Fame in 2009.
Before "Harry Potter," J.K Rowling was a single divorced mother surviving off of welfare.
Rowling is now a bestselling novelist and a billionaire.
When the Beatles were first starting out, they were dropped by their record label and told they had no future in music.
They went on to produce 13 studio albums and were inducted into the Rock and Roll Hall of Fame in 1988. Some would say they were the greatest band in history.
Needles to say, if everyone quit the first or second time they failed, we wouldn't have some of the greatest music ever made.
Napoleon once said, "He who fears being conquered is sure of defeat."
I believe that what Napoleon said was true.
I believe that in order to succeed I'm going to get over the fact that a lot of my stories won't be worth reading.
It will take dedication and practice but some day, I'll write a story that I'm proud of, a story worth sharing.