You never know what will happen through your camera lens each time you press down on that little button.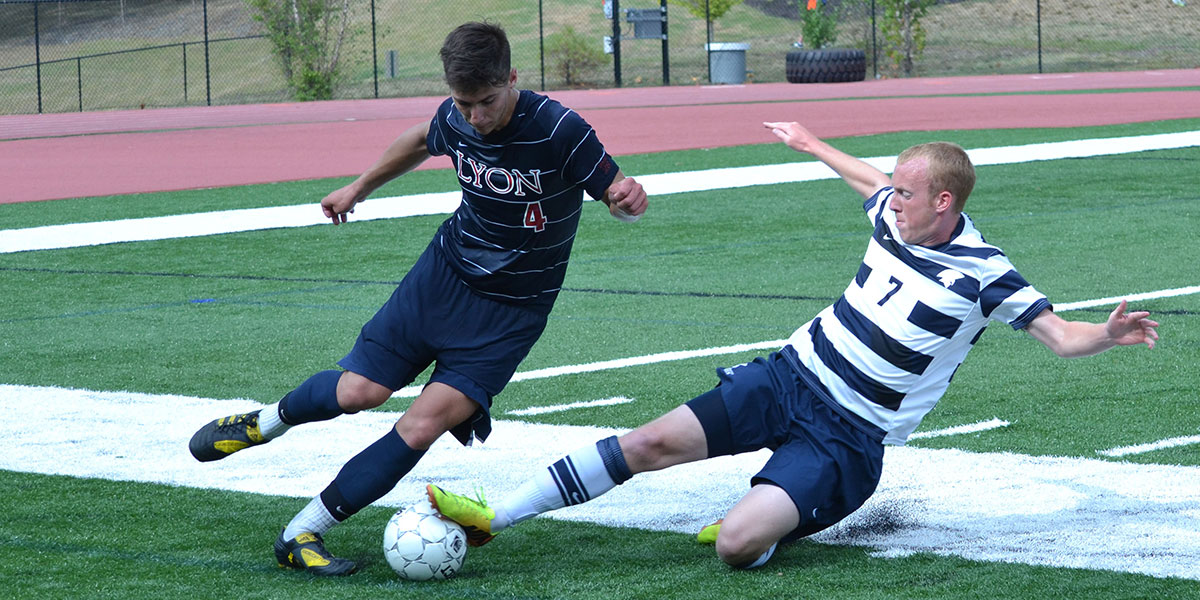 Photo by: Ryan Rerich
__________________________________________________
The thought of taking sports photos at a game can be nerve-racking for a myriad of reasons.
"I don't want to stand and walk in front of people," some may think.
"I do not want to take pictures that are not any good," others may contemplate.
The third may ponder in their head, "I do not have the time to learn how to take pictures. I already have no time as it is."
Well, as a freshman, I was attending games and noticed the students did not have their own source of sports photos at most home games.
Of course, the athletics department would have people from time to time snapping some pics of the game, but I started thinking that at some point I would start collecting pictures at the games if they would allow me to.
I had a love for sports and I thought it would be awesome to take pictures at games.
I then walked back to the Pillsbury Huff Dorms after a volleyball game and sat on my bed and thought to myself those same questions, as new freshmen often do.
"I don't want to stand and walk in front of people. Where will I stand? I do not know what I am doing. I don't want to take pictures that aren't any good. I do not have the time to learn how to take pictures. I already have no time as it is," I thought to myself.
The consideration of taking pictures was still there, but I was nervous about the whole situation. Furthermore, where would my pictures even go? I didn't even know there was this website called MBU Timeline.
The fall semester of my freshman year was over in a flash, and the spring of 2013 was upon me.
I was registered in a photography class, and I did not know what I was getting myself into. I began taking pictures and checking out the camera from the school on various occasions, just to mess around with it.
I did not know what I was doing, and I shot on auto-focus each and every time I had the weekly projects.
After seeing the camera and noticing the overwhelming and numerous settings, I had again absolutely no idea about what I was doing, and more importantly anything about sports photography.
I was intimidated from the start, and I did not do any sporting events for the class, except for a volleyball practice that we were forced to attend one day of class to practice our stop-action photography skills. I was awful.
The school year ended, and I did only the photo assignments I was required to do for the entire semester class.
The first semester of my sophomore year approached and the MBU Timeline website was in the process of transitioning to the new WordPress version that we use currently.
After taking journalism classes and focusing on sports, I was pitching an idea of having a sports tab on the new site that would feature sports at MBU and have photos and stories that were sports related specifically on the tab.
Once the idea was taken into consideration and actually implemented, I had to take responsibility to fill the empty tab when the site launched.
I knew I had to shoot sports photos related to MBU, so I pushed my reluctant self out to the soccer field after class one day and tried my luck with soccer.
Only knowing autofocus, I was becoming frustrated with my focus catching objects all around the players, but not the actual athlete with control of the ball.
For an hour I could get nothing. To say I was frustrated is an understatement.
Before I gathered my backpack and camera case I figured I would at least go get some photos of the players on the bench to have something for the site, even if it was a bit staged.
As I took a few shots of the starters who were now on the bench, I noticed one of the MBU players running toward me.
At the 20-yard line of the CBC football field on a bright September school day, the thought of photography changed for me in the largest sense.
I turned to my left, and with the camera set on auto, shutter priority and zoomed in about halfway, I fired two shots of an MBU player slide tackling an opponent from Lyon College.
I had no idea what I had taken. At this time, I did not edit "in-camera" as photographers call it when you edit as you go at an event.
I stayed for the last few minutes and then I walked off disappointed that I could not get shots that I thought I wanted.
When I got back to my room on-campus, I plugged the camera in and exported the pictures from the camera to my laptop.
I could not believe my own eyes. I now saw some of the pictures on a bigger screen that I had taken and specifically the two pictures of the slide tackle.
At that point I became hooked on photography in general, along with discovering my true passion for sports photography.
At the end of the semester I had filled the tab with sports photography and other works, and I was excited about photography.
Photography in a sense to me is like fishing, something I used to spend a ton of time doing. You spend so much time trying to get one moment that you can talk about.
When you catch that moment, whether it is a fish or a photo, you know that you want to come back for more.
Photography is something that takes time, but anyone can do it. I mean, who does not know how to take a picture on an iPhone or any phone for that matter?
As with anything in life, photography takes time.
It may start off slow for you with your Nikon or Canon if you do not have past experience, but it will get better as you progress in time. It took me nine months to find my true passion for photos.
You never know when that perfect picture is going to come in your life. I am still waiting on mine. I can visualize myself being in the right place at the right time when I catch the exact millisecond when something spectacular happens.
That is what drives me each and every day to take pictures. It is a feeling that brings me back again and again and hoping for that one moment.
Only a year later at MBU, I have now photographed over 40 events, including a Switchfoot concert, a women's National Wrestling Championship, MBU's first football game in history, and a ton of volleyball, basketball and other sports, as well as other events around campus. I simply love it.
Instead of being too busy to take photos, I find myself making time to take pictures at the games each week when I am on campus.
I find comfort in it and feel relaxed while standing behind the lens, scanning an area through a clear viewfinder.
You have to start somewhere. Do not waste your time fearing that you will not do well.
MBU is a great setting for someone who wants to take pictures for sporting events or any events around campus.
The photos that are taken can make their way onto MBU Timeline, social media, the school's official website and even the St. Louis Dispatch, if you are like two MBU students at a football game this season.
The pictures you take, if posted, will get hundreds if not thousands of views (one gallery we posted this fall got over 1,500 views in about two hours), and it is a great way to improve your skills and watch your viewers grow as the years progress.
I encourage you to get started as soon as possible, even if there is a small inkling of passion for holding a camera and capturing what is happening around you.
If you are interested, come talk to our MBU Timeline staff down in the lower level of the Fine Arts Building, or email us at mbutimeline@mobap.edu, and we will set you up with the opportunity to get your work on the screens and viewed by hundreds of people each week.