While America is known for its national pastime of baseball and Canada is a hockey nation, these five MBU baseball players have crossed the border to overcome the status quo.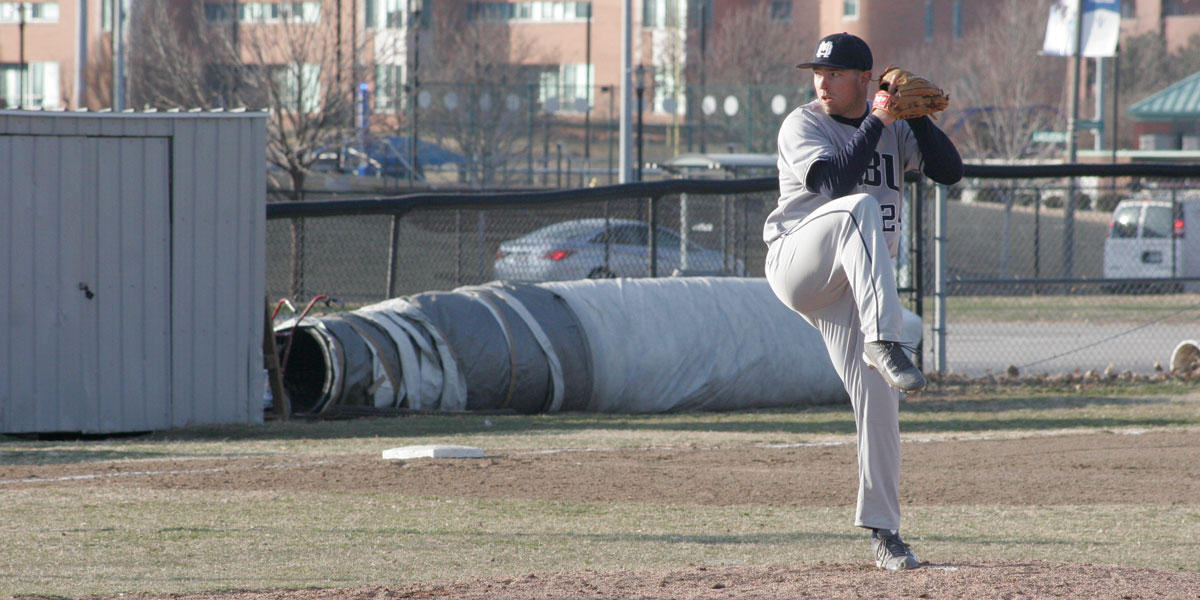 Photo by: Colby Duncan
________________________________________________
Canadians play hockey right? Think again. How about Canadians getting their opportunity to play baseball at MBU.
MBU is the only baseball team in Missouri with five Canadian players on the roster, including Division 1, Division 2 and NAIA.
Outfielder Brian William Clarke, from Toronto, Ontario, Canada, infielder Pier Olivier-Dostaler, from Québec, Canada, pitcher Casey Bouilliere Howard, from Brantford, Ontario, Canada, pitcher Curtis Sawchuk, from Prince George, British Columbia, Canada, and pitcher Chris Romano, from Markham, Ontario, Canada, are all baseball players who have been recruited by MBU Assistant Coach Kenny Grazer.
"I recruited these guys for a reason, because they have what it takes to be a MBU baseball player. They all want to get that World Series ring on their finger at the end of the year and not as many coaches are willing to even take a look at a Canadian player," Grazer said. "That is a task that we here at MBU are more than happy to help out with, because we like the Canadians that we have here. They're good, tough guys."
Canada is a hockey nation, which often leads baseball players to the U.S.
"There are really no decent colleges that play baseball in Canada. There are teams at universities, but they are nothing compared to America," said Howard. "It is so much easier to get a scholarship for baseball to help pay for education in American schools than Canadian schools. American schools don't look for recruits from Canada, all of us Canadians here had to take it upon ourselves to find a junior college within the states to play at before we were recruited by MBU."
Howard attended Roane State University in Lenoir City, Tenn., for two years before being recruited to play at MBU.
"You don't go to Canada to play baseball, you come to America to play America's sport," said Romano. "You go to Canada to play hockey."
Sawchuk noted that he thought American baseball was a lot more challenging than the baseball in Canada.
"American ball is such better competition, there's countless number of kids here from all over," said Sawchuk, who played three years at Vernon College in Texas, where they played teams from Puerto Rico, Mexico, Texas and Florida. "They are all so good, where in Canada you don't have a lot of competition coming in, you just have kids from Canada and it's a scarce number."
There are many places in Canada where baseball is not even played.
"There's not a lot of variety up in Canada. You just have the odd place that has good baseball, like me in grade 10, I had to move away from my hometown to get better opportunity to play," said Sawchuk, adding that in Canada "it was hockey, hockey, hockey."
Three of the five MBU players interviewed agreed their favorite sport isn't even baseball, it's hockey.
"Hockey is my favorite sport, the competition for hockey in Canada is like the baseball competition here or even harder, we take our hockey seriously back home," said Romano.
Baseball has been an opportunity to allow these players to travel and see parts of the world they have never seen before.
"I played in Colorado, Arizona and Florida. All the way to Washington, Oregon, Texas, New Mexico, Missouri and Tennessee. Pretty much been all over the states. Been on different teams traveling to different parts of the country, including different parts of Canada," said Sawchuk.
These Canadians have taken every shot they can to travel and see America.
"Before MBU, I played two years at Lamar junior college in Colorado, giving me a chance to play in Colorado, Arizona, Nevada, Utah and a couple other states," said Dostaler, adding that he also played a high school baseball tournament in Florida. "Coming to the states allowed me to learn how to speak English. Back home I only spoke French."
Every Canadian on this team has traveled to many states and even different countries.
"I played at Oklahoma for the Connor State Cowboys for two years before I was recruited by MBU. I went to all the states on the East Coast. I played for Team Canada back home and I got to go to Puerto Rico, Cuba and Japan. It was an awesome experience," said Clarke.
Of course the players miss home, where they find things like "Ketchup chips, potato chips that are ketchup flavored, and palm sauce, which is like a sweet kind of ketchup," said Howard, or "free health care," added Dostaler.
Those are not the only things that are missed, Sawchuk misses his traditional sport.
"Outdoor ice hockey rinks is my favorite recreational thing to do back home. Get all these fathers and dads and community people together and flood rinks and flood tennis courts and you'll get people from all over town and play a big old pick-up game of hockey and everyone is friends, ranging from ages of 12 to 40-year-old men," Sawchuk said. "Everyone just laces up the skates and plays."
All the players like America though. "It's a lot cheaper than back home," said Romano.
And there is a hometown feeling one can find only in the U.S.
"I like the old-school country aspects of the USA, it's so interesting, not as much in St. Louis, but definitely other places, especially at Vernon College, my previous school in Vernon, Texas," said Sawchuk.
MBU is a place of togetherness, a good place for these Canadians.
"I really like the people here at MBU, they have really grown on me," Romano said. "I especially like the gas being a lot cheaper."
Four out of five of players are Toronto Blue Jays fans. "I have to represent my country," said Dostaler.
The players all said they would be going back home after baseball is over and they have received their education.