Mr. A-Z brought his signature fedora and bubbly personality to Peabody Opera House for a literally roof-raising performance.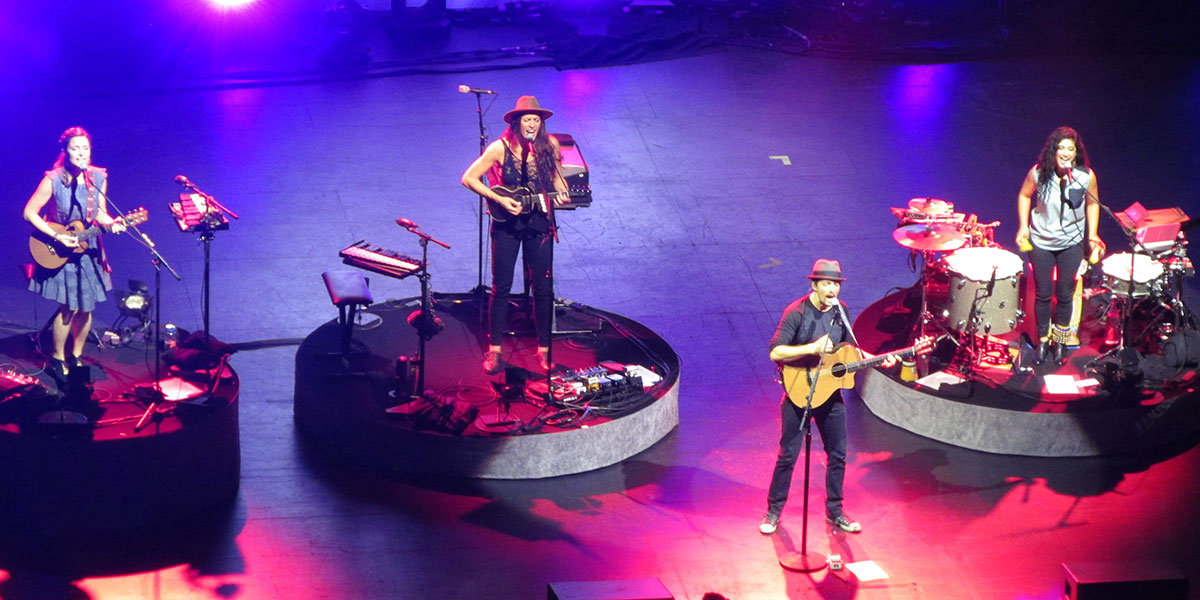 Photo by: Molly Carver
    __________________________________________________
Jason Mraz was joined on stage at the Peabody Opera House on Oct. 16, by the same all-women group he co-wrote his newest album "YES!" with, Raining Jane.
Raining Jane was given an introduction by Mr. Mraz himself, where he opened up the show with a set of funny one-liners.
Raining Jane played a few of their own songs before Mraz came dancing out onto the middle of the stage.
They opened the show with the first song they ever wrote together, "Beautiful Mess," a song of love and complication.
A metaphor to describe the song would be lyrics from the song itself, "it's like we're picking up trash in dresses."
Mraz has a way of always bringing together the good and bad, it's part of his musical talent.
The uniqueness of a Mraz concert is like no other, containing abundant laughter and joy.
Abrupt halts in the singing occur for random dance parties between Mraz and audience members.
All of that takes place while he trails off onto wonderful melodies that have no relevance to his song, but are just purely beautiful to the ear.
He did take time to acknowledge that while everyone thinks he is so happy, and he is, he has bad days and music continues to save his life.
Mraz, being an advocate for Earth, incorporated multiple songs into his set list that encouraged others to garden, and get back to their roots.
These songs were played in a set one after another and incorporated photos of his personal garden and photos from a trip to Antarctica.
The songs, "Back to the Earth" and "Bottom of the Sea" were a huge hit with the crowd as everyone enjoyed seeing his personal touches to the concert.
The audience responded well, as they sang along, laughed and danced.
The highlight of the night was when Mraz grabbed his ukulele and strummed along to the beat of his most successful hit, "I'm Yours," while the audience swayed and belted the lyrics in unison.
Mraz may be quirky but he puts on a phenomenal show that ended in a standing ovation.
The audience got what they paid for with an encore and a wonderful evening of soul-warming music and joy.
My evening did not end when the concert ended. I made a quick diversion to Mraz's tour bus as I exited the concert, just in time to catch him leaving.
Just as I expected he was as wonderful and humble as his music is. He thanked me for supporting his music and even gave me a hug.
Little did he know, I was writing a concert review and that hug, it sealed the deal.