As winter finally starts to feel like winter and going outside to play is not as easy as it has been recently, it's time to move inside Muncy Gym and play intramural sports, which allows everyone to feel like an athlete.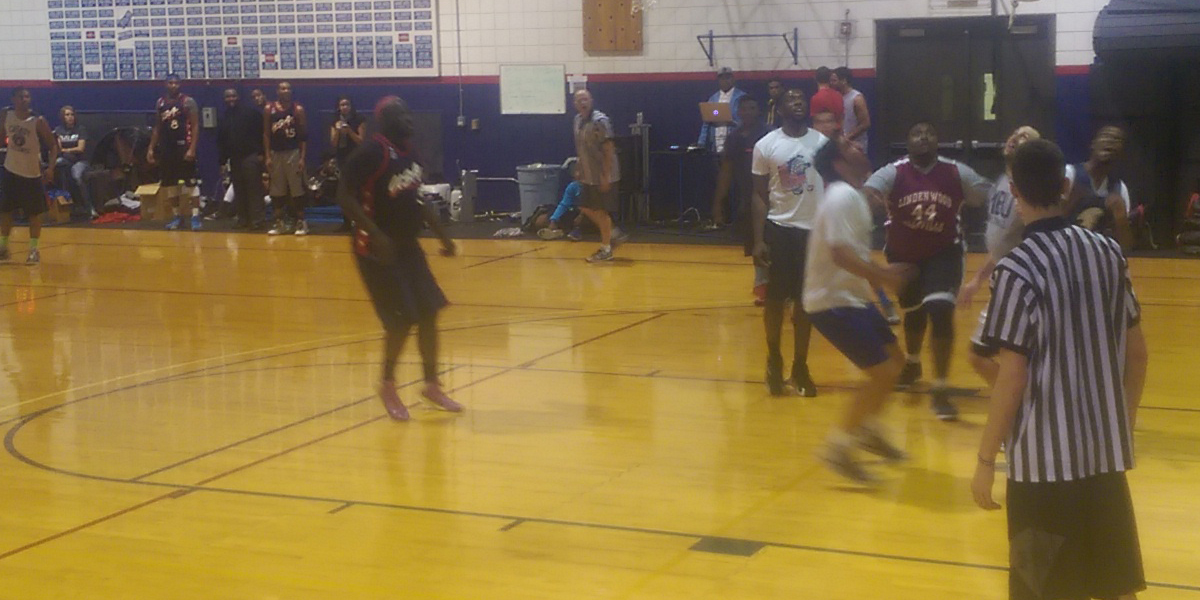 Photo by: Colby Duncan
__________________________________________________
Intramural sports at Missouri Baptist University keep growing and intramural director Kelly VanMarel is excited to see that trend.
"I participated in intramural sports when I was in college. I wasn't a college athlete but it was a fun time to interact, to be competitive, getting to know other people and interact," VanMarel said. "It is something to do and you don't have to leave campus and doesn't cost anything."
Brandon VanMarel started the foundation for intramural sports but as his job began to have more weight and with intramurals growing Brandon passed the torch to his wife, Kelly.
"Brandon did not start intramural sports. There was an intramural director before Brandon," VanMarel said. "They would have open gym but it wasn't intramurals, there was no competition. Supposedly there used to be intramurals back in the day but I have no idea when that was, back in the '80s or '90s."
Intramural sports are really starting to take off at MBU.
Senior Vice President for Student Development Andy Chambers recognizes intramurals and is happy to see intramural sports take a turn in the right direction.
"I love intramural sports at MBU. Brandon has made it incredible and Kelly has continued to build on his success," Chambers said. "We used to not have much when it came to intramurals, but now we are up to a dozen basketball teams. That represents 80 to 100 students that are going to participate and how many of their friends are going to be excited."
Especially this time of year when chilly weather makes it more difficult to exercise outside.
"In the winter when there is not much to do," Chambers said, "intramurals is a great place to get exercise and build the community."
Kelly and Brandon VanMarel have three little girls and live on campus.
"Our family enjoys living on campus. Even though I live here I didn't have a lot of events where I get to know the students and this was a great opportunity for that. I am not able to go out as much because I have kids now so this is an opportunity to meet more students and interact with them," said Kelly VanMarel.
There are five different intramural sports at MBU: Co-ed kickball and flag football in the fall and in the spring there's basketball, sand co-ed volleyball and co-ed ultimate Frisbee.
Co-ed kickball is the first of the intramural sports with a tournament on the first weekend of the fall.
"Coming back to school at the beginning of fall is always nerve racking with the new kids and such, but that is why I love to play in the kickball tournament," said Ryan Stapp, a student at MBU. "I get to see new kids that I have not met before that will be attending MBU."
The biggest turnout that co-ed kickball ever had was in 2013, when there were upwards of 100 participants, but unfortunately this last year it was not as popular due to how hot the weather was during the event.
Flag football starts up the second week of fall and goes until midterm exams.
"Due to a torn labrum in my arm I am unable to compete in baseball this year and I must say that it was, to say the least, upsetting, but joining intramural sports football and basketball has given me an opportunity to still do something competitive while going to school," said Dan Hartman, MBU student and baseball player.
This year flag football had a bigger turnout than kickball with upwards of 50 participants.
Co-ed sand volleyball and co-ed ultimate Frisbee start the first week after Spring Break and run until two weeks before finals.
Intramural sports are an official group at MBU, so being an official group means VanMarel must have insurance coverage through the school.
"We have a certain amount of money that we can spend on the insurance so a lot of the sports we do go by the budget that we have and as involvement goes up the insurance goes up because the insurance is based on how many people play," said VanMarel.
Due to insurance purposes co-ed basketball or co-ed football will never be an option.
"For example, everyone wants to do co-ed football but we can't because it jacks up the price of insurance too much because of how much contact is involved," VanMarel said. "We can get away with co-ed kickball because there is not a lot of contact, same with co-ed volleyball."
Basketball, the most popular sport at MBU, starts the second week of spring and goes up to Spring Break.
"There is like 100 kids in the gym every time we play, I have never been the best at basketball, but it's good to see such a good turnout, makes me feel like I'm playing an actual sport here at MBU," said Chris Kenny.
Basketball has 12 teams this year, nine men's and three women's.
Basketball is the most popular sport at MBU with flag football being the next most popular.
"Last year the championship game was in Muncy and it was packed. After the championship we have a thing that we called challenge night where we have a free throw competition, a knock-out competition, a hot shot competition, a 3-point competition and a dunk contest," VanMarel said. "We have a girl's bracket and a guy's bracket. This is for whoever attends, not just who is on the intramural basketball team, and whoever wins each competition we have a gift card to give them."
This year basketball had the biggest turnout for any intramural sport in MBU history.
Most of the intramural sports don't have issues with space, but basketball is crunched for time and space.
"We will not go off campus no matter how much it expands unless it's sand volleyball. We can use CBC's field, since we work with CBC it is considered on campus for residents," said VanMarel.
VanMarel is trying to get into the SRC more because if intramurals could move into that main gym more often they could run two courts every week instead of just using Muncy's single court, allowing for double the number of games.
It is difficult to coordinate with the SRC for the first three weeks of spring semester because of all the junior varsity teams practicing and games being played.
VanMarel is not allowed to use the SRC until February when all the JV seasons are over.
"Next year we want to start the season later in the spring, but right now we are trying to get done before Spring Break because when people come back it is hard to stay committed to the tournament," VanMarel explained. "But if we had the SRC every week then we could do the games after Spring Break because of the amount of games that could be played."
VanMarel has been meeting with Terri Adams, director of special events and calendaring, trying to find out more options on campus for basketball and all sports.
"Intramural sports was created here for the resident students and we would like to keep it that way. Intramural sports are a great way for student to interact and get a good workout," VanMarel said. "We all know that at times there is not much to do on campus and intramural sports can help fill that gap."
Next year VanMarel is going to change the way the tournament works. For instance, there will be an A league and a B league instead of pool play to manage time and space.
If interested in see some intramural basketball games, here is their schedule, so get out there and check it out, you might be surprised who you see playing.